Tuck Chiropractic Clinic - Roanoke
Monday
8:00am-12:00pm & 2:00pm-6:00pm
Tuesday
8:00am-12:00pm & 2:00pm-6:00pm
Wednesday
8:00am-12:00pm & 2:00pm-6:00pm
Friday
8:00am-12:00pm & 2:00pm-6:00pm
About Tuck Chiropractic Clinic in Roanoke
Do you struggle with lower back pain, neck pain, or herniated discs? Our team at Tuck Chiropractic Clinic near Peters Creek in Roanoke will help you find freedom from pain. We offer chiropractic treatment and physical therapy and are conveniently located nearby in North Roanoke. Our doctors are among the highest rated chiropractors in Roanoke, VA and we're ready to help you! Want to see what makes Tuck Clinics different? See how we approach chiropractic care and therapy.
The Tuck Clinic at Peters Creek has a special focus on sports medicine. Middle school, high school and college athletes receive the best care at Tuck Chiropractic Clinic. Roanoke Area coaches depend on our clinic as a resource and we are proud supporters of youth sports in our local primary schools and high schools. Whether you come to us for regular chiropractic adjustments or just need help with specific issues, we can get you back in the game!
Two of our popular treatments in Roanoke are Neck Pain Treatment and Lower Back Pain Treatment. To find out more about how we can help, view our services or contact us today.
Our Doctors and History
Formerly The Becker Clinic of Chiropractic, this clinic and joined the Tuck Chiropractic brand in July of 2007. Our lead Chiropractor, Dr. Sean Skinner, has practiced with Tuck Chiropractic at the Peters Creek location in Roanoke since 2009. Dr. Skinner and his team have helped many people suffering from neck and back pain. As a result, they have become some of the most trusted chiropractors in Roanoke, VA. Our goal for every patient is to help them be free from pain and live a healthier, more active life. We believe that chiropractic adjustments can bring freedom from back pain and allow you to fully experience life.
Dr. Skinner is an active member of both the American Chiropractic Association as well as The Unified Virginia Chiropractic Association. He and his staff at the Peters Creek Tuck Chiropractic Clinic enjoy Roanoke community life by participating in events like health fairs and golf tournaments. Our doctors also conduct health and lifestyle workshops throughout North Roanoke and Botetourt Counties. As a team, we participate with the Roanoke County and Salem-Roanoke Chambers of commerce and around the holidays, we love partnering with Feeding America SWVA's Thanksgiving Food Drive and Toys for Tots.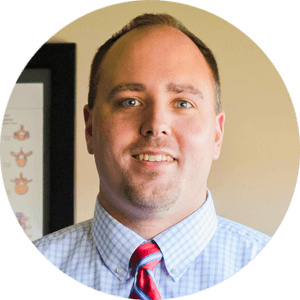 Dr. Sean Skinner is a native of Seneca Falls New York, home of New York Chiropractic College. He is a 2005 graduate…
Call this clinic: Roanoke
540-563-0334