How Early Exposure to the Practice Led to Dr. Skinner's Career

Have you ever wondered what kind of impact you may make on a child when you give a presentation on your occupation at Career Day at an elementary school? If you ask Dr. Sean Skinner, he'd say quite a bit!
Dr. Skinner has been practicing with Tuck Chiropractic Clinic since he completed his schooling at New York Chiropractic College in his hometown of Seneca Falls, New York. He was made aware of Dr. Tuck and the Tuck Clinics through Dr. Tuck's active voice in advocacy for the industry and made a connection through his college's former president, Dr. Ken Padgett. He began practicing at the Hillsville clinic in 2009 and relocated to the Peters Creek location in 2010 and has been helping patients discover a better, pain free lifestyle ever since!
Early Exposure to the Practice
Dr. Skinner was exposed to the chiropractic practice in elementary school and it always stayed in the back of his mind as he continued through school.
"Dennis Homack was one of my best friends. His dad came in with a spine model in 3rd or 4th grade and I was just so interested in the concept of an aligned spine," recalls Dr. Skinner.
From there, chiropractic continued to pop up in his life as he participated in high school sports and played college football. Through his treatments and his undergraduate background in exercise science, he continued to be exposed to the concept of natural healing of injuries and the spine with your hands. After exploring the variety of practices in this realm – physical therapy, occupational therapy, etc. – he finally landed on chiropractic.
"I found it interesting that chiropractic was a branch of healthcare that was hands-on like exercise," says Dr. Skinner. "The fact that manual manipulation can heal the body is just amazing."
As it turns out Dr. Homack, the chiropractor that introduced him to the practice, instructed several of Skinner's classes at NYCC!
Helping People Overcome Reservations
A great day at the office includes the opportunity to see a mixture of patients. He enjoys a healthy balance of being able to see his regular patients that come in on maintenance or a "tune-up", new patients that may be skeptical but leave feeling better, and patients that are in the middle of treatment plans and sharing their progress and satisfaction.
One thing topic that Dr. Skinner is especially passionate about is helping those new patients go from skeptics to believers. While there are a lot of misconceptions about chiropractic, he makes a point to talk to each and every patient about their concerns and questions.
"We wouldn't be here if we weren't helping people. What we do is very safe and effective," says Skinner. "The best thing I could tell skeptical people is to go see a reputable chiropractor. Go for a few treatments and you be the judge."
He adds that he also thinks it's important to note that if after those few treatments a patient isn't feeling a difference in their pain and mobility, the doctors at Tuck Chiropractic Clinic use the local healthcare community as an additional resource. If a patient hasn't seen an improvement, they will make referrals to local physical therapists or other practitioners that they know and trust.
Living the Feel Better Lifestyle
Having a background in exercise science, staying active is another important aspect of Dr. Skinner's life. With a 6-year-old daughter, a dog, and his newlywed wife – it isn't hard to keep stay and active!
"I try to spend as much time with them as possible. She just learned to ride her bike without training wheels this summer," says Dr. Skinner.
He added how lucky we are to live in a place with so many different amenities to stay active. They take full advantage of the local greenways, pool, golf courses, and hiking trails!
If you're curious about how chiropractic care can help you live a better, pain-free lifestyle, Dr. Skinner would love to talk you through the process!
YOU MAY ALSO BE INTERESTED IN...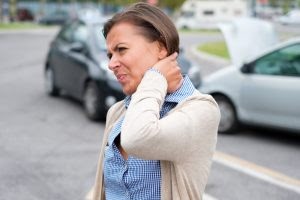 One of the most common injuries resulting from trauma, such as a car crash, is whiplash. Whiplash is a... Read More