Perfect Sweet Potato Fries
There are so many reasons to eat healthy, most of which we all know. However, the reality of eating healthy is sometimes inhibited by busy schedules, the need for quick go-to options, and the fear of trading taste for nutrition. Bearing that in mind, we began a series of Facebook Posts sharing what we have called "Tuck Test Kitchen" recipes. In these posts, we present our friends and followers with ideas to make their meals simpler and healthier. We have personally tried the recipes to ensure they are both easy and delicious.
For this recipe, "Perfect Sweet Potato Fries", we wanted to share the step-by-step, in hopes that it would inspire you to give it a go. We found the original recipe for these baked fries on The Food Network website and generally followed it exactly as shown, except for extending the cooking time and reducing it in half. When we prepared this for a family of four (two adults, two young kids) and found that two large sweet potatoes resulted in a great amount. It's easy to scale depending on the number of people you need to serve.
Ingredients:
5 Sweet Potatoes, washed with skin on
Extra Virgin Olive Oil, for tossing (approximately 3-4 teaspoons)
1/2 Teaspoon Paprika (we love smoked paprika, if you have it!)
1 Teaspoon Salt
1/2 Teaspoon Pepper
1/2 Teaspoon Garlic Powder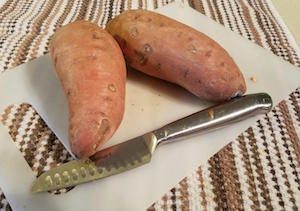 Preheat the oven to 450°. Blend all the seasonings together in a small dish and set them aside. Next, slice the sweet potatoes (with skin on) into matchstick shapes. It is much easier to get consistent cuts if you have a mandoline slicer (just a little tip).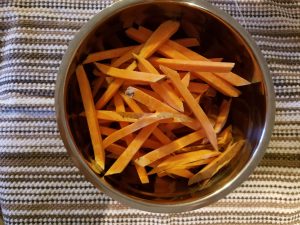 Once all the sweet potatoes are cut toss them with the extra virgin olive oil. Spray a baking sheet with non-stick spray and then evenly distribute the fries across the sheet. Once they are laid out sprinkle them with the seasoning mixture. The original recipe called for a baking time of 20 minutes, we found that between 30-35 minutes makes them caramelize and was more in line with our tastes. Our advice: set the time for 20 minutes, check them, and bake longer if you aren't quite satisfied with the texture. Just a warning, when they come out you are going to want to devour them instantly. Give it a few minutes so you don't burn your mouth! They are amazing, satisfying, and healthy–truly a winner!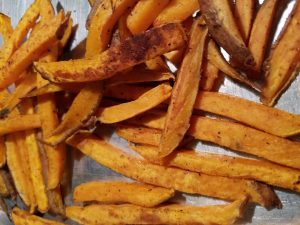 Not only will you feel good about eating these because the flavor is awesome but you will feel good about them because the nutritional value is also awesome. Sweet potatoes with skin on are one of the most nutritious foods and packed with a power punch of fiber, beta-carotene, vitamin C, vitamin E, potassium, iron, and folate. Extra virgin olive oil is also a healthy source of fat because it is high in monosaturated fat which can help lower cholesterol and control insulin levels.
We hope this recipe helps you as you pursue wellness in your life, since nutrition is such a critical component. If we can partner with you further to support your wellness goals, please don't hesitate to reach out!
YOU MAY ALSO BE INTERESTED IN...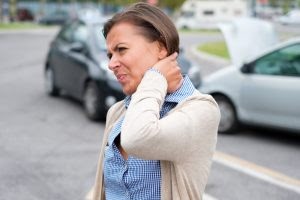 One of the most common injuries resulting from trauma, such as a car crash, is whiplash. Whiplash is a... Read More