Doctor Spotlight: Dr. Jennifer Rathmann
Dr. Jennifer Rathmann may have had her first experience with chiropractic after a car accident, but it was no accident that she quickly realized it would be her future career.
In high school, Rathmann was in a severe car accident during her spring break. After a week of being in severe pain, she sought out care from a chiropractor and after a series of treatments, she felt better than she did prior to the accident!
"It was at that moment that realized I wanted to go into the chiropractic profession," shares Dr. Rathmann.
Originally from Buffalo, New York, Dr. Rathmann received her Doctorate of Chiropractic from the National College of Chiropractic in Chicago, Illinois. Since her 35 years at Tuck Chiropractic, she has become a senior partner and is vice president of clinical excellence. She has also served on the Board of the Virginia Chiropractic Association. She treats all patients including low back pain, neck pain, and headaches, and is certified to provide acupuncture therapy.
While she plays an important role in the lives of our patients, she plays an even more important role at Tuck Chiropractic as vice president of clinical excellence. Her focus is to provide a foundation of education and operational best practices to assure consistency of care across clinics.
"Consistency is important to our patients as well as our doctors and staff," says Rathmann. "We've had one patient that has been to 8 different clinics and because of that consistency, he feels like he can get the best care at any time."
Rathmann strives every day to make every one of her patients, staff members, and team mates feel valued and cared for. Some of her most meaningful moments are seeing a patient around town and hearing that they are feeling better and living better.
The team at Tuck Chiropractic Clinic invites you to visit their clinic on Main Street in Blacksburg to learn more about how they can help you feel better and live a better lifestyle through chiropractic care. Call 540-951-4357 or go online to tuckclinic.com to schedule an appointment today!
Dr. Delaney McMann Joins the Tuck Chiropractic Clinic in Bedford
We are excited to share Dr. Delaney McMann has joined the Tuck Chiropractic Clinic located in Bedford, VA and is now accepting new patients. She will be working alongside Drs. AJ LaBarbera and Earsing to help patients find relief from pain and life on their terms.
Dr. McMann brings a unique perspective to her patient care after experiencing the healing powers of chiropractic while battling Lymes Disease. She is passionate about providing the same relief to her patients. "We are excited to have Dr. McMann join Dr. LaBarbara and Dr. Earsing to contribute to our collaborative approach to patient care," says Dr. Ray Tuck, President of Tuck Chiropractic.
McMann attended Stetson University to complete her bachelors in Psychology and later completed her Doctorate of Chiropractic at Palmer College of Chiropractic, graduating Cum Laude. While at Palmer, she took a special interest in instrument-assisted soft tissue techniques, cupping, kinesio taping, and the flexion distraction technique. These skills will help her provide even more alternatives for treating pain in a non-invasive way.
When she's not in the office, you can find Dr. McMann exploring the hiking trails that Virginia has to offer, floating the rivers, playing her violin, or spending time with her two cats and dog.
Employee Spotlight: Zach Bird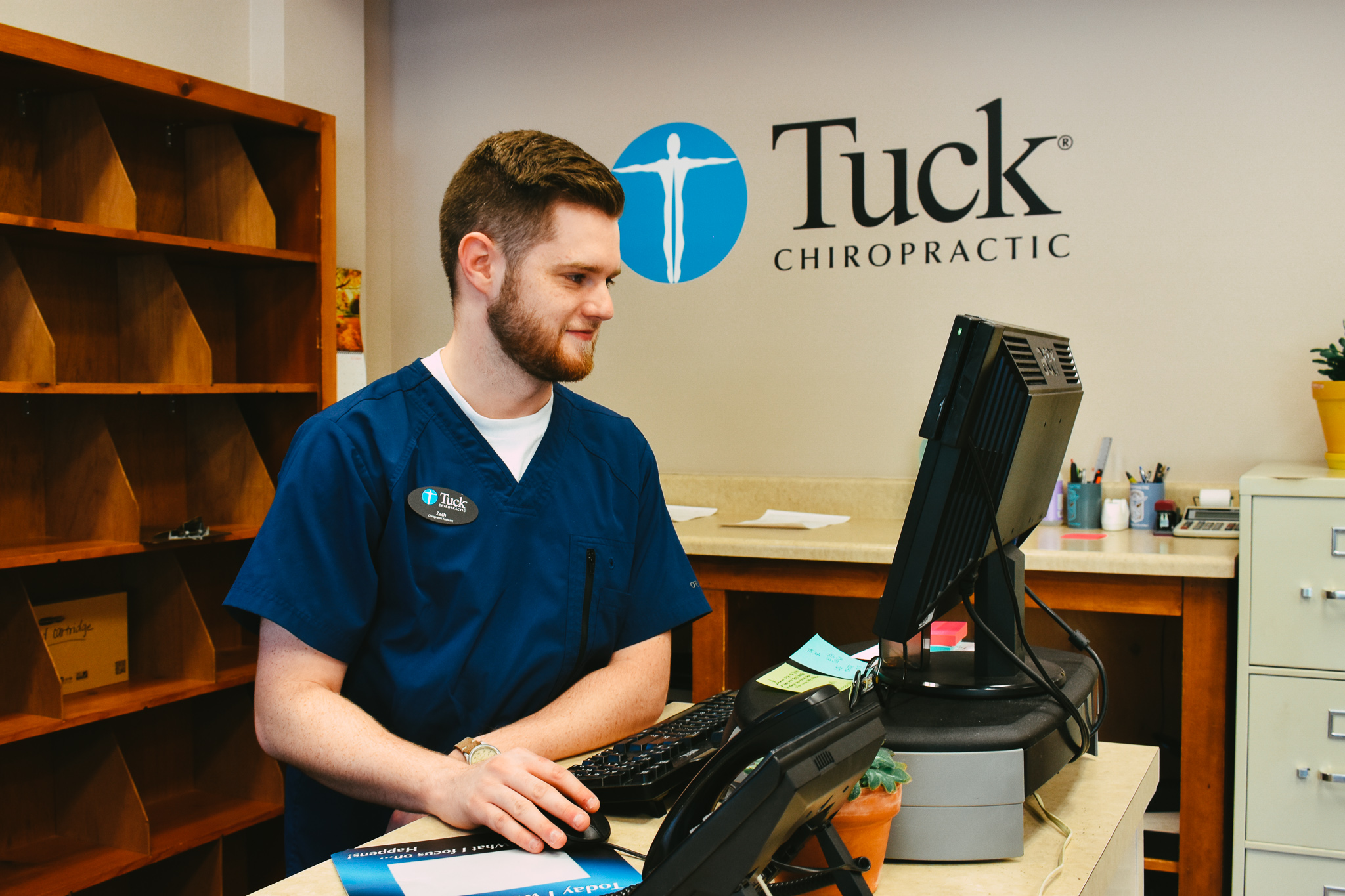 Zach Bird, Chiropractic Assistant at our Blacksburg has a unique outlook on life, health, and wellness.
Facing His Own Health Challenges
When Zach was 12 years old, he was diagnosed with acute lymphoblastic leukemia, a type of cancer that affects white blood cells in bone marrow. His mother and step-father would spend the next three years with him at St. Judes Children's Hospital until he was cleared at the age of 15.
"I haven't had any scares since then – I've been really blessed in that way," says Zach. "It really brought my family and I closer and we are still very close today because of it."
While Zach still goes regularly to get screened, he also participates in special research that tracks the long term effects on the treatments he received in his youth. They use the research to work to prevent long term side effects. In this way, he gives back to children who face the same the same road to a cure.
"This experience has changed my perspective on everything," says Zach. "I would not be the same person I am today without St. Judes. A lot of people equate cancer to a bad thing, but honestly it was the best time of my life."
Channeling His Experiences
Today, Zach channels his experience in the care he provides patients as a Chiropractic Assistant at our Blacksburg Clinic. Most days, he spends time handling patient data entry and assisting the doctors with manual therapies. He really values the face to face time he gets with patients and getting to know them.
"It's really focused on the patient experience and making everyone feel welcome. I'm glad to be a part of that," says Zach. He also appreciates the time he gets to spend with his coworkers.
"We really all click so well and nobody is afraid to pitch in and get the job done," he adds.
Outside of work and participating in the children's research program, Zach is still very active in Relay For Life in his hometown of Glade Springs, VA. In his free time at home, he spends time at his current resident in Radford, VA doing woodworking and handyman work.
Because of the experiences that brought him here today, Zach cares for Tuck Chiropractic patients with the utmost care and empathy. He lives life to the fullest and sees every day as a gift. We're so lucky to have his bright disposition on our team!
Doctor Spotlight: Dr. Nicole Dougherty
Trying to choose a career path when you're growing up can sometimes be a headache. For Dr. Nicole Dougherty, it was the treatments she received for her own real headaches that put her on the path to becoming a chiropractor from a young age.
"My aunt and uncle are both chiropractors so I was already familiar with the practice," says Dougherty. "But it wasn't until I started seeing a chiropractor for my headaches that I was really certain that it was what I wanted to do. It was the only thing that helped me."
As an active young athlete, Nicole was limited by the pain of her constant headaches. After receiving chiropractic treatment, she was able to continue to focus better and perform well both in sports and in school. As a Florida native, she knew that attending Palmer College of Chiropractic in Port Orange was the path for her.
After starting her career at an integrated medicine clinic, Dougherty wanted the opportunity to focus on providing the treatments she was passionate about and joined the Tuck Chiropractic team. She now serves patients at our Blacksburg clinic on Mondays, Wednesdays, and Thursdays, and at our Salem-Roanoke clinic on Tuesdays and Fridays.
"I really enjoy working for Tuck Chiropractic because it's so patient-centered," says Dougherty. "We're empowered to try a variety of methods and techniques to help people live a happier, healthier lifestyle."
For Dr. Dougherty, a successful day at work means that she was able to help her patient return to a normal level of activity and quality of life. It's the simple accomplishments, like helping patients feel well enough to walk their dogs or play with their kids on the floor, that make her feel like she's making a true impact.
"My main goal is to help people do what they want to do and what they love to do," says Dougherty.
Outside of work, Nicole embraces an active lifestyle in her own ways through CrossFit and kayaking. While moving from Florida to Southwest Virginia required some adjusting and more sweaters, she really enjoys the outdoor amenities like kayaking and hiking.
If you'd like to learn more about how Dr. Dougherty can help you find relief from pain and reach your personal wellness goals, schedule an appointment today!
Staff Spotlight: Judy Lintecum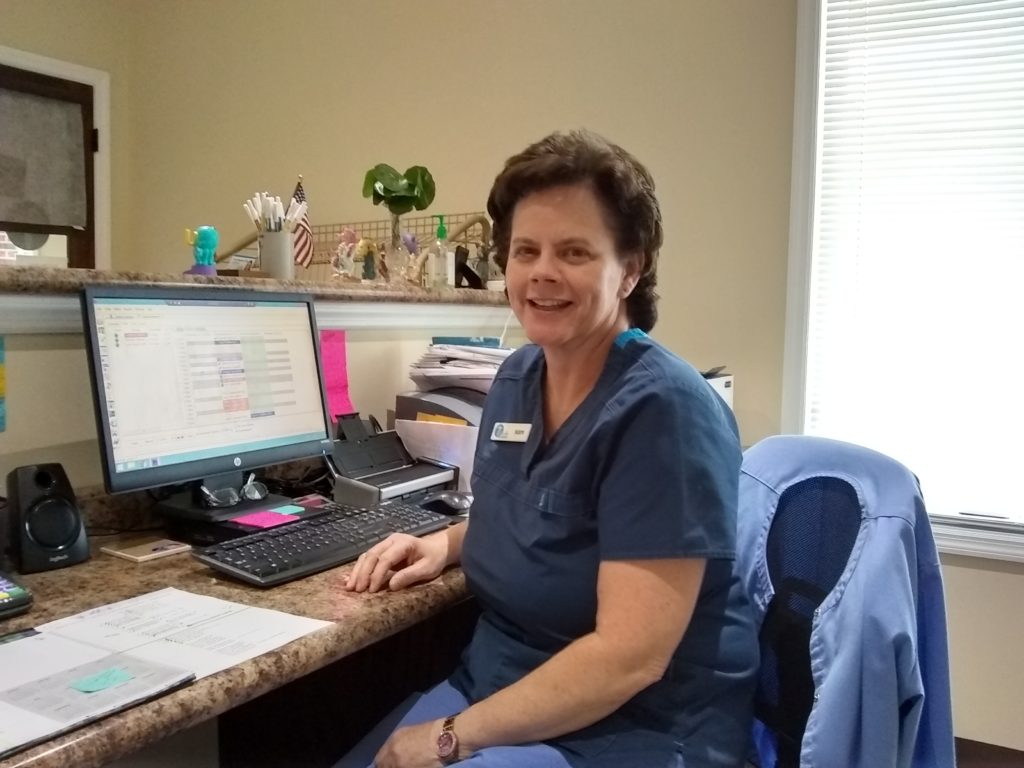 Tuck Clinic's presence in Southwest Virginia has a strong history of helping patients feel and live better. Chiropractic Assistant, Judy Lintecum, has been there through it all.
Judy joined Tuck Chiropractic Clinic under Dr. Tuck Sr. in 1984 at the opening of the Galax clinic. She was hired to assist patients with their therapy prior to adjustments, but quickly gained X-ray and administrative skills. Today, she assists Dr. McKown at the Woodlawn location doing everything from intaking patients and scheduling appointment, assisting with therapy, and answering questions about care plans.
"It's nice to be able to do a lot of different things every day," says Judy. "I love working with the patients the most."
Working for a company for 35 years means you see the company grow and change. While some of our patient-centered care processes have changed, Judy says the level of care provided and tight knit, family-like culture has remained the same.
"It's always felt like a family and that's why I've stayed so long," says Judy. "We may have 10 offices now, but it doesn't feel that way. I can still pick up the phone and call someone across the region. Even the patients feel like they're family."
Prior to working for Tuck Chiropractic, Judy didn't really know a lot about the practice and how it can impact the lives of patients. She quickly became a true believer in its healing powers. In the first few weeks of joining the team, she saw a patient visit Dr. Tuck Sr. unable to even transport herself to the clinic, unable to walk or stand. That same day she watched them walk out of the office. Now she tells anyone who will listen about the benefits.
"My family goes and I tell everyone I talk to about it," says Judy, adding how her own experience has impacted her life. "It helps with stress and when I have to sit for an extended time, and it's had a big impact on my immune system. I rarely get sick."
When people meet her advice with apprehension, she reassures people that Dr. McKown and the other doctors truly take the time to get to know their problems and explain how they may be able to help them before making any adjustments. Dr. McKown even goes as far to ask patients to share one thing that they wish they could be doing in their daily lives that they can't do now. She measures their progress by what they are now able to do , compared to what they couldn't do on the initial visit.
Judy looks forward to continue watching the doctors at Tuck Chiropractic improve the quality of life of their patients through non-invasive, patient-centered care. If you'd like to find out if we can help you achieve a better lifestyle, schedule a consultation today.
Staff Spotlight: April Musselman

Outside of our clinics, we have a fantastic team of individuals who work at our Corporate office in Blacksburg, VA. They strive to make sure the business side of our company runs smoothly so that our doctors and chiropractic assistants can focus on providing quality care to our patients. April Musselman is part of that team.
April joined Tuck Chiropractic Clinic in 2006 after leaving the banking industry. Starting out as a chiropractic assistant at our Christiansburg clinic, she quickly found that she wanted to get back to the world of crunching numbers. In 2008, she joined our team at the Corporate office as Corporate A/P Assistant. Each day, she deals with incoming and outgoing payments, organizing deposits, and managing billing. She also prepares audits for insurance claims before they're submitted.
"I truly love my job. I couldn't ask for anything better in my opinion," says April – adding that she hopes one day she'll retire from Tuck Chiropractic.
Beyond the joy of her job duties, April is proud to work for a chiropractic group that genuinely focuses on patient-centered care. She knows that every doctor and staff member truly cares about the well being of their patients and do what it takes to help them enjoy the wonders of an active, pain-free life.
"We have open conversations with each patient so they know what's going to happen and so they can get the most out of their treatment," says April. "The care is customized to each person's particular goals."
She encourages people considering chiropractic for the first time to not let the thought of the adjustment intimidate them. The doctors are there to talk you through the process and the treatment is completely natural.
In her free time, April spends as much time as possible with her family. She frequently goes camping with her husband of 20 years and two children. They also spend a lot of time with their extended family. A great day relaxing means camping and playing cards with everyone.
Wellness in the Workplace: Tuck Chiropractic's First CSA Program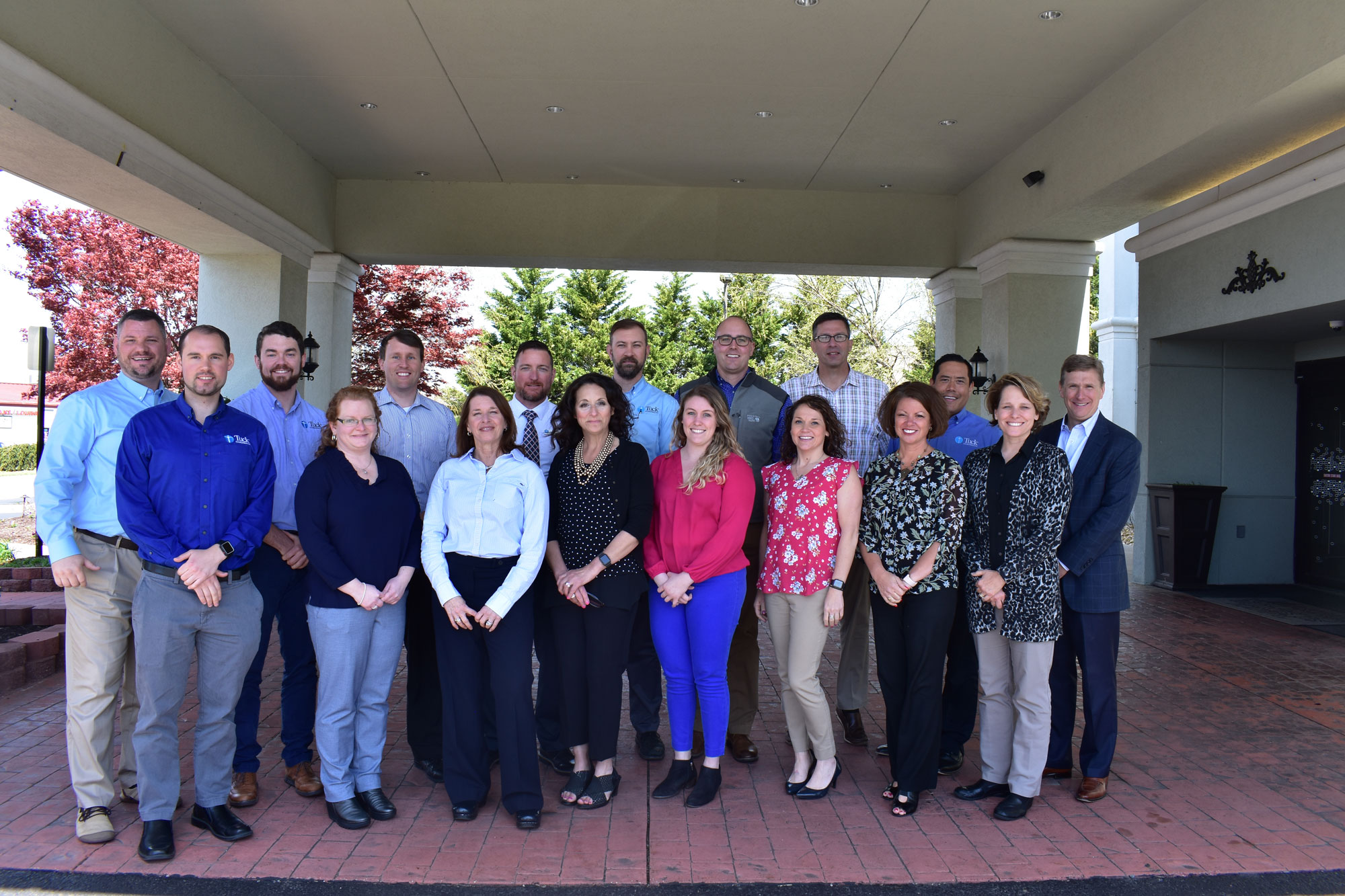 At Tuck Chiropractic Clinic, we believe that a healthy workplace is a happy workplace. We work hard to educate our patients and our employees about the importance of a healthy lifestyle both in- and outside of work.
Tangible Ways to Encourage a Healthy Workplace
Over the past few years, we've made great strides to make sure our employees have healthy workstations. They say sitting is the new smoking, so we've purchased or built desks that allow them to choose to sit or stand. We also look for local races and walks to participate in as a team.
This year, we want to help our employees work on their diet and exercise. Any doctor can tell you that you need to "eat better" and be "more active" – but what does that really mean? Everyone has unique needs for a well-balanced diet and not everyone knows where to access quality food to incorporate.
We're hoping to change that.
Our First CSA Partnership
At our most recent full team training, we announced that in 2019, our organization will launch our first Community Supported Agriculture (CSA) partnership to give our employees access to affordable, local produce to supplement the healthy eating habits we hope to help them establish.

The seed for this idea was sown in Dr. Tuck's own garden. Through his own personal journey in embracing a better lifestyle, he discovered a keen interest in growing the food that he was eating. As the years went by, his garden got bigger. Last year, he found himself with far more seedlings than he had room for in his garden, so he brought his extras into the office. Anyone who wanted to try their hand at raising a tomato or pepper plant had the opportunity to take one home. As more people jumped on the bandwagon, we realized that incorporating this into our workplace wellness program would be a great opportunity to enrich the lives and diets of our employees.
"I really learned how exciting it was to watch people get excited about growing their own tomatoes," said Dr. Tuck. "Because what are the two things you can't buy? Love and homegrown tomatoes."
In addition to continuing to provide seedlings to those interested in growing their own vegetables, we'll be partnering with
Glade Road Growing
 to invite our employees to purchase a
farm share
to receive fresh, local produce from May through October. As part of our wellness program, we've pledged to cover half of the cost of the CSA.
We'll also be supplying our employees with the knowledge they need to make the most of their home garden and farm share. With resources for how to tend your
garden in containers
or garden beds and
great recipes
to make the most of your crop, we hope to truly empower our employees to eat better, feel better, and live better.
Staff Spotlight – Donna Carter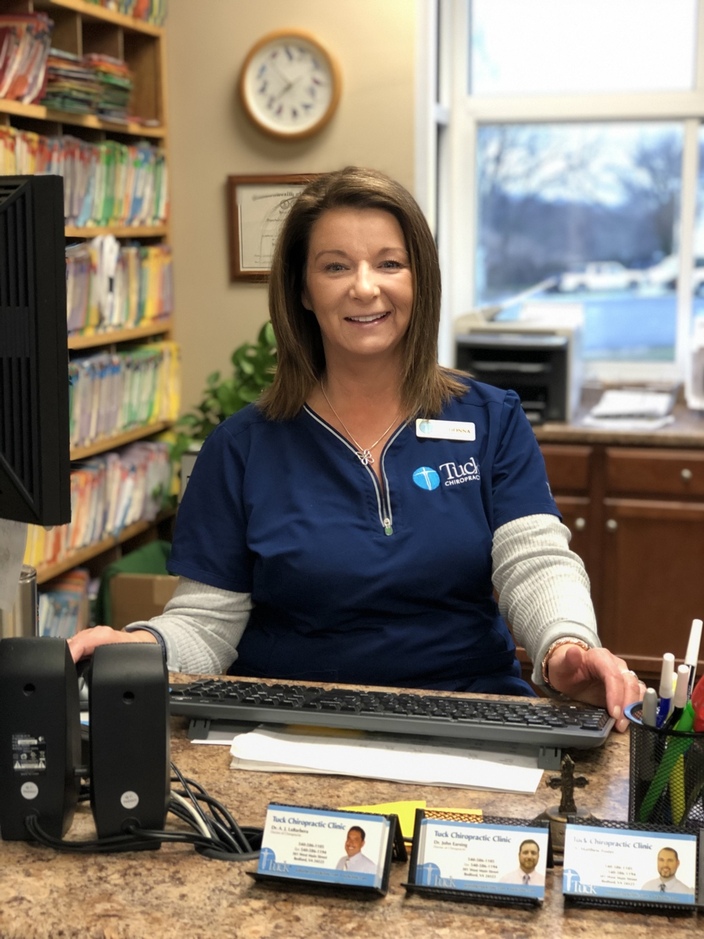 Donna Carter was born and raised in Bedford County and she wouldn't have it any other way. She has been in the Bedford Clinic for fifteen years. She loves that she gets to give back to her hometown that she loves so much.
When asked about her favorite part about working in Bedford,  Donna says it's the fact that she gets to work close to home and be a part of the wonderful community that makes up Bedford.
"I know so many people personally because it's a tight knit community. I've lived here my whole life and it's so great," she adds.
Donna's perfect day at work is centered around one thing, her patients.
"My perfect day would be being busy all day long, working with happy patients, and watching them get better and better with each visit," says Donna.
This is an ideology that Donna shares with the overall mission of Tuck Clinic. Patient centered care is a goal that can be found at every Tuck clinic and with every staff member and doctor.
Donna's job never really stops. Even when she is out and about in her beloved community, she often receives questions from friends and family about their various pains.
"I know so many people in the Bedford community and I'm consistently asked questions by those in pain wondering if we can help them. I urge them to come on in and have a consultation. We will do everything we can to help people get better. And If we can't help you, we will get you to a place that can," she says.
If you are in the Bedford area, Donna would love to help you on your path to a healthy, pain free life. Contact our Bedford clinic here, or find the closest Tuck Clinic near you!
How to Talk to Your Primary Care Physician About Chiropractic

While Tuck Chiropractic does not require you to have a PCP referral to become a patient, we realize that the security in knowing your everyday doctor approves of your decision is reassuring.

In a world with an endless array of medical specialties, your primary care physician (PCP) typically serves as your go-to resource for your general health and wellness based on along and trusting relationship. You may frequently pass up the opportunity to see a specialist based on the familiar relationship you already hold with your PCP. In fact, studies show that 10-15% of all visits to a PCP are for musculoskeletal problems. In this case, it could be beneficial to seek out a professional that has a more focused area of practice.
If you're feeling apprehensive about finding the right doctor in the right discipline for your particular needs, the best thing you can do is ask your primary care provider. Your doctor is familiar with your health history and knows any special nuances another a specialist may need to be aware of. This is the perfect opportunity to get a referral! It's likely that your doctor already has a rolodex of go-to healthcare professionals in a variety of disciplines that they use to refer their patients to. All you have to do is start the conversation.
Recognize When You Need Alternative Care
Let's imagine that you recently injured your back while doing yard work around the house. While you may be no stranger to managing acute back pain, this instance is significantly worse than previous problems. Instead of visiting your doctor to get a prescription for a stronger pain medication, you could discuss alternatives with your doctor.
The doctors at Tuck Chiropractic Clinics have worked hard to reach out to doctors across disciplines to build collaborative relationships to provide the best care possible to patients across the board. We believe your doctor will have your best interest at heart and should know exactly what kind of specialist can help you.
Be Honest About Your Needs
We recently discussed how important it is to be honest with your chiropractor about your level of pain and your lifestyle. That rings true for this situation, too. If you're looking to make a change in the way you approach your healthcare and wellness, you have to be open and honest with your doctor about it. Make sure you are clear about the pain you are experiencing and that you are seeking new ways to manage that pain. While most people assume chiropractors can only treat your back pain, we can ultimately treat any issue involving the musculoskeletal system with chiropractic adjustments alone, or by working alongside other specialists.
Ask For Options
At the end of the day, you should have the power to make your own decisions about your healthcare. While doctors can be a great part of the vetting process, it's also important to due your own due diligence before making your choice. If you need some guidelines on what to look for in a chiropractor, the American Chiropractic Association has provided a list of best practices for choosing wisely. If you have any questions about our style of care, feel free to call any of our offices! We're here to help.
Highlights from NCLC 2018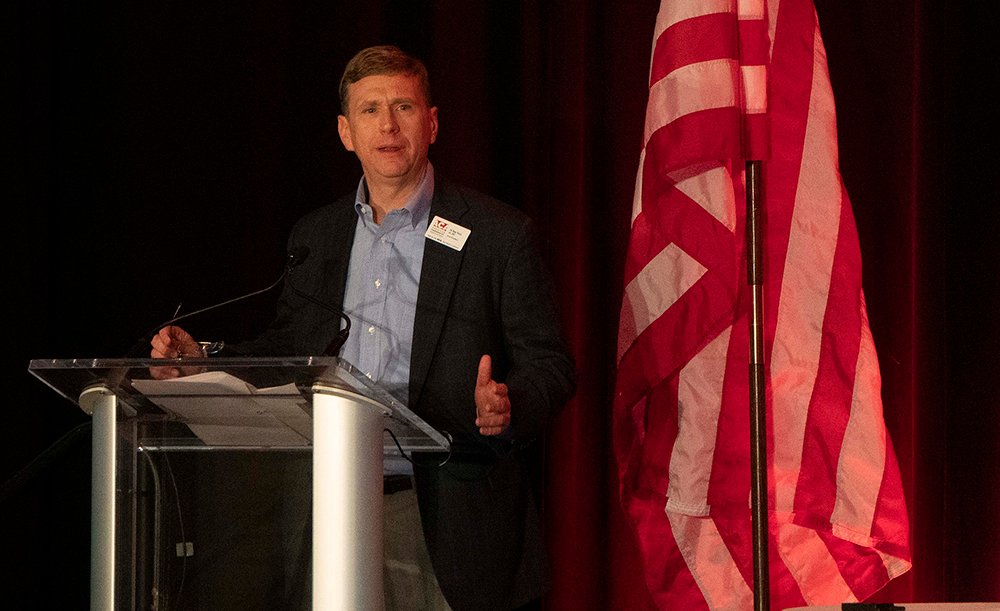 Another year, another incredible conference hosted by the American Chiropractic Association!
Each year, we look forward to the annual National Chiropractic Leadership Conference, where we have the opportunity to honor our fellow chiropractors for their excellence, advocate on behalf of patients on Capitol Hill, exchange industry best practices, and inspire the next generation of leaders. 2019 was no different! While there was a lot going on during the four-day conference, there were a few moments that really stood out for us.
Dr. Tuck Concluded His Presidency With Honors
This year was extra special. Dr. Tuck concluded his tenure as President as the American Chiropractic Association, but not without putting a seal on the impact he made as a leader for the organization. Throughout the year, Dr. Tuck worked to create a refreshed and vibrant ACA culture, assisted in restructuring the Governance of ACA, and contributed to the advancement of chiropractors across the nation.
As incoming President Robert Jones, DC put it, "[Dr. Tuck] has lead ACA through monumental changes which have set us on a path of financial stability and a true leadership role within the healthcare profession..He is a stalwart champion of chiropractic and ACA."
To drive this sentiment home, Dr. Tuck was presented with the honor of Chiropractor of the Year.
Presenting on Measuring Success in a Patient-Centered Office
Our own Dr. Tuck, Dr. LaBarbera, and Dr. Matthis had the opportunity to share their expertise in building a successful care system centered around the needs of the individual patient. Our patient-centered care practices have bred a culture of continuous improvement, where both the doctor and the patient work together to track and continue to work for improvement of lifestyle and mobility. By using open communication and being diligent with data collection, we are able to measure our success and continue that track of improvement.
Seeing the Faces of the Future
We see the value in embracing the new insights and fresh take that young chiropractors bring to the table, a driving factor for our professional outreach and preceptorship programs. It's how we are able to continue to grow as doctors. Another valuable part of this conference is the chance for us to network face to face with the future of chiropractic care.
The bright students of chiropractic colleges across the country come to NCLC to further their knowledge of the industry and connect with clinics that seek to enrich their education with hands on experience. By forging connections with future professionals, we grow a support network that helps us grow as an individual clinic and as a whole industry. We took the opportunity to get out and get to know the students whenever possible.
All in all, it was yet another successful year at ACA's Annual NCLC. We look forward to seeing how far we've come next year at ACA Engage – the new name for the National Chiropractic Leadership Conference!
You may also be interested in...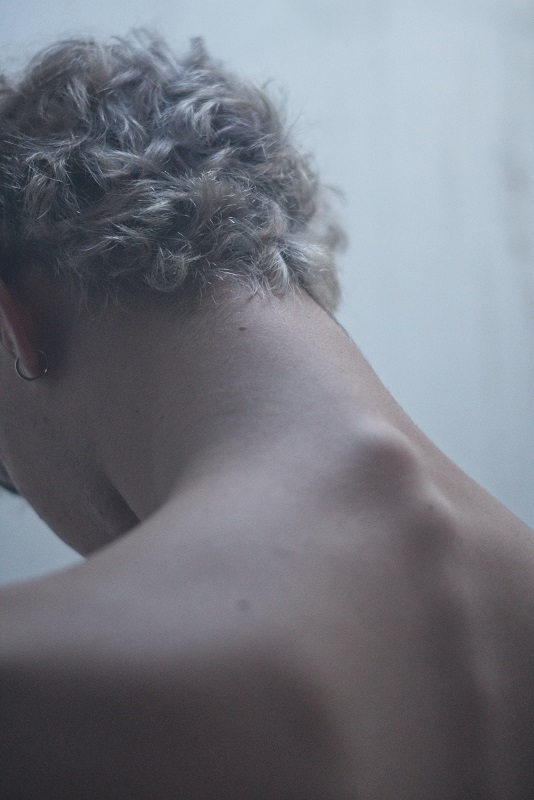 Considering all the stress that is put on the neck, it is no surprise that two-thirds of Americans experience significant neck pain… Read More