Chiropractic Restored Charity's Childhood Joy

In so many ways, Charity is just like every other 11-year-old girl. Bright, happy and full of joy. However, this past year was a challenging and trying year for Charity and her family. She went from being one of the most athletic kids in her class to becoming increasingly limited by hip pain, to include her hip popping out of place.  Through chiropractic care, and working with Dr. Matthis, she is now back to being her bright self, embracing life. The road that led Charity to chiropractic care wasn't an easy one, but it was one that ultimately led to wellness.
As an infant, Charity had problems with her hips. From time to time they would pop, even as her mom Khristy carried her around. However, this didn't cause Charity pain so the pediatrician wasn't concerned. Around March of 2016, the popping increased in frequency and became accompanied by pain. Khristy said, "The pain started in her hips, then went down her legs, then up into her shoulders." At that time, Charity was extremely involved in gymnastics and on the verge of joining a competitive team; however, the hip problems prevented this from happening. Rather than pursuing her dream to join the competitive gymnastics team, Charity began spending more time on her couch, limited by her pain. She also began to rely on over-the-counter pain medication to get her through the day.
Khristy took Charity to a series of doctors but no one could pinpoint the root cause, figure out a proper diagnosis, or offer a sustainable treatment regimen. She saw an orthopedic doctor, physical therapists, and even a neurologist. Charity also went to a children's hospital and had a series of x-rays and MRIs. Nobody ever officially wrote down a diagnosis, but it was suggested that she might have Charcot-Marie-Tooth disease (CMT), a disease of the peripheral nervous system. Khristy was unwilling to accept this as what the future held for her little girl. She felt sure that there was a doctor out there that could bring about the healing for Charity she so desperately needed.
The path to healing began with a phone call. Khristy called our Christiansburg office and asked, "Do you even see children?" After learning that we offer chiropractic care for the entire family, she scheduled an appointment to meet with Dr. Matthis. Khristy admits she had her reservations about chiropractic care, but felt she needed to give it a try. After explaining what Charity had been enduring for several months, Dr. Matthis began to dig deeper. He specifically asked about injuries or physical trauma. Khristy recalled that when Charity was nine she hurt herself on a trampoline, her knee struck her sternum. She was examined by a physician but seemed to recover quickly with no other intervention needed.
Dr. Matthis explained that injuries to our bodies can be likened to when a tire hits a pothole. At first, it seems like everything is fine and no damage was inflicted. However, as you continue driving down the road, all of a sudden the problem begins to emerge. This is what Dr. Matthis suspects happened. Much to Khristy's relief, Dr. Matthis felt he could really help Charity, and ultimately he did.
Charity came in for adjustments with Dr. Matthis three times a week for the first two weeks. After that, she came in two times a week. Finally, she was able to go a full month between needing an adjustment. Khristy explained, "After a couple of visits, Charity did not have to take Tylenol and Motrin every day. In fact, she started having days of being pain free. We believe in miracles." Charity's family also now believes in chiropractic care because of the difference it has made in Charity's life. "She is back to turning all of her flips," explains Khristy. She recently got to visit Disney World and while in Florida she turned cartwheels on the beach. What a beautiful image and stark contrast to where Charity was six months prior.
Charity's story illustrates the importance of turning to chiropractic care as an initial treatment option for health problems. Her story is one that personifies the positive impact of chiropractic care.

YOU MAY ALSO BE INTERESTED IN...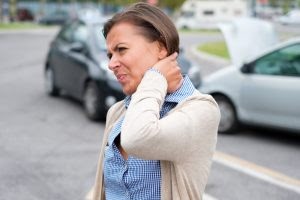 One of the most common injuries resulting from trauma, such as a car crash, is whiplash. Whiplash is a... Read More