Dr. Brooke Joins "The Team Behind the Team" In Colorado
For two weeks this summer, I was a member of the Sports Medicine team at the United States Olympic Training campus (USOC) in Colorado Springs, Colorado. I have always been an avid sports fan so to have this experience was a dream come true. The one word that best sums up my experience for the two weeks that I spent with the Sports Medicine team is 'affirming.' After reflecting on my experience, I am certain that I am practicing in a manner that is congruent with the absolute best care that can be provided to athletes—or patients– of any level.
Dr. Bill Moreau is the Chief Medical Officer (CMO) for the United States Olympic Sports Medicine program, the CMO for the Sochi Winter Olympics in 2014, and will be the CMO at the 2016 Rio De Janiero Olympics. He is also the one who inspired me to begin this journey in the first place. My favorite fact about Dr. Moreau is that he is a chiropractor! He is brilliant, a consummate professional, an amazing speaker and to top it off, an inspiration. There is a team of full time employees at the USOC but that team relies heavily on the volunteers to uphold high standards of care for all the athletes. Dr. Moreau called us "the team behind the team."
Our team was a multi-disciplinary medical team and comprised of a massage therapist, athletic trainer, and orthopedic surgeon. The four of us worked together brilliantly and collaboratively for the betterment of many of the athletes. This collective and team-based approach is necessary to understand and meet the full spectrum of an athlete or patient's needs. It is the approach I am accustomed to and I found it hugely affirming that at the highest-level the expectation is collaboration.
The days I spent in clinic were busy and non-stop. Some days I saw 15 athletes over the course of eight hours; the demand for my skills was high. I was amazed and encouraged to regularly hear athletes requesting to see me at the front desk. As it turns out, the two full-time chiropractors on staff were only able to focus on recovery from injury, which is an all too common situation. That left me the ability to provide preventative chiropractic to athletes, often wrestlers, gymnasts, and weight lifters. These groups understand the benefit of the keeping their body aligned as a means of maintaining health and also securing a competitive advantage.
Our mission was to keep the athletes on the court, field, pitch, pool or venue. We were there to support those seeking to stand on the podium at an Olympic games; those that are training to proudly represent our country and achieve their dreams. We were also there to give athletes the extra edge needed that can mean the difference between a gold and silver medal, in some events it comes down to .001 of a second!
One particular athlete, with whom I spent a considerable amount of time, is preparing to compete in his fifth Olympic games. I'm excited to follow him over the next few months and would love nothing more than to see him standing on the podium receiving a medal in the 2016 Olympics. Regardless of whether he medals or not I'm thrilled to know that I was able to have a role in his training and health as an athlete.
Walking away from this experience will leave me with many wonderful memories and lessons for my career. First, being a chiropractor puts me in an ideal position to evaluate, care for and inspire athletes of any age, shape, and size. I loved seeing that the main treatment modality in the Sports Medicine clinic was the use of manual care, the laying on of hands. Second, our accomplishments in the clinical care of the athletes were done so, in no small part, as a team. Being a vital member of that team proves that working together with other disciplines is the future of health care.
You may also be interested in...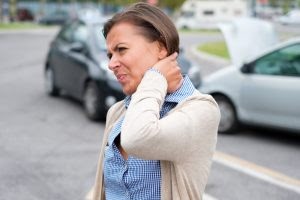 One of the most common injuries resulting from trauma, such as a car crash, is whiplash. Whiplash is a neck injury that… Read More