Chiropractic Care and Fall Prevention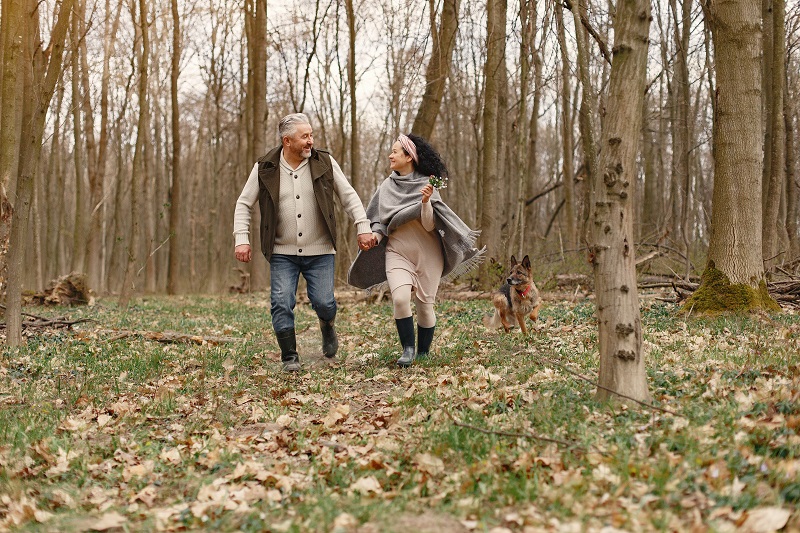 Did you know that one in every four adults over the age of 65 falls at least once every year? With one in every five falls leading to a serious injury, falling can be one of the biggest dangers to your overall health and wellbeing as well as your quality of life. Fortunately, there are steps you can take to prevent falling and reduce your risk of injury – and chiropractic care can help.
The Dangers of Falling
As stated above, falls can cause patients pain, injury, and disrupt their overall quality of life. Falls can cause broken bones such as wrist, arm, ankle, and hip fractures. Head injuries are also common injuries from falls especially for those who take certain medications that may act as blood thinners.
Several risk factors that contribute to the risk of falling include:
Cognitive impairment
Core and lower body muscle weakness
Difficulty walking or maintaining balance
Environmental hazards
Joint and muscle pain
Medications
Pre-existing medical conditions
Vision problems
Unfortunately, after a fall some patients may fear falling again and begin limiting their activities which may work against them as decreased activity can lead to muscle weakness and increase their chance of falling.
How can chiropractic care help?
If you are injured from a fall and experience back pain, neck pain, or hip pain, chiropractic care can not only help to relieve pain, but also can also offer preventative care! Chiropractic care helps to keep your joints and soft tissue in working order which is important to staying healthy and active as you age.
By restoring proper alignment to your body, we can help patients regain mobility allowing you to stay active. We can also offer nutritional advice to help fuel your body properly and keep your bones strong. Another way we can help is to recommend exercises and lifestyle changes to improve and maintain your sense of balance, muscle strength, and flexibility.
Improving your muscle strength in your core and legs is one of the best ways to reduce your risk of falling and the chance of severe injury. Walking, jogging, yoga, dancing, and Tai Chi are all exercises you can do with no special equipment other than supportive shoes. Even practicing leg extensions from a seated position at home can help keep you centered and on your feet. Exercising at least 20 minutes a day will help to prevent muscle weakness which can make you prone to falling.
On your own or with your family, we recommend you also assess your home around environmental hazards as some falls occur within the home or around the house.
Ensure handrails are secure on both sides of a staircase
Install grab bars near the toilet and bathing area
Keep hallways and pathways clear
Keep frequently used items within easy reach
Place rubber mats in the kitchen
Use non-slip mats around the bathroom both inside and outside the bathing area
With these steps and our treatments, we will work together with you and your health care providers to ensure you can continue living a full and healthy life. For more information on how chiropractic care can help with fall prevention or to schedule an appointment, please contact Tuck Chiropractic today.
What is a Spinal Subluxation?
You may have heard the term "subluxation" many times before, but you may not fully understand what it is or what kind of damage subluxations can cause to your body. This month we would like to provide you with a little more knowledge of spinal subluxations.
A subluxation is a term used to describe a joint that may not work the way it should, whether it is misaligned or not operating properly. Subluxations can occur in any joint within the body including the feet, shoulders, wrists, and knees. One of the most common areas that subluxations can occur is within the spine. These subluxations are known as spinal subluxations.
What is a spinal subluxation?
A spinal subluxation refers to a misaligned vertebrae within the spine from its normal position. When a vertebra becomes misaligned, the pressure put on the nerve roots within the spine can decrease the function of nerve signals between the body and brain. If left untreated, this can cause unbalance within other parts of your body that rely on that vertebra working properly.
Symptoms
If left untreated, spinal subluxations may begin to affect other parts of your general health and wellbeing. It is important to be aware of the signs and symptoms so you can quickly identify spinal subluxations and seek treatment.
Common signs that could indicate a spinal subluxation include:
Headaches – Headaches can often occur due to the buildup of pressure from a subluxation without release. This pressure continues to build upward until it reaches the base of the head causing tension headaches that often appear without warning.
Inability to move – Subluxations may cause muscle stiffness or inflexibility. This may make performing easy tasks more difficult due to an inability to move.
Pain in the back or neck – This is the most obvious sign of spinal subluxations as the pain spreads upward through the back and neck. Pain severity can range from mild discomfort to sharp, debilitating pain.
Spinal subluxations can also cause muscle tenderness, inflammation, pain, numbness, loss of feeling, limited mobility, and a tingling or burning sensation in the affected area.
Common causes
The causes of spinal subluxations can vary but they are most commonly caused by trauma. This includes major trauma from an injury or accident. However, micro-trauma from daily habits such as sleeping on your stomach or arm nightly, wearing a heavy bag on one side of your body, or looking down at a computer for a long time can also cause subluxations.
Another common cause of subluxation is stress. Strong feelings of stress and anxiety can cause tension within the body, especially in the neck and upper back. Stress can cause the muscles to become tight and may cause a spinal subluxation.
Treatment
If you suspect that you may have a spinal subluxation, the most recommended course of treatment is to visit a chiropractor. However, for minor cases relief can be achieved with stretches, over-the-counter pain medication, rest, and cold compresses.
Even if you want to try an at-home approach, we encourage you to come into our office for an official diagnosis. We will work with you to find a treatment that is right for you so that you can be the best healthiest version of yourself. For more information on spinal subluxations or to schedule an appointment, please contact Tuck Chiropractic today.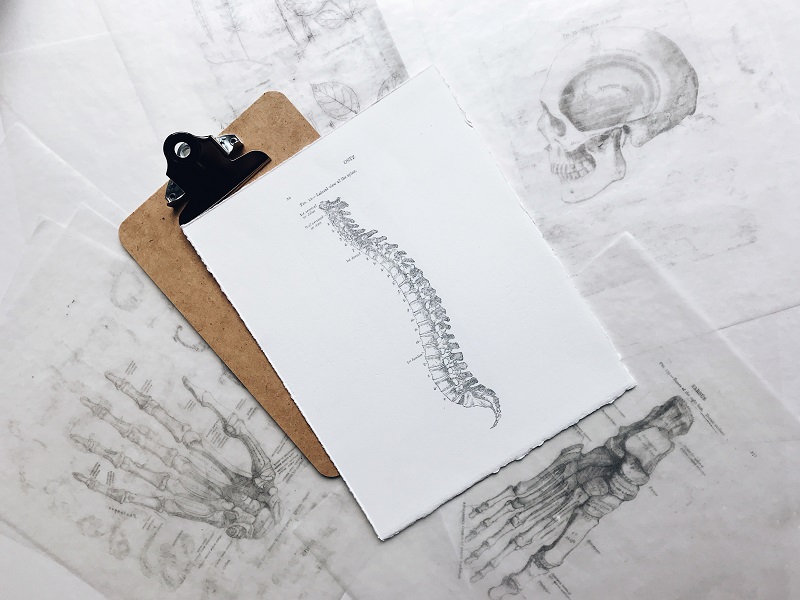 One of the best aspects of chiropractic care is the variety of approaches chiropractors can utilize to treat your condition and improve your overall quality of life. The goal of chiropractic care is to use the manipulation of the musculoskeletal system, primarily the spine, to improve function, reduce pain and inflammation, and help your body to function at its best.
For some patients, chiropractors may choose to use their hands to manually deliver treatment, while other cases may require specialized tools and equipment for the desired results and are known as instrument-assisted adjustments. One of the most common instrument-assisted adjustment techniques is the Activator method.
What is the Activator Method?
The Activator method is a form of instrument-assisted spinal and joint manipulation, where a chiropractor uses a small hand-held device known as an Activator Adjustment Instrument, or more simply, an Activator.
This device works as an extension of the chiropractor's hands to provide a gentle force without needing to twist and turn the patient's body to correct misalignments. The nature of the device allows for precise adjustment, even to small localized areas. This method is commonly used to treat back pain, neck pain, chronic headaches, inflammation of joints, and spinal disc conditions.
This method is ideal for those who require gentler methods of manipulation such as those who are pregnant, have arthritis, or may be more hesitant to try traditional forms of manual manipulation.
It can be used as an alternative to traditional manipulation or in conjunction with other treatment options.
How does the activator method work?
Prior to the treatment, a physical evaluation is conducted often including reflex testing and possibly leg length testing to identify specific dysfunctions within the spine.
During treatment, the patient can lie down comfortably on an adjustment table and each area of the spine will be worked on individually with the Activator instrument.
The Activator, as mentioned previously, is a hand-held device that can be spring-loaded or electronic and is designed to mimic the effects of hand spinal manipulation. Using high-velocity low amplitude thrust, this instrument can gently realign your spine, relieve pressure from spinal nerves, and eliminate strain on nearby muscles.
The targeted area is gently tapped by the device with a small amount of pressure, followed by a single quick thrust. Due to the Activator's speed, the muscles treated are less likely to tense making the patient more receptive to treatment. Following treatment, the patient is often re-evaluated to look for signs of correction. A typical treatment plan consists of a series of visits with routine evaluations.
There is no twisting or repositioning required during treatment making this technique preferable to other forms of manual manipulation.
What are the benefits of the Activator method?
By correcting spinal subluxations, or misalignments, the Activator method can provide the following benefits:
Restore proper function, motion, and sensation to the affected area
Reduce inflammation and stiffness in joints
Alleviate pain
Remove nerve blockages
Compared to other forms of manipulation, the Activator method can also provide localized treatment to specific areas of the body.
We understand that there is no one-size-fits-all approach that can address your needs and conditions and we will work with you to determine which treatment option is the right one for you. For more information on the Activator method or to schedule an appointment, please contact Tuck Chiropractic Clinic today.
Dr. DJ McAninch makes his way down to Blacksburg, Virginia from a town on the Erie canal called Lockport.  It is a suburb of Buffalo, known as "the city of good neighbors". Growing up he developed a love for athletics, getting involved in baseball, hockey and football at a young age.  Dr. DJ earned the highest rank in scouting, the Eagle Scout award, so when he gets a chance you can find him hiking or camping out in the woods in Montgomery County.
Joining the diving team in grade school led to a division I collegiate career at the University at Buffalo where Dr. DJ won a Mid-American Conference championship with the Men's Swimming and Diving team.  Needless to say, he learned a lot about body mechanics.  His first experience with Chiropractic came after landing awkwardly with a dive at practice one day and had some sharp pains in his back that would not resolve.  After a week of this pain a friend on the team recommended Chiropractic.  Following his first adjustment, his pain had significantly improved and before long, he was getting adjusted on a regular basis. Chiropractic had gotten him back to doing what he loved, and he wanted to give back.  He graduated from UB in 2015 and started at New York Chiropractic College that fall.
While earning his doctorate of Chiropractic, Dr. DJ discovered the amazing world of Chinese medicine and the variety of conditions that it can treat.  He has treated patients for headaches, sleep disturbances, stress/anxiety, digestion and so much more and they have improved significantly with acupuncture treatments. While enrolled in the Fingerlakes School of Acupuncture and Oriental Medicine he developed skills in acupuncture, Tuina/Chinese medical massage, Qi gong/Chinese therapeutic movements, and fire cupping. He graduated with a Masters degree in acupuncture in the summer of 2020.
Dr. McAninch has a passion for helping people first and foremost.  He uses a combination of Chiropractic and Acupuncture to get people back to doing what they love!  He is so excited to share this with the people of southwest Virginia and patients that choose Tuck Clinic in Blacksburg, VA!
Dr. McAninch sees patients in our Blacksburg location.
Doctorate of Chiropractic – New York Chiropractic College

Master of Science: Acupuncture – Fingerlakes School of Acupuncture and Oriental Medicine

Bachelor of Science: Health and Human Services – University at Buffalo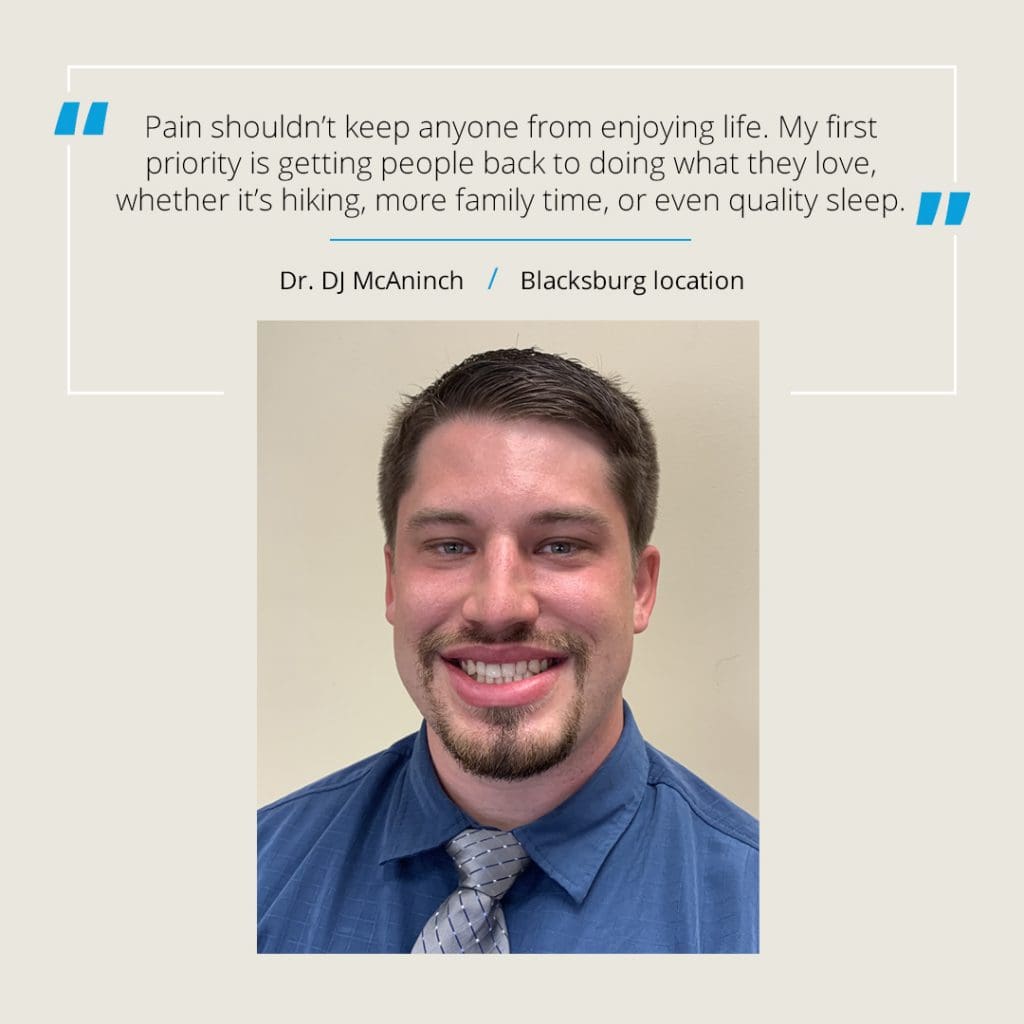 At-Home Self-Care Part 2: 5 Stretches to Loosen Lower Back Tension
We're continuing our spinal self-care series by talking about what to do after your first few adjustments! Stretching out tight muscles surrounding the spine is key to recovery and healing after an injury.
Inflammation often causes tightness in the muscles surrounding our spine. It's your body's way of attempting to protect itself from movements that could cause further damage. Without stretching, the body will tighten up more and more over time and will slow down the healing process. Here are six stretches you can do anywhere to loosen your muscles. The first three focus on your lumbar spine while the second set focuses on your sacrum.
1. Knee-to-Chest
While laying on your back, grab each leg behind the knee and pull them towards your chest. If you have difficulty reaching your legs, you can put a towel behind your knees to use to pull upward. This stretch can also be done one leg at a time. Hold for thirty seconds at a time.
You should feel this stretch in your lower back and glutes. If this stretch causes back pain to move into your legs or if you have existing sciatica pain, ask your doctor for an alternative.
2.  Seated Flexion
While sitting comfortable on a chair with your feet flat on the ground, lean forward so that your torso hangs between your legs. Allow your body to relax and let gravity pull you into a gentle stretch. Do not strain your back to force yourself forward and downward by pulling on your legs or chair. You should feel this stretch in your lower back and glutes. Hold for thirty seconds at a time.
3. Hamstring Stretch
While standing, place your heel on an elevated service at approximately knee height. Maintain a neutral or straight spine, avoiding arching your lower back. Bending at the hip, til your torso forward.
You can also take this stretch laying down on your back at a doorway or wall. Lift your leg up and rest the heel on the doorway or wall. You should feel this stretch in the back of your thigh and possibly behind your knee. Hold for 30 seconds on each leg.
4.Figure Four Stretch
While sitting in a chair, cross the ankle of the affected side to your opposite knee, creating a figure four. Lean forward slightly while keeping your back straight, bend at the hips rather than rounding your back.
You can also take this stretch on your back. After crossing the affected ankle over the opposite knee, grab the knee and pull it towards your chest. Hold gently for 30 seconds. You should feel this stretch in your gluteal region.
5. Hip Flexor Stretch
Stand in a split-stance or lung position with one foot placed on the ground behind you. Bend your front knee slightly until you feel a stretch in the back leg.
You can also take this stretch on your back on the edge of a bed. Allow your leg to hang off the side. Use your hands to pull the opposite leg towards your chest. You should feel this stretch in the front of your thigh and in the groin area.
As with any stretch or exercise, it's important to not over exert yourself or you could injure yourself further. If you have trouble doing any of these stretches, talk with your chiropractor about alternatives. When paired with spinal manipulation therapy, icing, and strengthening exercises, these stretches can help you find relief for your lower back pain.
If you're ready to take control of your spinal self-care, the doctors at Tuck Chiropractic would love to help you on your journey! Schedule an appointment today.
5 Habits for Spinal Self Care
As a chiropractic clinic, we believe in the power of keeping your spine healthy. With thousands of nerves connecting to your spinal cord and from your tail bone all the way to your brain, your back and spine are massive components in your nervous system, which transmits signals between your brain and different parts of the body.
Needless to say, if your spine isn't in proper alignment, it can cause problems such as:
headaches
pain in lower back, neck, knees or hips
excessive fatigue
numbness or tingling in the hands or feet
If you feel like you're experiencing these types of problems, it's probably time for you to call a chiropractor. But if you're in between visits or simply want to form good habits for a healthy spine, here are five habits that can help your spine feel great:
Stretch Out
One of the best ways to keep your spine healthy is to stretch every day. Simple stretching for 2 minutes a day can do wonders for your back and your whole body. Here are some simple ones to try, holding each pose for about 10 seconds.
Toe Touch – Bend forward and touch your toes (or as far down as you reasonably can reach)
Standing Quad Stretch – Stand straight and tall and pull your right foot up behind you and hold. Feel the stretch through the front of your leg. Switch.
Seated Twist – Sit on the floor with your legs extended straight in front of you. Bend your right knee, and reach over with your left arm to hug it. You can even place your left elbow on the outside of your right leg. Feel the stretch in your right glute and your back. Hold for 10 seconds and switch.
For more stretching ideas, check out this 10-minute daily stretching sequence from FitBit.
Exercise Often
If you sit in an office chair all day and then go home and sit on the couch to watch TV, you might notice your back feeling tight. Interestingly, rest isn't always good for your back, and too much inactivity can cause muscle weakness that leads to strained muscles and pain. If your back is in good shape, exercise can help keep your back muscles limber and flexible. Look for exercises that engage your core. Strengthening your back and abdominal muscles will help keep your spine healthy and strong.
Sit and Stand Tall
Having improper posture can make it hard for your spine to stay in proper alignment because it increases the stress on the ligaments holding the joints of your spine together. Unfortunately, many of us have never had great posture, so our muscles aren't accustomed to holding up our torsos correctly.
At your desk, sit all the way back in your chair and put a small cushion or even a rolled-up towel behind your lower-mid back. This is to support the natural bend in your spine. Make sure your knees are level with your hips or even a bit higher. Your feet should be able to rest flat on the floor. Make sure your arm rests are at the appropriate height so your shoulders stay low at the proper position.
When standing, keep your back straight as if someone was pulling your hair or you were balancing a bottle on your head. Tuck in your chin, and keep your shoulders back. Keep your hips directly below your torso. Over time, you should begin to notice a difference in your posture. Your spine will thank you!
Sleep Straight
We should all spend about 8 hours asleep every night, but if you're sleeping in an unhealthy position for your spine, that means that you're risking improper alignment for a third of each day.
If you sleep on your stomach, your spine is misaligned from your neck down. Try to sleep on your back, maybe with a pillow placed under your knees. The next best option is to sleep on your side; you can place the pillow between your knees.
Calm Down
If you're experiencing back pain alongside anxiety, there may be good reason for that. Similar to poor posture, anxiety often causes your muscles to tense. Maybe you notice you're holding your shoulders too high; alongside back pain, this type of physical stress can cause tension headaches.
Instead of allowing your anxiety to affect your back, treat the root issue. Practice simple breathing exercises like 4-7-8. Inhale for a count of 4 through your nose; hold it in for a count of 7; and exhale for a count of 8 through your mouth.
Keep your spine healthy and strong by practicing these five steps. If you want to jumpstart your results, see a chiropractor at Tuck Clinic for relief from back pain. You might not get it right away, but by building healthy habits, your spine is sure to thank you for it.
At-Home Self-Care Part 1: 3 Ways to Control Inflammation
Pain may sometimes feel like a difficult thing to overcome, but when you have the right resources to support you, the outcomes speak for themselves. We're kicking off our spinal self-care series to empower our patients to take their treatments a step further at home. We can help you in the clinic, but at the end of the day, it's up to you to create habits that help you heal. Let's begin with exploring how to control inflammation.
When it comes to identifying the source of pain at its core, it's often a result of inflammation. Inflammation is your body's response to damaged cells, irritation and strain, and pathogens. When activated in the body tissues,  muscles and joints can experience swelling. Chronic inflammation can also result in wearing down of cartilage between your bones, causing long-term chronic pain.
One of the most important steps to reducing pain is controlling inflammation. Let's talk about the three steps you can reduce pain at home.
1. Choose Ice Over Heat
While a heating pad may be the first thing you reach for when you experience pain because of the temporary relief it brings, heat can actually worsen your inflammation because it increases blood flow to the area. If you do choose to heat your back, you should always follow up with ice to dull the pain and reduce swelling.
When applying ice to an injured lower back, make sure the ice pack is wrapped in a thin towel to avoid direct skin contact. Apply ice for 20 minutes and take a 40 minute break before reapplying to avoid damaging your skin and keep the ice pack cool enough to be effective. Ice is most effective in the first 72 hours after an injury, but can also provide relief of soreness after a treatment or physical activity.
2. Modify your Activity Levels
It's likely you know what strains your back and what doesn't. Whenever possible, avoid or modify activities that are known to increase your pain. Try not to spend too much time sitting or standing and avoid lifting. If you're unsure about what to avoid, your chiropractor can give you tips.
Bedrest can be tempting when you're experiencing chronic pain, but laying around can lead to improper positioning of your  back. While it may provide temporary relief, avoiding movement can continue to weaken your back and lead to an extended healing process.
3. Consider Active Rest
"Active rest" may sound like a confusing concept, but balancing your rest with light activity is the key to recovery. Consider limiting high impact movements and exercises that could worsen your injury. Rest is important, but some maintaining some amount of exercise is necessary to help things return to normal.
Low impact aerobic exercises and stretching are great ways to release pain-killing endorphins and pump nutrients into injured tissues. Low impact exercises include swimming, using an elliptical or stationery bike, or walking. If you find that your back is still feeling strained after these activities, try to find something new.
We'll talk more about therapeutic stretches and exercises that can help you strengthen your muscles on your own time later in this at-home self-care series. These methods, paired with regular chiropractic adjustments can have you well on your way to healing and living a better life.
If you're ready to take control of your spinal self-care, the doctors at Tuck Chiropractic would love to help you on your journey! Schedule an appointment today.
How to Avoid Injury When Reviving your Workout Routine
New Year, New You, Right?
It's a common refrain every January. "This year," many say, "I'm going to be more physically active." In fact, according to a survey conducted by NPR and the Marist Poll, 13% of adults who made a New Year's resolution resolved to work out more, making it the most common resolution.
And truthfully, it's a great goal to shoot for. Increasing your physical fitness is one of the easiest and best ways to boost your overall health, especially for your heart and muscles.
However, many people sabotage themselves by working out too hard or too long when they're just starting out. Overexerting your muscles and joints can lead to injury, especially in the early stages of a workout routine when your body isn't used to the activity.
This year, keep up your workout routine by preventing injuries through these 5 simple steps:
Discuss your resolution with your doctor
As much as you'd like to not admit it, you're probably not as nimble as you used to be. As we age even into our 20s and 30s, it's common for our muscles and joints to be sore after a sudden increase in physical activity. For some people, that soreness is natural. For others, especially women over 55 years old and men over 45 years old, it's a good idea to discuss your new workout routine with your doctor. Your doctor can rule out any eventual problems so you can move confidently toward a more active future.
Be reasonable
It can be tempting to overreach and imagine yourself transforming back into the star athlete you were in high school. But after not working out for a long time, it can be dangerous to expect too much from your body too quickly. Instead, opt for a workout routine that makes sense for you. If your knee tends to hurt, choose a low-impact option that keeps your knees healthy but strong.
Limber up
You might remember stretching before gym class. Turns out, that's not just to fill up the class period. It's good to stretch your muscles before exerting them because cold and tight muscles are more likely to get injured. However, how we grew up stretching (holding one position for 10-15 seconds) isn't considered the best for your muscles. Now fitness experts recommend doing dynamic stretches where you stretch your muscles through movement.
In the same way, it's smart to gently stretch and cool down your muscles after working out. This keeps your tired muscles from tightening up and can help reduce soreness.
Variety is the spice of life
Exerting the same muscles in a workout day after day can cause undue strain on particular muscles and joints while leaving others relatively untouched. If you tend to workout your arms everyday, instead add in core and leg exercises to keep your whole body strong. Or get out of the gym entirely and go for a hike or a bike ride. Doing various types of physical activity helps prevent overuse injury and keeps you from getting bored with the same workout routine.
Know your body
We all know that working out isn't a pain-free experience. Your muscles ache when you're pushing yourself, and in many cases, you should push yourself through a reasonable amount of discomfort. As they say, "No pain, no gain."
However, know your body well enough to know when you should stop or take a break. Sure, exercise can cause pain, but be sure that you're not injuring yourself by pushing yourself too much.
Live Stronger
If you're beginning a new workout routine and are experiencing joint or back pain, the chiropractors at Tuck Clinic can help you determine the problem and keep your spine in alignment so you can safely pursue your dreams of a more active lifestyle. Let the experts at Tuck help you feel better so you can live stronger.
Patient Success Story: Phil Rice Tackles the Great Divide Mountain Bike Route
"Well, the first thing I'm going to do is go see my chiropractor," is the first thing Phil Rice said after biking 2,745 miles along the Great Divide Mountain Bike Route.
Phil Rice is an avid cyclist, cross fitter, and patient at Tuck Chiropractic in Roanoke. As an active person at the age of 56, Rice recognizes the important role chiropractic has played in his health and endurance. Prior to seeing Dr. Skinner at our Peters Creek Road clinic, he was a consistent chiropractic patient in Richmond for 5 years. After relocating to Roanoke, he heard that our practice was highly recommended, and the rest is history!
"I heard Dr. Skinner had a great understanding of caring for athletes," says Rice.
When he first visited the clinic, Rice experienced tightness in his neck and shoulders and some lower back pain as a result of tightness in his hip flexors. His sedentary job combined with the strain that crossfit can put on your body had been causing this pain. Within two weeks he saw a significant difference in his discomfort and increase mobility.
"We know that a sedentary lifestyle can lead to back pain," says Skinner. "Sitting and driving all week, and then going into crossfit-style work outs can cause issues. He's in great shape to begin with so he responded very well to treatment."
Preparing for the Grand Depart
In Spring of 2019, Rice shared with Dr. Skinner that he had set the goal to complete the Great Divide Mountain Bike Route, traveling from Banff, Alberta, Canada to the United States/Mexico Border by mountain bike. It was a bucket list trip and Dr. Skinner was eager to help him prepare with a maintenance program.
"As the training volume increased, we essentially just wanted to keep Phil out of pain," says Skinner. "We continued the same type of care by keeping his muscles stretched out and his joints mobile."
Both Rice and Skinner attribute the successful treatment experience to Dr. Skinner's own experience as an athlete, paired with his expertise in patient-centered chiropractic care. His full understanding of the human body and how it reacts to stressors from certain workouts enabled him to pin point the issues and provide non-invasive treatments at the source of the pain. Through open communication about what kind of strain Rice had been experiencing from workouts week to week, Skinner was able to adjust treatments accordingly.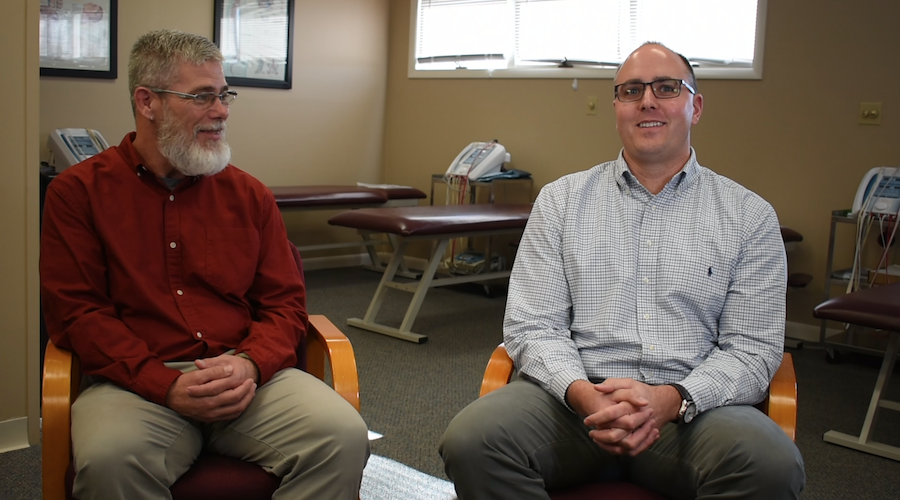 "It also helped me on my training journey while I was doing crossfit and cycling because Dr. Skinner was able to keep me in line and adjusting my own workouts until an injury was worked through," says Rice. "His understanding of what I was doing provided me with significant peace of mind."
Rice completed the entire 2,745 miles along the Great Divide Mountain Bike Route in 38 days with no pain or injury, thanks to his preparation and treatment with Tuck Chiropractic.
"It's rewarding to hear that. We work hard at trying to make people feel better and when they come in and tell us those kinds of thing, it puts a little extra pep in our step," says Skinner.
Rice feels like he has a true partner in his health and personal fitness goals and plan to continue striking off his bucket list and seeing Dr. Skinner. He participates in cycling events to raise money for research on illnesses like multiple sclerosis, cystic fibrosis, and cancer.
If you have a goal to maintain an active lifestyle or simply want to find relief from pain, we're here to help. Find a clinic convenient to you or call 540-951-6900 to feel better and live better today!
Patient Testimonial: Linda Smith
When Linda Smith found herself in debilitating pain from a back injury, she turned to Tuck Chiropractic for relief. Read how chiropractic has changed Linda's life.
Seeking Treatment
When Linda Smith and her husband experienced back injuries, they weren't sure what to do. "I had two falls, and both times, the pain was so bad," said Linda. "I was all bent over and couldn't walk. I could hardly put one foot in front of the other."
Her husband, a firefighter, also had back problems and had heard of Tuck Clinic from his coworkers. "We were looking for somewhere to get treatment," said Linda. "They recommended Dr. Rathmann at Tuck Clinic, and we've never seen anyone else since."
"We were just immediately impressed with Jennifer," said Linda.
"Tuck Clinic and Dr. Rathmann have the highest degree of professionalism of any doctors office I've ever seen."
The Extra Mile
What really set Dr. Rathmann and Tuck Clinic apart from the rest was their willingness to go the extra mile.
"My husband injured his back and couldn't move," explained Linda. "When Jennifer realized that he had a ruptured disc, she called around to neurosurgeons in Roanoke and told them about his condition. She got an appointment for him later that day."
"You feel so confident that she will take care of you, and if she can't, she makes sure you get the help you need," said Linda.
A Life with Chiropractic
Linda says that without Dr. Rathmann and Tuck Clinic in her and her husband's lives, things may have turned out much differently. "I was dealing with back pain that was keeping me from sleeping," said Linda. "After the first visit, I wasn't healed, but I could actually sleep. And experiencing that kind of relief made such a big difference in my life."
Reflecting back on her falls, Linda realized that without the help of Tuck Clinic, she very well may have ended up having surgery. But with chiropractic, Linda got treatment that was noninvasive and effective. "If I had to have surgery, that would have caused issues with my job. I didn't have to go through any of that because of chiropractic care," said Linda.
You may also be interested in...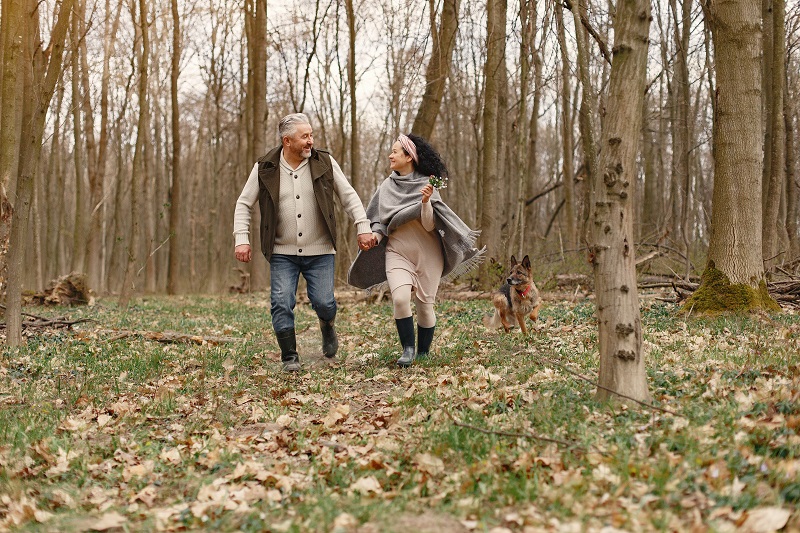 Did you know that one in every four adults over the age of 65 falls at least once every year? With one… Read More