Patient Success Story: Debbie Skewes
When we were looking for patients to celebrate their stories of finding relief during National Chiropractic Month, Debbie Skewes was at the top of Dr. Brooke's list.
Chiropractors Help More Than Just Back Pain
She first visited Dr. Brooke in late summer with complaints of pain and stiffness in her shoulder, knee, and hip.
"My knee was basically locked up, I was suffering from sciatica from my hip, and my shoulder was suffering from bursitis," says Debbie. "I hadn't been to the in years and thought it was time to try it again."
She set an appointment with Dr. Brooke after her daughter told her how much he had helped with her son's headaches. After her initial appointment, she had a better understanding of what her issues were and the plan to get her back to feeling and moving better.
Now, Debbie can move her knee freely without pain, her sciatica is manageable, and he continues to prescribe special therapeutic exercises for her shoulder. She recently had some ribs displace and because she had continued to see Dr. Brooke, he was able to help move them back into place.
"Debbie is one of those patients that you just look forward to having in the office. Always smiling and appreciative of her care," says Dr. Brooke.
A True Believer in Chiropractic
This wasn't the first time Debbie chose a chiropractor over other healthcare options for her pain and wellness.
"I was raised on chiropractors," she recalls. "We went to chiropractors for sore throats, muscle cramps, anything you can think of. I truly believe in them."
As longtime chiropractic patient, she has seen the industry progress in their processes and level of care. She says she can tell that the doctors at Tuck Chiropractic have worked hard to refine their practice and provide the  best level of care possible.
If anyone tells her they're skeptical of chiropractic, all she can do is say "just give it a try!".
We're Here to Help
While 80% of chiropractic patients come in with back pain, we are able to do so much more for the overall mobility and functioning of the whole body. Often times, issues that arise in other parts of the body stem from misalignment in the spine. Because we look at the body as a whole and treat the source of the issue, not just the symptoms, we are able to help people feel better and live better lives.
Start your chiropractic journey today by requesting your first consultation. 
YOU MAY ALSO BE INTERESTED IN...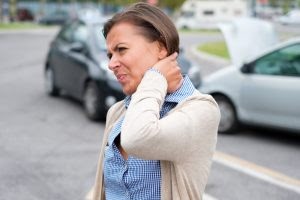 One of the most common injuries resulting from trauma, such as a car crash, is whiplash. Whiplash is a... Read More