Easy Shoulder Strengthening Exercises

Your shoulders are made up of some of the most complex combinations of bones, joints, tendons, and muscles in the entire body. It's where your neck, back, and arms come together to support your upper body. That's why shoulder pain can have a major impact on the overall wellness of your neck and back.
Impact of Shoulder Pain
Shoulder pain can often result in poor posture and pain that extends into the neck and upper back. Pain can stem from strain in the tendons or inflammation in the bones and joints. Regular chiropractic treatment and active therapeutic exercise can work together to reduce the impact of shoulder pain. Here are few simple exercises to make sure you're doing every thing you can to reduce your pain.
Exercises to Increase Shoulder Strength
Rowing
Using a row machine, exercise bands, or free weights to build muscle between your shoulder blades is the best way to provide added support for your shoulders. It can improve posture and reduce strain on your upper back and shoulders.
Making sure your back is completely straight, pull exercise band, weights, or machine cables backward, flexing the muscles between your shoulder blades as the main source of strength. Arms can either be up in alignment with your shoulders or down at your side.
Shoulder Squeeze
Another great way to exercise the muscles between your shoulders is a simple shoulder squeeze that can be done any time, any where! Position your arms like a goal post with your upper arms straight out to your side and your forearms upward. Without moving your arms, begin to move your shoulders backwards by squeezing the muscle between your shoulder blades. It's helpful to imagine that you're trying to hold a marker between your shoulders. If you have a tennis ball laying around, you can use it as a prop to get started! Hold the pose for 10-20 seconds at a time.
Bound Locust Pose 
While most people perceive yoga to be primarily focused on stretching, there are some positions that are also great for gentle strengthening. A bound locust pose can help you open space in your collar bones and strengthen your trapezius muscles. Laying flat on your stomach with your arms straight behind your back, join your palms together with fingers interlaced. With your feet together, you can choose to raise them or leave them on the ground for leverage as you enter into the pose. Slow lift your chest off the floor, using your back muscles to stabilize. Hold for as long as you can without losing the integrity of the pose. Rest and repeat!
There are plenty of ways to take small measures to create a big impact on the strength of your upper back and shoulders. Ask your chiropractor for specific exercises that fit your unique needs.
YOU MAY ALSO BE INTERESTED IN...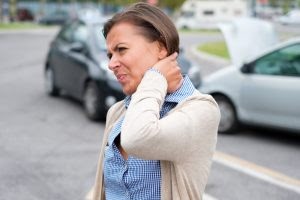 One of the most common injuries resulting from trauma, such as a car crash, is whiplash. Whiplash is a... Read More