10-Second Exercises to Improve Posture

Bad posture can be a main source of pain in the neck, shoulders, and upper back. Our doctors enjoy educating their patients about the importance of exercising to improve posture. It's not about good or bad posture, but more about meeting the patient's needs. Here are a couple of easy tips that you can do to work towards improving your posture.
Standing Wall Exercise
Starting in a standing position, lift your leg off of the ground. Keep your knee bent at a 90 degree angle.
Lift your leg up to be in line with your hip.
Hold for 10 seconds (or as long as you can).
Switch legs and repeat.
90 Degree Standing Leg Lift
Start with your back against the wall.
While resting your back on the wall, move your feet away from the wall about 8 inches. Keep feet shoulder width apart.
Close the space between your back and the wall by moving your belly button towards the wall.
Hold for 10 seconds and repeat.
Both of these quick and easy exercises are designed to improve your core strength. A strong core can help prevent slouching which causes strain on the lower back.
If you're looking to improve your posture try out these 10 second exercises! If you want to schedule an appointment with one of our chiropractors for more therapeutic and strengthening doctors, we're here to help!

YOU MAY ALSO BE INTERESTED IN...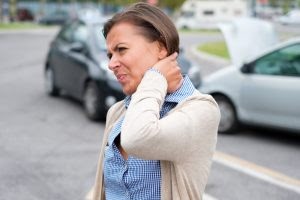 One of the most common injuries resulting from trauma, such as a car crash, is whiplash. Whiplash is a... Read More