The Integrated And Collaborative Care Models Thrives Within The Tuck System Of Clinics
Tuck Chiropractic Clinic is always seeking out ways to provide a superior level of care to all of our patients. Every part of our patient-centered care is performed with intention and dedication. For years we've been singing the praises of an integrated, collaborative patient-centered care model that allows doctors across specialties to collaborate on behalf of the patient. We actively seek out primary care providers, orthopedists, physical therapists, and the like to take our care to the next level.
Collaborating with Physical Therapists
Dr. Harrison Hunt of Rehabilitation Associates of Central Virginia, has been a fantastic partner in this effort.  As a physical therapist, she works to empower people to be active participants in their own treatment and works collaboratively with other health care professionals to ensure patients receive truly comprehensive care – something that the doctors at Tuck Chiropractic are also passionate about.
"Physical therapists (PTs) are movement experts who optimize quality of life through prescribed exercise, hands-on care, and patient education," says Dr. Hunt. "We look at the whole person and get the patient involved in their treatment actively with exercise, body mechanic training, and posture changes."
Like chiropractors, physical therapists provide personalized treatments plans that assist patients in improving their mobility, managing pain, and recovering from injuries. When a physical therapy care program is aligned with a patient's chiropractic treatment plan, the results can be incredibly impactful.
"If a patient has been seeing one of the Tuck chiropractors and they find that the patient would benefit from additional training – such as more advanced shoulder strength training – we can treat the patient concurrently," says Dr. Hunt. "We worked with a patient that had cervical pain who also had radicular symptoms into the arm and problems into their shoulder blade."
Many times the PT will coordinate more "Active Care" or assisted mobility exercises to rehabilitate target muscle groups.
When the patient started seeing Dr. Hunt to supplement their care, their shoulder blade weakness and instability improved while the chiropractors at Tuck Clinic were able to continue to treat the cervical problem. Because the muscles and skeletal systems are so intertwined, success comes from treating problems from all angles.
A Community of Collaborators
Dr. Hunt doesn't limit her collaborative care to just chiropractors. She has historically worked with neurologists, podiatrists, gym trainers, massage therapists, and more. When specialized experts work together, everyone benefits.
"Tuck Chiropractic has been a nice addition to the Bedford community and are definitely patient focused," says Dr. Hunt. "They are great to work with and open to learning more about physical therapy and what is best for their patient."
If you're in pain and not sure who to turn to, Dr. Hunt suggests reaching out to both your chiropractor and physical therapist. We are all here to discuss the best option for you and your needs. Taking an active role in your care can produce better results and prevent issues in the future.
YOU MAY ALSO BE INTERESTED IN...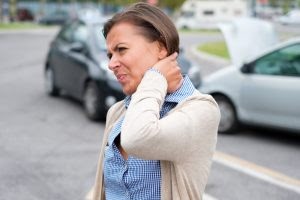 One of the most common injuries resulting from trauma, such as a car crash, is whiplash. Whiplash is a... Read More