Having a friend crack your back may provide some temporary relief, but it won't fix the underlying issue causing pain and can result in injury.
Years ago, we built our wellness blog on the idea that we can connect to our patients and the general public outside the clinic walls by providing stories about our doctors and patients and advice on ways to achieve the "Feel Better. Live Better." lifestyle we promote. We love sharing stories about patients of all ages who have seen a change in their life since visiting. Even more, we love being able to provide valuable information and insights on how they can continue that feeling each day. Here are our top ten posts from 2018! It looks like our doctors got a lot of great attention this year!
1. Can a Chiropractic Adjustment Help Clear Your Sinuses?
One of the lesser known treatments is adjustments focused on relieving sinus pressure from sickness or allergies. While many people turn to cold or allergy medication to relieve the symptoms, a chiropractic adjustment of specific bones in the face, neck, and back could provide relief to the cause, and in turn the symptoms.
2. Top 10 Wellness Blogs of 2016
This throwback post to 2016 features the most read blog posts of 2016. Topics included spotlights on Dr. Tuck, Dr. Rathmann, and Dr. Matthis, tips for staying active, eating right, and more.
3. Rocky Mount Clinic Moves to New Location
Dr. Tiffany Grace and her team found a new home in Rocky Mount this year, right next to Carilion Children's Center. They were very excited to be opening at new location which enables them to better serve our amazing patients in a very accessible and modern location.
4. Dr. Grace's Mom's Migraine Relief Translated into a Career in Healthcare
This post highlights Dr. Grace's journey into the chiropractic field. From the age of four, Tiffany heard her mother praise the practice for her relief from persistent migraines and insisted that she or one of her brothers became chiropractors.
5. Dr. Tyler Garapola Joins Tuck the Chiropractic Clinic in Woodlawn
Dr. Tyler Garapola joined the Tuck Chiropractic Clinic located in the Woodlawn area of Carroll County, Va., in March. He works alongside Dr. Katie McKown, who has practiced there since 2010 and brings a youthful passion for chiropractic care and community involvement – two things that Tuck Chiropractic Clinic hold in high value.
6. Dr. Foster's Helping Hands Give Back to the Community He Was Raised By
Growing up in a small town with a tight-knit community such as Bedford often inspires unexpected roots to sprout. At least this was the case for Tuck's Bedford Clinic, Dr. Matthew Foster, who completed his preceptorship and began practicing as a licensed chiropractor at Tuck Chiropractic Clinic in Bedford in the Fall of 2017.
7. Dr. Brooke's Take on Chiropractic Care: Healing from the Inside
Dr. Brooke's patient roster ranges from baby boomers to children, and even student-athletes, he's has helped them all. He is the official chiropractor for the Radford University Athletic Department. He has also worked with the Virginia Tech Rugby Club and the Virginia Tech Triathlon Club.
8. Is It Bad to Crack Your Back?
Having a friend crack your back may provide some temporary relief, but it won't fix the underlying issue causing pain and can result in injury.
9. Your Spine is in Good Hands: Infographic
Chiropractic is a health care profession that specializes in the treatment of the spine and joint conditions. Chiropractic uses non-invasive techniques, such as to misaligned joints, to remedy underlying issues that lead to pain and problems within the muscles and bodily organs.
10. Tuck Clinic Takes SXSW
A highlight of Dr. Tuck and Dr. LaBarbera's trip to Austin, Texas to attend the 31st South by Southwest, a conference, and festival celebrating the convergence of industries for innovation. They strategically split their time between the healthcare-focused tracks and the marketing and innovation focused tracks to elevate their strategies in providing collaborative care and helping individuals in need discover that kind of care in a meaningful, authentic way.
There you have it – a perfect recap of 2018. What's in store for 2019? Stay tuned!
YOU MAY ALSO BE INTERESTED IN...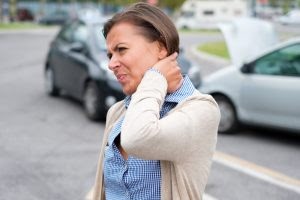 One of the most common injuries resulting from trauma, such as a car crash, is whiplash. Whiplash is a... Read More