Overcoming Reservations to Find Relief

Stephanie woke up one day and was unable to turn her head to the left. After years of chronic back pain and knee pain, her condition took a turn for the worse when she was unable to drive or do her job properly. It was at this point that Stephanie finally overcame her reservations about trusting others with her care and sought out a chiropractor. Under the guidance of a friend, she made an appointment with Dr. Katie McKown in Woodlawn, VA.
"I was hesitant and nervous," she recalls. "Dr. McKown and staff reassured me and made it easier for me to relax and get involved in my treatment."
At Tuck Chiropractic, we take a different approach to providing care. It's important for our patients to feel reassured and that they have a say in the care that we are providing. The collaboration and communication between patient and doctor are vital in this way. It's our job to make our patients feel better both physically and mentally.
After Stephanie's first visit, mobility in her neck had returned and she was able to continue to work and drive without trouble or tension. Within a few more visits, her knee and back felt better than they had in years. As someone who enjoyed an active lifestyle before her pain arose, she was able to ease herself back into running and exercising. Now, she runs 4-6 miles daily!
"I am as active as I used to be before the pain set in," says Stephanie. "Before chiropractic care, I was in chronic pain and thought it was something I had to live with."
We realize that taking the plunge to explore a new option of care can be scary. We do our best to educate our patients on the matter and make them feel like the right decision. When they begin to find relief, it's easy for them to see.
"I suffered from pain for years because I struggle to trust others with my care. If I would have known how it would help me, I would have sought out chiropractic care earlier," says Stephanie.
She adds that anyone who is in pain should not wait to find help, hoping that it will end. She advises people to seek care right away. In fact, once she started to find relief, she began to take her two sons. They had suffered from migraines and had to take medication to find relief. Since they've been seeing Dr. McKown, they no longer have to rely on medications to manage their migraines and they occur far and few between. Quality chiropractic care has helped her whole family live pain and medication free.
YOU MAY ALSO BE INTERESTED IN...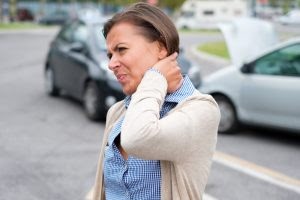 One of the most common injuries resulting from trauma, such as a car crash, is whiplash. Whiplash is a... Read More