Dr. Foster's Helping Hands Give Back to the Community He Was Raised By
In Bedford County, it's easy to know just about everybody. Growing up in a small town with a tight-knit community such as Bedford often inspires unexpected roots to sprout. At least this was the case for Tuck's Bedford Clinic, Dr. Matthew Foster, who completed his preceptorship and began practicing as a licensed chiropractor at Tuck Chiropractic Clinic in Bedford in the Fall of 2017.

When Career and Community Come Full Circle
As a Sophomore football player at Jefferson Forest High School, Dr. Foster sustained injuries in the weight room. Most young, spry athletes are always eager to get back on the field after an injury and Dr. Foster was no different. Unfortunately, he had trouble finding true relief. After going through specialty stretches, physical therapy, and pain medication, the pain was merely masked rather than relieved. Finally, he paid a visit to a well known, now-retired Chiropractor in Bedford for an adjustment. After seeing the miracle-like effect a simple adjustment can have on a healing body, Matthew discovered his future career.
"The chiropractic profession, where you can heal people with your hands, is almost biblical," says Dr. Foster. "My uncle Paul Foster is a physician's assistant and was a big role model for me growing up. I remember him always talking about how many people come through the office for pain medications."
Knowing the toll that the "medical loop" takes on your body in search of pain relief, Dr. Foster set out on his mission to heal people with his hands. He attended Liberty University for his undergraduate degree and continued his chiropractic education at the renowned Palmer College of Chiropractic in Florida. When it came time to complete his preceptorship and find a job, his hometown in Southwest Virginia came calling to him.
"I actually had the opportunity to move out to Hawaii to practice, but I couldn't turn down the opportunity to come back home and work in the community I grew up in," says Dr. Foster. "It's an awesome feeling that money can't buy when you help the hometown that helped raise you to be who you are."
Refined Treatments for Special Cases
As a new graduate, Dr. Foster has had the opportunity to explore some of the alternative methods to administering chiropractic care beyond spinal manipulation. He is certified to administer dry needling, activator methods, instrument assisted soft tissue mobilization, and Epley's Technique for vertigo.
How do these techniques vary from the classic chiropractic adjustment? Essentially, they are just more direct ways to get to the root of the pain while remaining in the natural remedy arena. Dry needling, similar to acupuncture, operates on pressure points in the body that can cause pain. Dr. Foster can also perform the activator method and soft tissue mobilization with special instruments that focus on a specific area of the body that is experiencing pain.
"It's so rewarding to hear people say that they feel better and the gratitude and satisfaction that you get from healing pain is immeasurable," says Dr. Foster. "My only goal is to help people with acute pain or injury find relief, educate them well enough to help them take care of themselves, and hopefully they'll choose elective care to help their lifestyle. I didn't choose the profession for the money, I just want to help people that want to help themselves by implementing our mission statement of, 'To make a positive impact on every life we touch.'"
Rooted in the Community
Of course, working at Tuck Chiropractic Clinic wasn't the only reason Dr. Foster returned to Bedford County after college. It was his connection to the community that really called him back home and he demonstrates that as much as possible through his activities outside the clinic walls. As a member of the Bedford County Rotary Club, Bedford Chamber of Commerce, and soon to be Free Masons, Matthew spends this free time giving back in any way he can.
YOU MAY ALSO BE INTERESTED IN...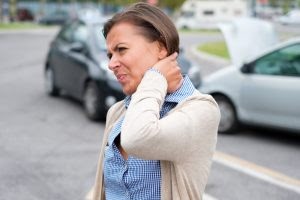 One of the most common injuries resulting from trauma, such as a car crash, is whiplash. Whiplash is a... Read More