5 Fall Activities That Are Workouts, Too
We can think of no better workout than those that are so much fun that they don't even feel like work. Now, even though you may not break into the same kind of sweat you'd experience in a
Zumba class
, family-friendly fall activities are just as fun and burn calories, too.
Of course, a fall afternoon spent raking leaves and a 10K aren't the same thing, but you'll be using different parts of your body in new ways and reaping the benefits (as long as you don't indulge in too many pumpkin-spiced anythings afterward).
Apple and Pumpkin Picking
Could there be a more quintessential outdoor fall activity then heading to a farm and picking apples and pumpkins? We think not! Take a brisk walk around the orchard prior to plucking Honeycrisps and Jonagolds from the trees. Do some light stretching before you try to man (or woman) up a pumpkin that rivals Charlie Brown's and remember the age-old chiropractic adage of lift from the legs, not the back. You'll be hero enough for finding the perfect pumpkins in the patch, so don't be afraid to ask for help loading up a heavy pumpkin (or huge crate of apples) into the car.
Around the area: head to Gross Orchard or Doe Creek Farm for pick-your-own apples and Layman Family Farm, Jeter Farm, or Sinkland Farms for pumpkin patches galore.
Raking Leaves
Raking is a workout, for sure, and try to amp up the fun factor of the fall chore by getting your kids involved—go ahead, jump in the piles with them! Still, the repetition of raking works your muscles and can be hard on your back. Anyone who's raked before generally anticipates a sore back and a soak in the tub following a long afternoon of raking leaves. To avoid the sore back portion of the deal, take breaks, stretch gently every so often, and pace yourself. Try to rake a little bit over the course of several days so you don't have a leaf-raking marathon. If you do feel any severe or sharp pain in your back, drop that rake and stop for the day (and consider seeing your chiropractor soon thereafter).
We're fortunate to be in the Blue Ridge Mountains here in Southwest Virginia, so reward yourself for raking up pile after pile with a hot bath or by taking advantage of the landscape and going for a short drive on the Blue Ridge Parkway to see the foliage still on the trees.
Hiking
In our area, there is hardly a better time to get into nature and see the amazing colors of the season than by doing a day hike at the Peaks of Otter, Mabry Mill, McAfee Knob, or the Waid Recreational Area. Set your own pace and set out to enjoy the scenery. Remember to wear a backpack with padded, wide straps and bring water, snacks, and a small first aid kit with you. Warm up with some leg swings and gentle calf stretches and easing out of the hike with two yoga poses: table top pose and hero's pose.
Gardening
From adding pops of color from autumn's mums to planning for spring or even planting produce that requires a chill, the fall is a great time to get in the garden. Whether you're puttering around as a novice gardener or dreaming of all the time you can spend in the dirt before winter's frost, you need to nourish yourself as well as the soil: keep moving! We tend to act like garden statues and assume the same position when we're planting, so keep moving and take breaks. If you're looking for a local garden center for advice on which bulbs are best to plant in our zone during the fall, check out Townside Gardens, Groundworks, or the Moneta Farm& Home Center.
Family Fun Runs/Turkey Trots
Runners know that now is the time to actually enjoy running outdoors—winter air is simply too icy to truly enjoy a long run. The area is plentiful with races for you (like the Growler Gallop) or for your whole family (like the Superhero Race), or you might want to start a family tradition of running a turkey trot this Thanksgiving. Whichever way you choose to hit the pavement, make sure you don't bang up your back by remembering to stretch your calves, thighs, and hips before the run.
Alternate Activities
If you are healing from a back injury but still want to get outside and enjoy outdoor seasonal fall celebrations, you can:
Visit a local apple orchard.
Go on a nature walk with your family.
Navigate your way through a corn maze.
However you choose to celebrate the season, dress in layers, stay hydrated, and take precautions to avoid injury.
YOU MAY ALSO BE INTERESTED IN...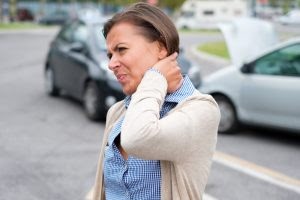 One of the most common injuries resulting from trauma, such as a car crash, is whiplash. Whiplash is a... Read More