When a migraine hits, getting through life can be near impossible. In addition to being an excruciating headache, migraines are often accompanied by reduced field of vision, dizziness, severe light sensitivity, nausea and vomiting. Take a moment to imagine having the worst migraine of your life. Now imagine that same migraine is happening while you are standing at the front of a classroom full of 5th graders, trying to teach them. That is where Jennifer found herself time and time again.
For years Jennifer has struggled with debilitating migraines. They would strike and she would end up in bed for an entire day. Over the years she saw various doctors and ended up on medication, in an effort to make it possible to live the life she dreamed of. Jennifer is extremely active. Aside from keeping up with busy 5th graders all day long she also instructs fitness classes and is very involved with her church youth group and YoungLife. She is also a big Bachelor fan and never misses watching an episode with her friends, unless a migraine strikes. She is outgoing and energetic—too busy embracing life to contend with migraines!
This past January Jennifer decided that something had to change; the frequency of her migraines had increased. She explained, "I was trying a preventative medication and I really wanted to go off that medication." After meeting with multiple doctors, and not feeling like she was ever really heard and understood, she ended up in our Bedford Clinic meeting with Dr. LaBarbera. The collaborative aspect of Jennifer's appointment with Dr. LaBarbera really stood out to her. She remembered, "When I first came to him and explained the issues I was having, he listened to me and developed a plan."
Moving forward, Jennifer gets regular weekly adjustments. The results have been phenomenal. Jennifer is no longer on medication and the intensity of her headaches has diminished. She explained, "My headaches are coming less frequently and are not as severe so I am able to deal with them if they do occur. Before chiropractic treatments, a migraine meant a day in bed for me and now I am able to at least function." For a woman with a busy life—and lots of young people that depend on her—this new normal is a welcome change.
An aspect of our patient care that is especially valuable to Jennifer is our willingness to fit in unexpected appointments—because we know migraines (and pain in general) don't follow a polite schedule. On one such visit, Jennifer's husband, Cory, had to drive her. The migraine was in-progress and was too intense for her to safely operate her vehicle. It allowed him the opportunity to get a first-hand look at what the treatments were going to be like, and the person responsible for administering the treatments. Jennifer recalled that appointment:
Dr. A.J. brought my husband in and showed him the x-rays and told him about our plan for treatment. When we left, my husband said, "I feel like he really wants to help you!" That was very different from the many different doctors I have seen regarding my migraines over the last several years.
We especially love how Jennifer has integrated chiropractic adjustments with her overall wellness plan. She has a daily workout, makes eating healthy a regular habit, and gets a weekly adjustment. She understands that her health can't be isolated to just dealing with headaches, just exercise, or just a healthy diet. It is when chiropractic care is aligned with all other aspects of health that the most positive impact is felt.
YOU MAY ALSO BE INTERESTED IN...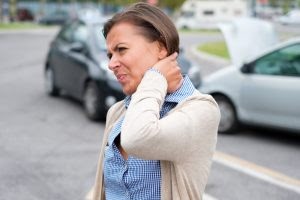 One of the most common injuries resulting from trauma, such as a car crash, is whiplash. Whiplash is a... Read More