Dr. Matthis: Why Chiropractic?
He isn't sure exactly where the interest came from but at 6 years old
Dr. Matthis
(just "Lee" at that time) was certain that someday he would be a general and vascular surgeon. He supposes that his desire to become a surgeon was in part because of the outdoorsman hobbies he had growing up. He was born and raised in Kenansville, North Carolina ("God's Country") located between Raleigh and Wilmington. He spent a lot of time hunting and fishing. In his family the expectation was "if you kill it, you grill it." Matthis assumes that mantra played a role in his intrigue with anatomy and physiology.
When Matthis was in 6th grade, he had the opportunity to explore his desired career tract first hand. He had a family friend that was a surgeon and allowed him to go on post-op and pre-op rounds. He absolutely loved it! A week or so later Matthis came back and scrubbed in for surgery. He had a laser focus on this career path but painful curveball was thrown at him by life, derailing his dream.
One of Matthis' biggest champions in life was his grandmother, affectionately known as "Meme." She lived only 5 miles down the road from him and was a huge part of his life. She always had a big smile on her face—especially when she was dancing the Charleston (which she did often). When Matthis was 17 he lost his Meme, while she was having a "routine" surgical procedure. This exposed him to the shadow side of surgery and caused him to take pause and carefully evaluate his career aspirations.
The loss of his Meme was staggering and derailed Matthis from his dream. He still planned to pursue premed in undergraduate school with a biology degree but felt a bit lost when trying to envision his end goal. Sometimes it is the little things that have the biggest impact on our lives and provide redirection. For Matthis is was a little tweak to his knee.
Matthis has always been active, and in high school he played baseball and also worked in construction. He managed to tweak his knee enough that it was bothersome and interfering with his work and play. His mom referred him to a chiropractor and Matthis got his first adjustment. As Matthis explained, "The chiropractor adjusted my knee and I thought it was pretty cool. She then told me I would be good at it and gave me a book. The book talked a lot about anatomy and physiology and I was drawn to it." He also loved that Chiropractic is a history rich profession. Matthis elaborated, "I did not have a miraculous experience with a chiropractor. I did not go in lame and come out walking. The improvement was a mild improvement on my quality of life." That self-described "mild" improvement left a lasting impression. Matthis realized that he wanted to be part of a profession that allows people to move from living mediocre lives to expressive lives, without surgical intervention. This is his goal as a doctor of chiropractic and why he loves what he does so much.
The journey of Matthis becoming a chiropractor is one laced with joy and intrigue but also contains threads of grief, all of which can be powerful motivators. Matthis has now been with Tuck Chiropractic Clinic for nearly 10 years and is a source of enthusiasm for our doctors, as well as the profession of chiropractic. He is a thought leader for advocating for the
benefits of chiropractic care
and he is also a lot of fun to follow on
Twitter
. He lives a life wide open—embracing each day and each moment. The answer to "why chiropractic?" for Matthis is a powerful, compelling, and personal story. It speaks volumes about the ability of chiropractic to leave a positive impact on lives—both patients and doctors alike.
YOU MAY ALSO BE INTERESTED IN...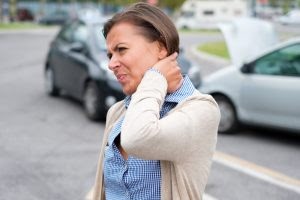 One of the most common injuries resulting from trauma, such as a car crash, is whiplash. Whiplash is a... Read More