Is It Bad to Crack Your Back?
There are varying opinions about whether people should crack their knuckles, back, or other joints in the body. Many people wonder about the cracking noise that occurs during a chiropractic adjustment, and some claim that having a friend apply force to "crack their back" can produce the same effect. But what actually happens when your back cracks? And how is it different than treatment from a chiropractor? Let's take a look.
What Causes Your Back to Crack?
A recent MRI study published in April 2015 in the journal PLOS ONE illustrates what happens when you crack your fingers: Your joints are separated by force, forming a cavity that causes the cracking noise we are familiar with.
When your back cracks, the same principle applies — gases between the joints of the spine form a cavitation that causes a change in pressure, producing a popping noise.
Back cracking is perfectly normal. Gases and liquids surround the joints of the spine, and as you move throughout the day they move too. When pressure is applied, such as during a chiropractic adjustment, these liquids and gases rapidly move and form cavities that produce the popping noise. The joints and bones themselves are not affected by the cavities created.
Sometimes the back cracks as a result of ligaments tightening or shifting, but it also might be the result of a more serious condition, such as arthritis — rough bone edges may rub together because of the deterioration of smooth cartilage.
How Are Chiropractic Adjustments Different?
During chiropractic adjustment, cracking or popping noises typically occur as a natural result of specific manipulation applied to the joint, including changes in pressure that occur when your joints are being moved.
Having a friend crack your back and seeing a chiropractor are very different. Having an untrained person apply force that creates a cracking sound may provide some sort of temporary relief, but it also comes with a greater risk of injury. Only a trained, experienced professional like a chiropractor can manipulate specific joints and adjust them properly to provide lasting relief and appropriate treatment. Chiropractors can assess exactly where a joint is malfunctioning or causing pain and can deliver adjustments with specific, targeted intent that restores function and mobility to the joint.
There is a much higher chance that an untrained amateur could accidentally injure your back. Chiropractors are highly trained, and chiropractic manipulation is a very specific procedure. Dr. Ray Tuck, D.C., summed it up:
Anyone can produce a popping sound from a person's back. A doctor of chiropractic can determine where an adjustment to a specific joint needs to be performed.
Doctors of chiropractic are trained to perform adjustments on patients with lower back pain and other musculoskeletal disorders. If you're interested in learning more about the benefits of chiropractic adjustment, please contact us with any questions or to schedule a consultation.
Image Copyright: pressmaster / 123RF Stock Photo
YOU MAY ALSO BE INTERESTED IN...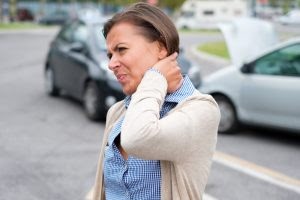 One of the most common injuries resulting from trauma, such as a car crash, is whiplash. Whiplash is a... Read More