Runners Can See Improvement with Chiropractic Care

When most people think of the term "chiropractic", they automatically associate it with "low back pain". However, the range that chiropractic care covers is far greater than this. Think of the last time you went for a jog, or even a fast paced walk. Consider the strain that you put on your knees, your ankles, and your feet.
The most common complaint that you hear from runners is plantar fasciitis and, while there's no instantaneous cure for it, chiropractic can do wonders for an ailment such as this. Plantar fasciitis is a manifestation of the tendon being pulled, whether it is caused by form when running or leg muscles pulling in excess. A misalignment of your spine can cause this type of tension anywhere in the body. If the misalignment continues, the strain and wear and tear that is put on your body will continue and worsen. It is important to halt the progression of interferences concerning the spine to avoid degeneration. In combination with therapeutic modalities such as ultrasound, an adjustment restores the normal joint mechanics of the body and reduces the tension that spreads across the bottom of the foot.
Another common complaint from runners is the knee area. Knee pain can stem from a multitude of things, but often times it is due to the patella moving in an irregular pattern, which in turn can put further stress on ligaments and tendons. With the use of therapy, inflammation around the joint can be decreased, diminishing the pain. When joined with an adjustment, movement is increased and functionality is enhanced. In addition, pain that you feel in your knee may be a representation of stress that is coming from other joints in the lower limbs. Chiropractic care identifies where that stress is originating and alleviates the stress from those joints to decrease pain and improve mobility.
Chiropractic care is a full body technique that removes interferences from your spine, allowing normal motion. With a properly functioning nervous system, you can continue daily activities without pain.
YOU MAY ALSO BE INTERESTED IN...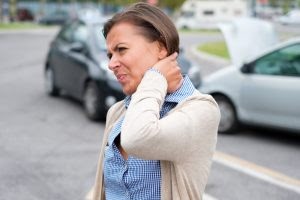 One of the most common injuries resulting from trauma, such as a car crash, is whiplash. Whiplash is a... Read More