Happy, Healthy, RESTED Spines

The comment of the day in my office yesterday was, "I wake up with pain, and I don't know why." If you are waking up with pain, it probably has something to do with how you are sleeping. Posture is just as important when you are sleeping as when you are awake.
Patients often ask me, "What is the best mattress?" It's really all about what is comfortable for you. Everyone is very different, but a good rule of thumb is to get a mattress on the firmer side. A mattress that is too soft will not provide good support for the spine. A mattress that is too hard may put pressure on trigger points on the back. Personally, I avoid the pillow top mattresses because you cannot flip and rotate the mattress. The key is to take your time and test out the mattress to make sure it is comfortable for you.
There are basically three body positions for sleeping. The best positions are either on your back or on your side. While lying on your back, you should put a pillow under your knees to take the pressure off of your low back. You also want a pillow under your neck that will support the curve in your neck. Feather pillows, while cozy, will guarantee that I wake up with a headache. They do not support the cervical curve like a contour pillow. If I am at a hotel, and I forget my to bring my pillow from home, I will take a small rolled hand towel and place it under my neck for added support.
Laying on your side is another good way to sleep. When on your side, you want to keep a pillow between your knees to keep your pelvis in a nice, neutral position. This will prevent a lot of low back pain because it alleviates stress on the sacroiliac joints. Again, you want to use one pillow under your neck, preferably a contour type of pillow, to give your neck the support it needs.
This brings us to sleeping on your stomach. This is not at all an ideal position for sleeping. It is harmful to both your low back and your neck. Try to break this bad habit if at all possible. For the stomach sleeper that just can't break the habit, the best mattress is a firmer mattress. Even if you sleep one less hour a night on your stomach than you normally do, you are making your spine happier and healthier.
No matter what type of mattress you have or what position you sleep in, 8 hours of quality sleep is very important. If a patient is not getting enough sleep, the healing process for injuries will be prolonged. Enjoy your happy, healthy, RESTED spine!
YOU MAY ALSO BE INTERESTED IN...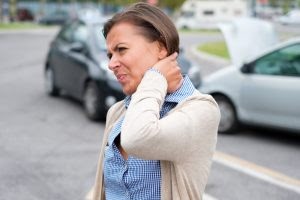 One of the most common injuries resulting from trauma, such as a car crash, is whiplash. Whiplash is a... Read More