4 simple steps you should take before shoveling snow!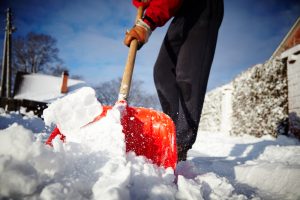 With the amounts of snow that have fallen this winter, you would be hard pressed to find anyone who has not had to shovel at least a little bit.  Most of the folks who have donned the snow boots and grabbed the shovel haven't done so in quite some time and are most likely prove to injury.
My office has had a reoccurrence of snow-shoveling-related injuries that may have been avoided.  Here are some tips to make sure you don't join the masses and by keeping your spine safe.
1- Wait until the snow quits falling-  This seems like a very common-sensical statement, but if there is snow in the driveway, you are not required to leave the house, and more is on the way, then leave it.  Let the neighbors think you are untidy because you'll have enough energy left and be pain-free enough to help them clear their drive later.
2- Hydrate well-  In winter months our bodies require just as much water to function well as they do in the heat of the summer, but our thirst often isn't as noticeable. So make sure your muscles are hydrated well to avoid possible injury.
3- Stretch-  Warm up prior to getting outside by doing some light stretching exercises.  This may seem silly, but certainly not as silly as lying in the yard in pain because you failed to take this simple step.
4- Take breaks-  All that snow fell over several days, so what makes us think we should clear it all in an hour?  Work in 20-30 time periods with "water breaks" in between.  Section the area to be cleared into smaller plots and clear one at a time.
These are a few suggestions that will help to avoid injury during the Winter Wonderland.  For more information on safe shoveling tips, visit this local article: http://www.roanoke.com/news/nrv/wb/235601%20
YOU MAY ALSO BE INTERESTED IN...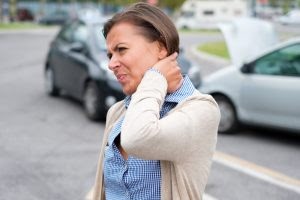 One of the most common injuries resulting from trauma, such as a car crash, is whiplash. Whiplash is a... Read More