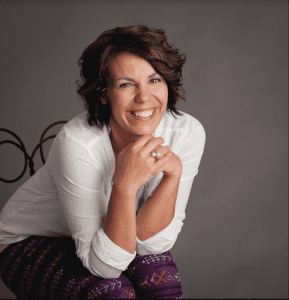 Kid-sized rubber is flying up on three wheels around the corner. Blades of autumn grass are slicing underneath the wobbly course of the red joy mobile. Water is dancing through the creek in a shining, crystal background. This is going to be perfect. A squealing three-year-old at the wagon's helm is bounding into focus. Just have to crouch down a little more. There, that's it. Joy is about to be forever captured in a matter of "One, two, three, CHEESE!" Nailed it.
This is what it's like for Kristina Rose to live out her dreams. Her idea of success: a child in one hand, a camera in the other, and a smile on her face. Today, with three kids and a photography business eight years in the making, that's exactly what she has. But it hasn't always been that way. In fact, just a few years ago, it seemed woefully out of reach.
One morning, Kristina realized she couldn't move. The pain was searing. Her back seemed locked. Her feet were swollen beyond recognition. It's a familiar place for many women navigating the joys and trials of pregnancy. For Kristina, it begged the question: If she couldn't even get off the ground, how could her vision for a happy life get off the ground?
Beep, beep, beep. She dialed in the numbers to begin a desperate phone call, accompanied by uncertain expectations, to our Christiansburg clinic. Kristina detailed her plight of pregnancy paired with pain and a lack of mobility. She left her contact information, then hung up. She figured she would have to wait her turn for relief – weeks, maybe even months.
Then, almost immediately, on a Sunday morning, her iPhone ringtone shattered the silence. Much-needed hope came in the form of Doctor Lee Matthis' voice, returning her call from our Christiansburg clinic. His concern for her condition was not constrained by business hours, and neither was his take-charge spirit when it came to making sure she had a convenient and quick appointment.  "Can you come in tomorrow?" he asked.
Kristina was now floored emotionally, not just physically. Dr.Matthis called her back on a weekend, and got her in the next day.  "I was blown away, because that just doesn't happen," Kristina recalled.  
As if that wasn't unique enough, her experience at our Christiansburg clinic made her jaw drop even farther. She had received compassionate, effective care at other places in the past. She had also, on occasion, been treated quickly. But never both at once. The simplicity, convenience, and compassion was life-changing and opened up new possibilities for what it could mean to live pain free.  Kristina said, "I like that it was quick. I got the service I needed, and I felt better."
Just like that, Kristina was hooked and has been a consistent Tuck Chiropractic patient ever since. We were honored to be part of her second and third pregnancies, which meant the crippling swelling that accompanied her first pregnancy was not a reality she had to relive with her other pregnancies. Kristina said, "My OB was so surprized. Even my deliveries were better."
These days, Kristina is living her version of the American dream. Whether it be kneeling to get that perfect shot, or hoisting a curious child on her shoulders, she still calls Dr. Matthis the moment any stiffness or soreness creeps in on the rhythm of her busy life. But it's not one-sided. Every year on her birthday, she hears from her Tuck team. It's that care, in every sense of the word, which keeps her coming back.  "Somebody went out of their way to do something extra. I was valued."