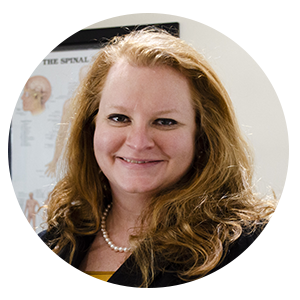 Dr. Katie McKown
Doctor of Chiropractic at Tuck Clinic in Woodlawn, VA
Dr. Katie McKown is a native of the great state of West Virginia. She completed her undergraduate studies at the University of Charleston earning a BS in Biology. She then attended Palmer College of Chiropractic where she earned a Doctor of Chiropractic Degree.
Since graduation Dr. McKown has helped hundreds of patients in a few states and abroad. Her client list includes military service members, accident victims, children, pregnant women and athletes. She last served as the team doctor of a college prep football team in Washington D.C.. Her greatest asset is her determination to help you enjoy a better quality of life. She is also a sports fan and would enjoy telling you how good her team is.
Dr. McKown sees patients at our office in Woodlawn, click here to find out more about this location.
Bachelor of Science degree in Biology - University of Charleston

Doctorate of Chiropractic - Palmer College of Chiropractic
Monday
8:00am-12:00pm & 2:00pm-6:00pm
Tuesday
8:00am-12:00pm & 2:00pm-6:00pm
Wednesday
8:00am-12:00pm & 2:00pm-6:00pm
Thursday
8:00am-12:00pm & 2:00pm-6:00pm