Patient Success Story: Phil Rice Tackles the Great Divide Mountain Bike Route
"Well, the first thing I'm going to do is go see my chiropractor," is the first thing Phil Rice said after biking 2,745 miles along the Great Divide Mountain Bike Route.
Phil Rice is an avid cyclist, cross fitter, and patient at Tuck Chiropractic in Roanoke. As an active person at the age of 56, Rice recognizes the important role chiropractic has played in his health and endurance. Prior to seeing Dr. Skinner at our Peters Creek Road clinic, he was a consistent chiropractic patient in Richmond for 5 years. After relocating to Roanoke, he heard that our practice was highly recommended, and the rest is history!
"I heard Dr. Skinner had a great understanding of caring for athletes," says Rice.
When he first visited the clinic, Rice experienced tightness in his neck and shoulders and some lower back pain as a result of tightness in his hip flexors. His sedentary job combined with the strain that crossfit can put on your body had been causing this pain. Within two weeks he saw a significant difference in his discomfort and increase mobility.
"We know that a sedentary lifestyle can lead to back pain," says Skinner. "Sitting and driving all week, and then going into crossfit-style work outs can cause issues. He's in great shape to begin with so he responded very well to treatment."
Preparing for the Grand Depart
In Spring of 2019, Rice shared with Dr. Skinner that he had set the goal to complete the Great Divide Mountain Bike Route, traveling from Banff, Alberta, Canada to the United States/Mexico Border by mountain bike. It was a bucket list trip and Dr. Skinner was eager to help him prepare with a maintenance program.
"As the training volume increased, we essentially just wanted to keep Phil out of pain," says Skinner. "We continued the same type of care by keeping his muscles stretched out and his joints mobile."
Both Rice and Skinner attribute the successful treatment experience to Dr. Skinner's own experience as an athlete, paired with his expertise in patient-centered chiropractic care. His full understanding of the human body and how it reacts to stressors from certain workouts enabled him to pin point the issues and provide non-invasive treatments at the source of the pain. Through open communication about what kind of strain Rice had been experiencing from workouts week to week, Skinner was able to adjust treatments accordingly.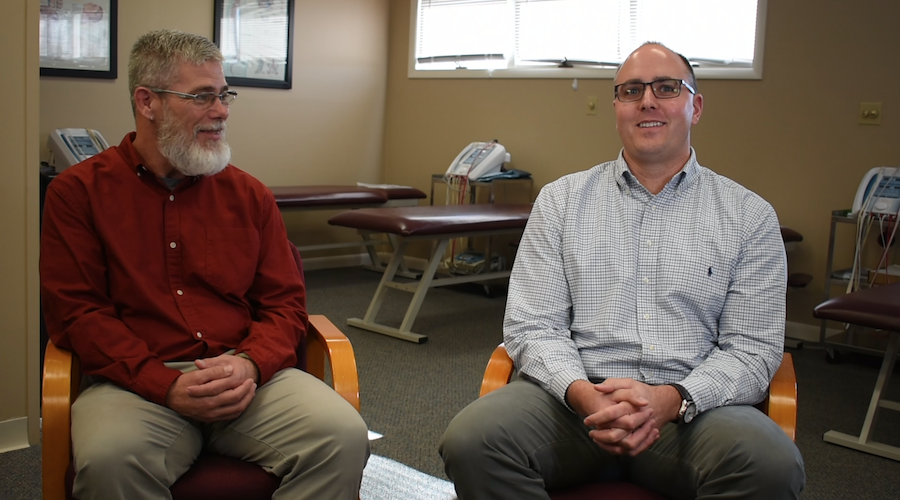 "It also helped me on my training journey while I was doing crossfit and cycling because Dr. Skinner was able to keep me in line and adjusting my own workouts until an injury was worked through," says Rice. "His understanding of what I was doing provided me with significant peace of mind."
Rice completed the entire 2,745 miles along the Great Divide Mountain Bike Route in 38 days with no pain or injury, thanks to his preparation and treatment with Tuck Chiropractic.
"It's rewarding to hear that. We work hard at trying to make people feel better and when they come in and tell us those kinds of thing, it puts a little extra pep in our step," says Skinner.
Rice feels like he has a true partner in his health and personal fitness goals and plan to continue striking off his bucket list and seeing Dr. Skinner. He participates in cycling events to raise money for research on illnesses like multiple sclerosis, cystic fibrosis, and cancer.
If you have a goal to maintain an active lifestyle or simply want to find relief from pain, we're here to help. Find a clinic convenient to you or call 540-951-6900 to feel better and live better today!
Patient Testimonial: Shannon and Jessica Zimmerman
A Healthy Spine for an Active Life
"We lead busy lifestyles, and we're always on the go," said Jessica Zimmerman, patient at Tuck Clinic at our Bedford office.
A respiratory therapist with Carilion, Jessica stays busy with her work and family and depends on Tuck Clinic to keep her body on the right track.
"I'm on my feet 12+ hours at work, and as I'm getting older, I feel my body ache more," said Jessica. "It helps to know I can go to the chiropractor and start feeling better."
Jessica started going to Dr. A.J. LaBarbera about fifteen years ago when she was pregnant with her son who is now fourteen years old. "I was having back pain and sciatic nerve problems from pregnancy, and some coworkers recommended that I try out chiropractic."
It didn't take long for Jessica to be convinced of how chiropractic could relieve her pain. "After one adjustment, I immediately felt relief," explained Jessica. "The problem wasn't solved immediately, but I felt a lot better right away. It was amazing to me."
A Family Affair
Tuck Clinic has been a part of Jessica's life ever since. In fact, Jessica's husband, Shannon, started seeing Dr. LaBarbera soon after Jessica felt relief from her back pain. Like Jessica, Shannon's job as lieutenant with the Bedford County Sheriff's Office demands a lot from his back. "I carry a lot of equipment around my waist everyday on the job," said Shannon. "If you count the belt and the vest I wear, it's about 30 pounds of added weight along my torso and hips."
After years as a police officer, Shannon began noticing the strain that he was putting on his spine. "When I sit in a car with that weight around my waist, it can start to cause a strain on my lower back," said Shannon. "And sometimes I have to hop out of the car at a moment's notice. That agility and flexibility can be hard when your back isn't in good shape."
Now that Shannon has gotten his back in better shape with chiropractic, it's fairly simple to keep from being in pain. "I can have a kink in my back, and go see Dr. LaBarbera for an adjustment," said Shannon. "By the next day, I've already got relief."
Why Tuck?
"I went to other chiropractors before, and I didn't feel like I got any relief," said Shannon. "Dr. A.J. and the chiropractors at Tuck Clinic are just so hands on and get things moving better than other chiropractors."
Jessica loves the friendship that she has with the Tuck team. "The staff are amazing and willing to help," she said. "If you're in pain, you can go by at anytime, and they'll always try to work you in."
"Dr. A.J. has a sincere desire to help people," Jessica continued. "He really cares about his patients and about how they feel. He's consistent about keeping up with our back and neck issues, and that relationship is what keeps us coming back to Tuck year after year."
Patient Testimonial: Linda Smith
When Linda Smith found herself in debilitating pain from a back injury, she turned to Tuck Chiropractic for relief. Read how chiropractic has changed Linda's life.
Seeking Treatment
When Linda Smith and her husband experienced back injuries, they weren't sure what to do. "I had two falls, and both times, the pain was so bad," said Linda. "I was all bent over and couldn't walk. I could hardly put one foot in front of the other."
Her husband, a firefighter, also had back problems and had heard of Tuck Clinic from his coworkers. "We were looking for somewhere to get treatment," said Linda. "They recommended Dr. Rathmann at Tuck Clinic, and we've never seen anyone else since."
"We were just immediately impressed with Jennifer," said Linda.
"Tuck Clinic and Dr. Rathmann have the highest degree of professionalism of any doctors office I've ever seen."
The Extra Mile
What really set Dr. Rathmann and Tuck Clinic apart from the rest was their willingness to go the extra mile.
"My husband injured his back and couldn't move," explained Linda. "When Jennifer realized that he had a ruptured disc, she called around to neurosurgeons in Roanoke and told them about his condition. She got an appointment for him later that day."
"You feel so confident that she will take care of you, and if she can't, she makes sure you get the help you need," said Linda.
A Life with Chiropractic
Linda says that without Dr. Rathmann and Tuck Clinic in her and her husband's lives, things may have turned out much differently. "I was dealing with back pain that was keeping me from sleeping," said Linda. "After the first visit, I wasn't healed, but I could actually sleep. And experiencing that kind of relief made such a big difference in my life."
Reflecting back on her falls, Linda realized that without the help of Tuck Clinic, she very well may have ended up having surgery. But with chiropractic, Linda got treatment that was noninvasive and effective. "If I had to have surgery, that would have caused issues with my job. I didn't have to go through any of that because of chiropractic care," said Linda.
Patient Testimonial: Alainna Goodnight

"Been there, done that"
"I've been going to different chiropractors since 6th grade," said Alainna Goodnight. "I'm 5'10" and I've always played volleyball and basketball. My back was in pretty bad shape from all of that."
Alainna periodically suffered from severe back spasms that kept her from being able to walk. "The back spasms were so bad some days that I had to stay home from school," said Alainna.
When Alainna started her job in Blacksburg, Virginia, several of her coworkers mentioned Tuck Clinic. "They said Tuck was the best," said Alainna. "I had been to a lot of chiropractors before so I was doubtful, but I wanted to see what all of the hype was about."
The Tuck Difference
Alainna gave Tuck a shot and was impressed right away. "The initial interview I had with the doctor at Tuck was so thorough. I studied Human Nutrition, Food, and Exercise at Virginia Tech, so I'm really interested in the body and how it works. They explained everything to me about what my spine looked like, how that would manifest in how I walk and feel, and how they could treat it," said Alainna.
Alainna thought her husband, Curtis, might be able to benefit from chiropractic care, too. "My husband had chronic headaches since he was a kid," said Alainna. "He didn't really think it would work. But with my back pain and his chronic headaches, we said we should at least give it a shot."
Having experienced the benefits of chiropractic before, Alainna knew that it might take a few weeks to begin to tell results. "Sometimes, when your body isn't used to it, you can feel sore after your first few adjustments. It makes sense if you think about the doctors getting your spine into better alignment after it's been messed up for so long."
But after one month, both she and Curtis began to tell a difference. Alainna's back spasms became less and less frequent, to the point where she can't remember the last time she had one. And Curtis' headaches are much improved. "He'll get the occasional headache, but it is so much better than what it used to be," said Alainna.
"I feel like it's dramatically shifted our health," said Alainna. "It's been a big change in both of our lives."
Why Chiropractic Care Matters
Now Alainna and Curtis only get adjustments every month or so, just to make sure their spines and necks stay in a healthy alignment. "I don't know how people don't go to the chiropractor," said Alainna. "In addition to the chiropractors adjusting my spine, they also give me exercises to strengthen my muscles and even help alleviate old sports injuries I got back in high school." Tuck Clinic has helped Alainna think about and improve her overall physical health.
"You have to prioritize and invest in your health now. The return benefit will be exponentially greater," said Alainna. "My physical health bleeds into my emotional health which bleeds into my mental health. I'm an all-around better and happier person when I take care of my body."
Patient Success Story: Debbie Skewes
When we were looking for patients to celebrate their stories of finding relief during National Chiropractic Month, Debbie Skewes was at the top of Dr. Brooke's list.
Chiropractors Help More Than Just Back Pain
She first visited Dr. Brooke in late summer with complaints of pain and stiffness in her shoulder, knee, and hip.
"My knee was basically locked up, I was suffering from sciatica from my hip, and my shoulder was suffering from bursitis," says Debbie. "I hadn't been to the in years and thought it was time to try it again."
She set an appointment with Dr. Brooke after her daughter told her how much he had helped with her son's headaches. After her initial appointment, she had a better understanding of what her issues were and the plan to get her back to feeling and moving better.
Now, Debbie can move her knee freely without pain, her sciatica is manageable, and he continues to prescribe special therapeutic exercises for her shoulder. She recently had some ribs displace and because she had continued to see Dr. Brooke, he was able to help move them back into place.
"Debbie is one of those patients that you just look forward to having in the office. Always smiling and appreciative of her care," says Dr. Brooke.
A True Believer in Chiropractic
This wasn't the first time Debbie chose a chiropractor over other healthcare options for her pain and wellness.
"I was raised on chiropractors," she recalls. "We went to chiropractors for sore throats, muscle cramps, anything you can think of. I truly believe in them."
As longtime chiropractic patient, she has seen the industry progress in their processes and level of care. She says she can tell that the doctors at Tuck Chiropractic have worked hard to refine their practice and provide the  best level of care possible.
If anyone tells her they're skeptical of chiropractic, all she can do is say "just give it a try!".
We're Here to Help
While 80% of chiropractic patients come in with back pain, we are able to do so much more for the overall mobility and functioning of the whole body. Often times, issues that arise in other parts of the body stem from misalignment in the spine. Because we look at the body as a whole and treat the source of the issue, not just the symptoms, we are able to help people feel better and live better lives.
Start your chiropractic journey today by requesting your first consultation. 
Employee Spotlight: Zach Bird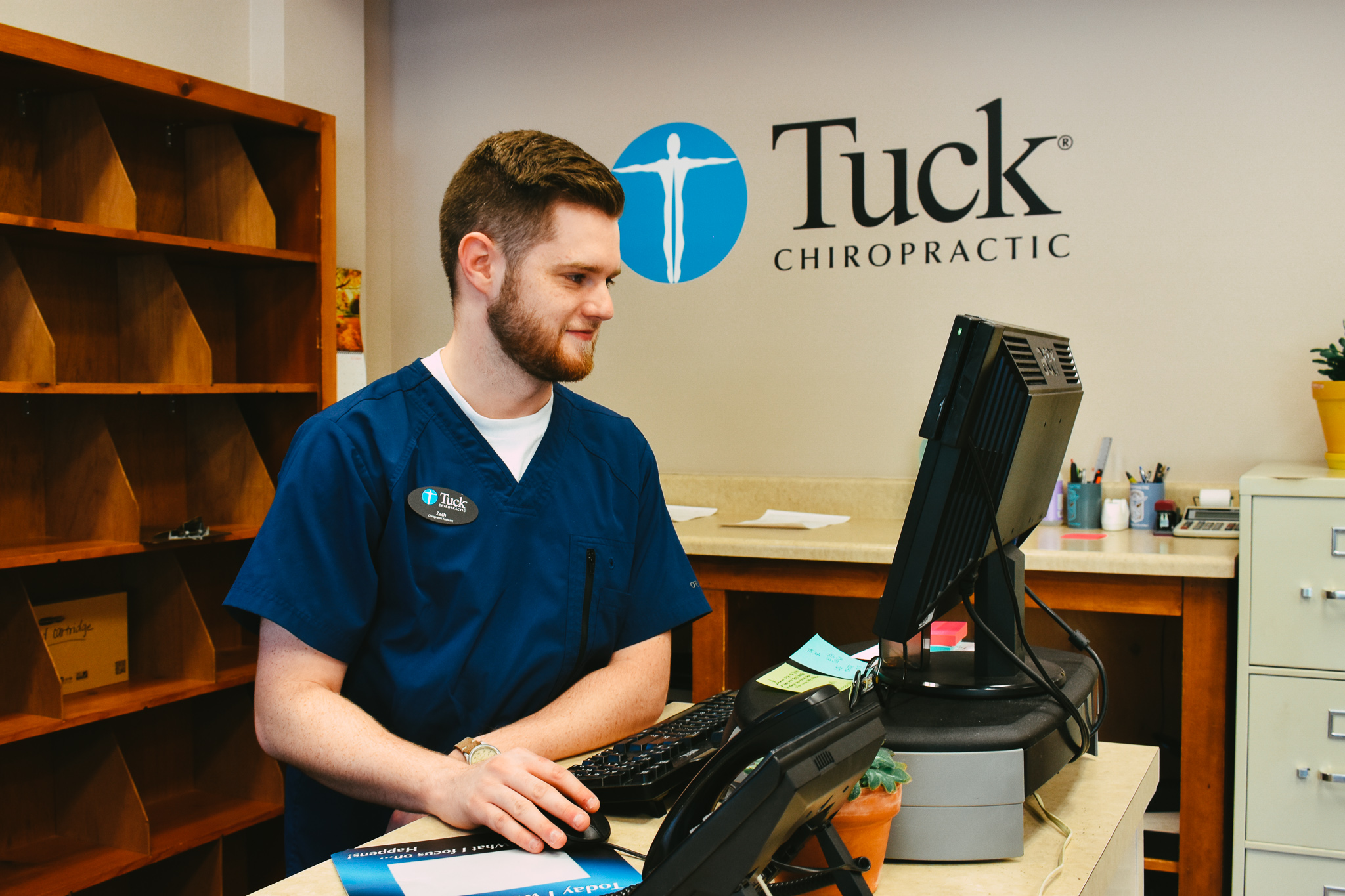 Zach Bird, Chiropractic Assistant at our Blacksburg has a unique outlook on life, health, and wellness.
Facing His Own Health Challenges
When Zach was 12 years old, he was diagnosed with acute lymphoblastic leukemia, a type of cancer that affects white blood cells in bone marrow. His mother and step-father would spend the next three years with him at St. Judes Children's Hospital until he was cleared at the age of 15.
"I haven't had any scares since then – I've been really blessed in that way," says Zach. "It really brought my family and I closer and we are still very close today because of it."
While Zach still goes regularly to get screened, he also participates in special research that tracks the long term effects on the treatments he received in his youth. They use the research to work to prevent long term side effects. In this way, he gives back to children who face the same the same road to a cure.
"This experience has changed my perspective on everything," says Zach. "I would not be the same person I am today without St. Judes. A lot of people equate cancer to a bad thing, but honestly it was the best time of my life."
Channeling His Experiences
Today, Zach channels his experience in the care he provides patients as a Chiropractic Assistant at our Blacksburg Clinic. Most days, he spends time handling patient data entry and assisting the doctors with manual therapies. He really values the face to face time he gets with patients and getting to know them.
"It's really focused on the patient experience and making everyone feel welcome. I'm glad to be a part of that," says Zach. He also appreciates the time he gets to spend with his coworkers.
"We really all click so well and nobody is afraid to pitch in and get the job done," he adds.
Outside of work and participating in the children's research program, Zach is still very active in Relay For Life in his hometown of Glade Springs, VA. In his free time at home, he spends time at his current resident in Radford, VA doing woodworking and handyman work.
Because of the experiences that brought him here today, Zach cares for Tuck Chiropractic patients with the utmost care and empathy. He lives life to the fullest and sees every day as a gift. We're so lucky to have his bright disposition on our team!
Miraculous Recovery Creates A New Chance at Life: Joyce's Story

In 2004, Joyce was in a wheelchair, unable to bathe herself and suffering from debilitating back pain. Today, she is pain free and uses a cane only for balance. Her experience with Dr. Thompson was amazing, but not uncommon.
Living In Suffering
Following a back injury, Joyce was unable to complete many day-to-day tasks without assistance and horrible pain. She was told repeatedly by multiple doctors that surgery was the only way to find relief.
Yet, Joyce resisted. She consulted with friends and family who had gone through with surgery, and learned that even with the painful surgery and recovery, many still didn't find relief.
"I didn't want surgery. I wanted anything but surgery", says Joyce.
This led her to Dr. Thompson.
New Hope
Joyce's husband suggested she visit a chiropractor. Willing to try anything, Joyce scheduled an appointment with Dr. Thompson at Tuck Chiropractic.
Dr. Thompson tried varying techniques to help treat her pain. He also gave her a very specific and personalized care plan that she faithfully follows to this day.
"He sat me down and explained everything I should expect," Joyce said. "He was very personable as well as professional. He takes time to talk and get to know you. He's a wonderful person. He said he would try to help me and he did. It worked."
Joyce used a wheelchair to enter Dr. Thompson's office 15 years ago, and walked out that same day. She was quickly weaned off of all the pain pills she was previously prescribed. Simply put, Joyce was beginning to live again.
When The Pain Is Gone
Flash forward to 2019 and Joyce is living pain free. She still visits Dr. Thompson every other week, and has discovered that visiting a chiropractor can help with more than just her back pain.
"I've actually only been sick 4 times in 15 years. I can't make this stuff up. I am a firm believer and walking example," Joyce says.
Joyce has become quite the advocate for chiropractic care. She urges everyone she knows to give it a try.
"All I can say is what it's done for me. if it can take me from where I was to where I am now, it works. I try to tell everyone I know."
The Integrated And Collaborative Care Models Thrives Within The Tuck System Of Clinics
Tuck Chiropractic Clinic is always seeking out ways to provide a superior level of care to all of our patients. Every part of our patient-centered care is performed with intention and dedication. For years we've been singing the praises of an integrated, collaborative patient-centered care model that allows doctors across specialties to collaborate on behalf of the patient. We actively seek out primary care providers, orthopedists, physical therapists, and the like to take our care to the next level.
Collaborating with Physical Therapists
Dr. Harrison Hunt of Rehabilitation Associates of Central Virginia, has been a fantastic partner in this effort.  As a physical therapist, she works to empower people to be active participants in their own treatment and works collaboratively with other health care professionals to ensure patients receive truly comprehensive care – something that the doctors at Tuck Chiropractic are also passionate about.
"Physical therapists (PTs) are movement experts who optimize quality of life through prescribed exercise, hands-on care, and patient education," says Dr. Hunt. "We look at the whole person and get the patient involved in their treatment actively with exercise, body mechanic training, and posture changes."
Like chiropractors, physical therapists provide personalized treatments plans that assist patients in improving their mobility, managing pain, and recovering from injuries. When a physical therapy care program is aligned with a patient's chiropractic treatment plan, the results can be incredibly impactful.
"If a patient has been seeing one of the Tuck chiropractors and they find that the patient would benefit from additional training – such as more advanced shoulder strength training – we can treat the patient concurrently," says Dr. Hunt. "We worked with a patient that had cervical pain who also had radicular symptoms into the arm and problems into their shoulder blade."
Many times the PT will coordinate more "Active Care" or assisted mobility exercises to rehabilitate target muscle groups.
When the patient started seeing Dr. Hunt to supplement their care, their shoulder blade weakness and instability improved while the chiropractors at Tuck Clinic were able to continue to treat the cervical problem. Because the muscles and skeletal systems are so intertwined, success comes from treating problems from all angles.
A Community of Collaborators
Dr. Hunt doesn't limit her collaborative care to just chiropractors. She has historically worked with neurologists, podiatrists, gym trainers, massage therapists, and more. When specialized experts work together, everyone benefits.
"Tuck Chiropractic has been a nice addition to the Bedford community and are definitely patient focused," says Dr. Hunt. "They are great to work with and open to learning more about physical therapy and what is best for their patient."
If you're in pain and not sure who to turn to, Dr. Hunt suggests reaching out to both your chiropractor and physical therapist. We are all here to discuss the best option for you and your needs. Taking an active role in your care can produce better results and prevent issues in the future.
Taking Care of the Caretaker
It's not every day that our doctors get a hug after an adjustment appointment, but when they do, it makes them feel like they made a special impact on a life. This is certainly the case for Dr. Matthis's mother and son patients, Shannon and Taylor.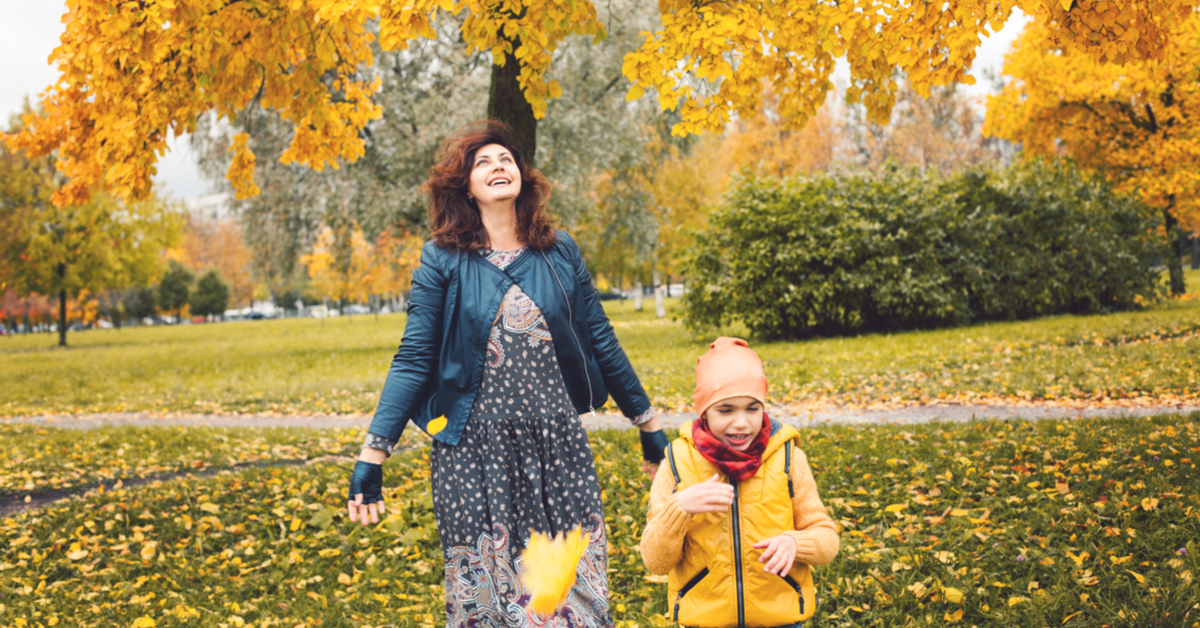 Rising to a Challenge
Five months ago, Shannon brought Taylor in to see Dr. Matthis after his special aide at school suggested that she bring him in for the neurological benefits that come with chiropractic care. Taylor, a young teenager, is on the autism spectrum and experiences a lot of muscle tension and headaches as symptoms of his disability. While autism often expresses itself in different ways for every individual, symptoms are interconnected through the nervous system. Chiropractic is a non-invasive way for doctors to help patients find balance and relief in their nervous system, helping to lighten the effects of the disability.
"When he leaves, he's in such a great mood," says Shannon about her son. "Dr. Matthis is really excellent with kids."
Dr. Matthis is especially engaging when Taylor comes into his office. While it can sometimes be a challenge to get Taylor into the correct position for an adjustment, Dr. Matthis makes it seem like a fun game. He truly gets joy out of helping Taylor find relief by making adjustments to his back, neck, and jaw.
Caring for the Caretaker
Not long after Shannon started bringing Taylor to see Dr. Matthis, she decided to try chiropractic out for herself. After spending so many years taking care of her son, it was time to take care of herself.
"I've had sciatica for years, but you really forget that kind of stuff when you're a caretaker," says Shannon.
"I had no idea how 'jacked up' I was until I started seeing him. It's also a great stress reliever."
Shannon jokes that after every visit she wishes she could just take a nap in her car and enjoy the release, but her work is never over. Realizing this, Dr. Matthis takes care to make sure that Shannon is equipped with the knowledge of how to get the most out of her and Taylor's treatments and techniques for self-care and maintenance.
While we realize Shannon and Taylor are extremely grateful for the hard work Dr. Matthis puts in to help them improve their daily lives, we believe he's equally grateful for the opportunity.
How Webster's Technique Can Help Your Delivery

Bringing a child into the world is a beautiful thing, but it does cause a lot of changes to occur in the body. These changes can sometimes bring pain and discomfort. Chiropractic care is a proven, safe way to manage lower back pain and sciatica that often comes with the pressure of carrying a baby for 9 months. Receiving care throughout your pregnancy could help you manage these changes to your body and the strain the extra weight puts on your muscles and spine. But that's not the only way chiropractic care can make a big difference during your pregnancy.
Webster Technique for a Safer Birth
When a baby is in a breeched position with their bottom in the position to be birthed first, the mother and child could face a high-risk delivery and often times a mandatory cesarean section. This is common in 3-5% of pregnancies. The Webster Technique is a specific chiropractic adjustment that is made to help a late-term pregnant woman whose baby is in the breached position. The doctor can safely manipulate the position of the baby to the proper delivery position.
Essentially, the Webster Technique adjusts the sacrum and relieves tension that is preventing the baby from moving into the proper position. Studies have shown that when the Webster Technique was employed early enough before delivery, 92% of patients were successfully manipulated into the correct position. This allows mothers to pursue a natural, low-risk birth.
Tuck Chiropractic Doctors Are Waiting to Help
Expectant mothers can embrace a safe, natural alternative to find relief during and after their pregnancy. All of our doctors are passionate about helping parents bring new life into the world safely and without unnecessary pain. Schedule an appointment at a clinic near you to find out how we can help.
You may also be interested in...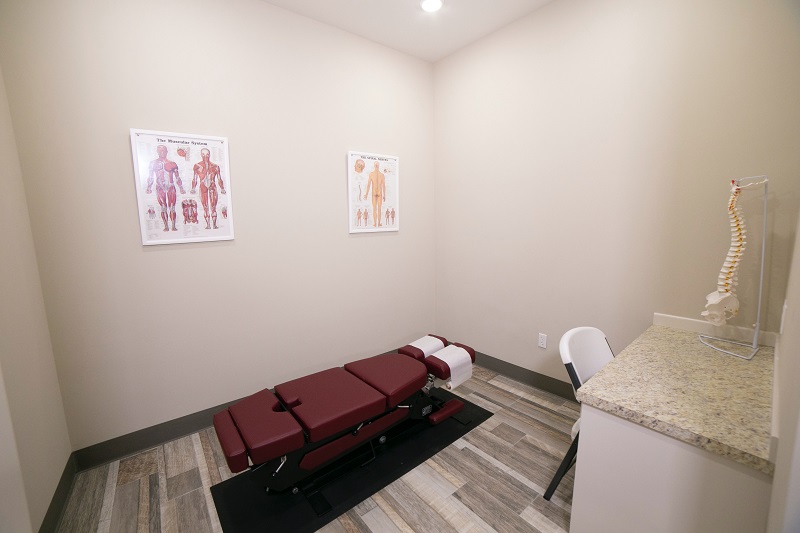 Chiropractic care can be an excellent alternative treatment option for aches and pain throughout the body. Every year, over 20 million Americans… Read More