At-Home Self-Care Part 3: 3 Low Back Exercises to Stabilize Your Spine
While some lower back pain can occur as a result of injury, some pain is simply a result of a sedentary lifestyle that leads to weakness of muscles surrounding the spine and supporting the body. When at-home stretching and strengthening exercises are paired with spinal manipulation therapy, patients can experience further relief from pain and strengthening and prevent in the long term.
In part three of our spinal self-care series, we're going to share three helpful exercises that allow you to improve your range of motion, reduce pain, and stabilize your spine. After an injury and initial adjustment, it's important to slowly build up your injured muscles to protect your spine prior to trying more difficult strengthening exercises. By building a foundation, you're creating the support your spine needs to begin strengthening and continue to be aligned.
Here's Dr. Delaney McMann of our Bedford Clinic to talk through these three exercises:

1. Belly Breathing
Deep, purposeful belly breathing may not sound like the exercise you'd expect to use for strengthening, but it's a key step toward building a core that can support your spine properly. During a deep belly breath, your diaphragm is expanded with the help of your abdominal muscles. The longer and deeper your breathing becomes, the harder your abdominal muscles will be working and strengthening.
For this exercise, lay flat on your back with one hand on your chest and one hand on your belly. Make sure as you breathe in that your chest does not rise fully. Only breathe into your belly. The goal is to work up to a 12 second inhale, but starting small is always best. Repeat 5 times per day.
2. Pelvic Tilt
While laying on your back, bend your knees and place your feet comfortably on the ground. Making sure your low back remains on the floor, and tilt your pelvis up and in. You should feel the contraction of your muscles in your lower back. Hold for a belly breath, then relax.
Next, flatten your back, pushing it down towards the floor to close the space between your spine and the ground. You should feel the tightening in your abdominal muscles. Hold for 5 seconds, then relax. Repeat this exercise 20 times in the morning and 20 times in the evening.
You can also take this move on an exercise ball. With your legs at a right angle and your feet planted firmly on the ground. Use only your pelvis, keeping your knees still, to tilt forward and backward. You can also try to move your pelvis in a circular motion for added strengthening in your side abdomen.
3. Side Plank
While side planks can be challenging because it requires both strength and balance, working on these two elements combined is a great way to stabilize your muscles. Lay on your side with your lower forearm on the ground and your feet stacked together. Position your elbow directly below the shoulder to keep your body aligned properly.
From here, press into your bottom forearm and lift your pelvis off the ground, keeping your feet together. If you need more stability, try separating your feet or leaving your knees on the ground. Belly breathe while you hold your plank for 30 seconds.
Make sure you repeat this exercise on both sides for even strengthening. Though our muscles aren't typically symmetrical in strength, it's a good goal to work towards. Do this exercise 2-3 times daily.
Practicing these exercises daily will help to stabilize your muscles so that you can take on more complex strengthening exercises later in your treatment. These exercises will reduce the likelihood of re-injuring yourself and help you find further relief from lower back pain!
If you're ready to take control of your spinal self-care, the doctors at Tuck Chiropractic would love to help you on your journey! Schedule an appointment today.
Stay tuned for the final installment of our spinal self-care series where we explore more complex strengthening exercises for your back!

YOU MAY ALSO BE INTERESTED IN...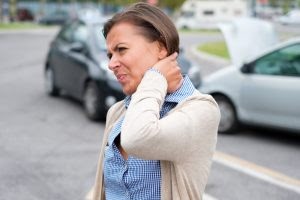 One of the most common injuries resulting from trauma, such as a car crash, is whiplash. Whiplash is a... Read More