At-Home Self-Care Part 1: 3 Ways to Control Inflammation
Pain may sometimes feel like a difficult thing to overcome, but when you have the right resources to support you, the outcomes speak for themselves. We're kicking off our spinal self-care series to empower our patients to take their treatments a step further at home. We can help you in the clinic, but at the end of the day, it's up to you to create habits that help you heal. Let's begin with exploring how to control inflammation.
When it comes to identifying the source of pain at its core, it's often a result of inflammation. Inflammation is your body's response to damaged cells, irritation and strain, and pathogens. When activated in the body tissues,  muscles and joints can experience swelling. Chronic inflammation can also result in wearing down of cartilage between your bones, causing long-term chronic pain.
One of the most important steps to reducing pain is controlling inflammation. Let's talk about the three steps you can reduce pain at home.
1. Choose Ice Over Heat
While a heating pad may be the first thing you reach for when you experience pain because of the temporary relief it brings, heat can actually worsen your inflammation because it increases blood flow to the area. If you do choose to heat your back, you should always follow up with ice to dull the pain and reduce swelling.
When applying ice to an injured lower back, make sure the ice pack is wrapped in a thin towel to avoid direct skin contact. Apply ice for 20 minutes and take a 40 minute break before reapplying to avoid damaging your skin and keep the ice pack cool enough to be effective. Ice is most effective in the first 72 hours after an injury, but can also provide relief of soreness after a treatment or physical activity.
2. Modify your Activity Levels
It's likely you know what strains your back and what doesn't. Whenever possible, avoid or modify activities that are known to increase your pain. Try not to spend too much time sitting or standing and avoid lifting. If you're unsure about what to avoid, your chiropractor can give you tips.
Bedrest can be tempting when you're experiencing chronic pain, but laying around can lead to improper positioning of your  back. While it may provide temporary relief, avoiding movement can continue to weaken your back and lead to an extended healing process.
3. Consider Active Rest
"Active rest" may sound like a confusing concept, but balancing your rest with light activity is the key to recovery. Consider limiting high impact movements and exercises that could worsen your injury. Rest is important, but some maintaining some amount of exercise is necessary to help things return to normal.
Low impact aerobic exercises and stretching are great ways to release pain-killing endorphins and pump nutrients into injured tissues. Low impact exercises include swimming, using an elliptical or stationery bike, or walking. If you find that your back is still feeling strained after these activities, try to find something new.
We'll talk more about therapeutic stretches and exercises that can help you strengthen your muscles on your own time later in this at-home self-care series. These methods, paired with regular chiropractic adjustments can have you well on your way to healing and living a better life.
If you're ready to take control of your spinal self-care, the doctors at Tuck Chiropractic would love to help you on your journey! Schedule an appointment today.
YOU MAY ALSO BE INTERESTED IN...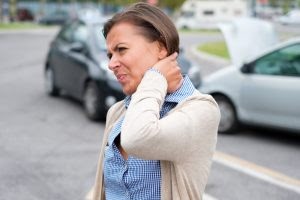 One of the most common injuries resulting from trauma, such as a car crash, is whiplash. Whiplash is a... Read More