Doctor Spotlight: Dr. Nicole Dougherty
Trying to choose a career path when you're growing up can sometimes be a headache. For Dr. Nicole Dougherty, it was the treatments she received for her own real headaches that put her on the path to becoming a chiropractor from a young age.
"My aunt and uncle are both chiropractors so I was already familiar with the practice," says Dougherty. "But it wasn't until I started seeing a chiropractor for my headaches that I was really certain that it was what I wanted to do. It was the only thing that helped me."
As an active young athlete, Nicole was limited by the pain of her constant headaches. After receiving chiropractic treatment, she was able to continue to focus better and perform well both in sports and in school. As a Florida native, she knew that attending Palmer College of Chiropractic in Port Orange was the path for her.
After starting her career at an integrated medicine clinic, Dougherty wanted the opportunity to focus on providing the treatments she was passionate about and joined the Tuck Chiropractic team. She now serves patients at our Blacksburg clinic on Mondays, Wednesdays, and Thursdays, and at our Salem-Roanoke clinic on Tuesdays and Fridays.
"I really enjoy working for Tuck Chiropractic because it's so patient-centered," says Dougherty. "We're empowered to try a variety of methods and techniques to help people live a happier, healthier lifestyle."
For Dr. Dougherty, a successful day at work means that she was able to help her patient return to a normal level of activity and quality of life. It's the simple accomplishments, like helping patients feel well enough to walk their dogs or play with their kids on the floor, that make her feel like she's making a true impact.
"My main goal is to help people do what they want to do and what they love to do," says Dougherty.
Outside of work, Nicole embraces an active lifestyle in her own ways through CrossFit and kayaking. While moving from Florida to Southwest Virginia required some adjusting and more sweaters, she really enjoys the outdoor amenities like kayaking and hiking.
If you'd like to learn more about how Dr. Dougherty can help you find relief from pain and reach your personal wellness goals, schedule an appointment today!
YOU MAY ALSO BE INTERESTED IN...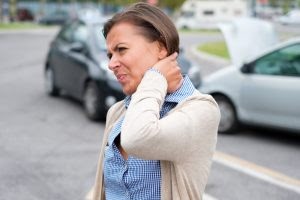 One of the most common injuries resulting from trauma, such as a car crash, is whiplash. Whiplash is a... Read More