Staff Spotlight: April Musselman

Outside of our clinics, we have a fantastic team of individuals who work at our Corporate office in Blacksburg, VA. They strive to make sure the business side of our company runs smoothly so that our doctors and chiropractic assistants can focus on providing quality care to our patients. April Musselman is part of that team.
April joined Tuck Chiropractic Clinic in 2006 after leaving the banking industry. Starting out as a chiropractic assistant at our Christiansburg clinic, she quickly found that she wanted to get back to the world of crunching numbers. In 2008, she joined our team at the Corporate office as Corporate A/P Assistant. Each day, she deals with incoming and outgoing payments, organizing deposits, and managing billing. She also prepares audits for insurance claims before they're submitted.
"I truly love my job. I couldn't ask for anything better in my opinion," says April – adding that she hopes one day she'll retire from Tuck Chiropractic.
Beyond the joy of her job duties, April is proud to work for a chiropractic group that genuinely focuses on patient-centered care. She knows that every doctor and staff member truly cares about the well being of their patients and do what it takes to help them enjoy the wonders of an active, pain-free life.
"We have open conversations with each patient so they know what's going to happen and so they can get the most out of their treatment," says April. "The care is customized to each person's particular goals."
She encourages people considering chiropractic for the first time to not let the thought of the adjustment intimidate them. The doctors are there to talk you through the process and the treatment is completely natural.
In her free time, April spends as much time as possible with her family. She frequently goes camping with her husband of 20 years and two children. They also spend a lot of time with their extended family. A great day relaxing means camping and playing cards with everyone.
YOU MAY ALSO BE INTERESTED IN...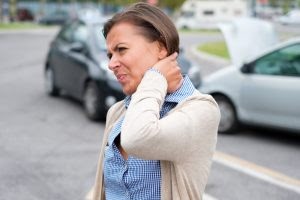 One of the most common injuries resulting from trauma, such as a car crash, is whiplash. Whiplash is a... Read More