Miraculous Recovery Creates A New Chance at Life: Joyce's Story

In 2004, Joyce was in a wheelchair, unable to bathe herself and suffering from debilitating back pain. Today, she is pain free and uses a cane only for balance. Her experience with Dr. Thompson was amazing, but not uncommon.
Living In Suffering
Following a back injury, Joyce was unable to complete many day-to-day tasks without assistance and horrible pain. She was told repeatedly by multiple doctors that surgery was the only way to find relief.
Yet, Joyce resisted. She consulted with friends and family who had gone through with surgery, and learned that even with the painful surgery and recovery, many still didn't find relief.
"I didn't want surgery. I wanted anything but surgery", says Joyce.
This led her to Dr. Thompson.
New Hope
Joyce's husband suggested she visit a chiropractor. Willing to try anything, Joyce scheduled an appointment with Dr. Thompson at Tuck Chiropractic.
Dr. Thompson tried varying techniques to help treat her pain. He also gave her a very specific and personalized care plan that she faithfully follows to this day.
"He sat me down and explained everything I should expect," Joyce said. "He was very personable as well as professional. He takes time to talk and get to know you. He's a wonderful person. He said he would try to help me and he did. It worked."
Joyce used a wheelchair to enter Dr. Thompson's office 15 years ago, and walked out that same day. She was quickly weaned off of all the pain pills she was previously prescribed. Simply put, Joyce was beginning to live again.
When The Pain Is Gone
Flash forward to 2019 and Joyce is living pain free. She still visits Dr. Thompson every other week, and has discovered that visiting a chiropractor can help with more than just her back pain.
"I've actually only been sick 4 times in 15 years. I can't make this stuff up. I am a firm believer and walking example," Joyce says.
Joyce has become quite the advocate for chiropractic care. She urges everyone she knows to give it a try.
"All I can say is what it's done for me. if it can take me from where I was to where I am now, it works. I try to tell everyone I know."
YOU MAY ALSO BE INTERESTED IN...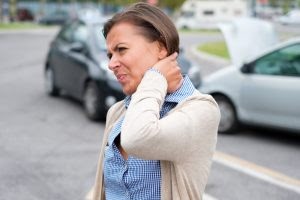 One of the most common injuries resulting from trauma, such as a car crash, is whiplash. Whiplash is a... Read More