​Star Country Spot: Amy's Icy Slip and Fall
If you're a country music lover, you may have recently heard some people talking to 94.9 Star Country's Brett Sharpe about chiropractic and Tuck Chiropractic Clinic, in particular. We're working with Star Country Radio to bring real life stories of our patients to listeners in our area.
Hear Amy's story about how Dr. "Too Tall" Skinner helped her work through an injury from an icy slip and fall accident:

Amy isn't a stranger to Dr. Skinner's office. About a year ago, she visited Dr. Skinner after suffering injuries from a car accident. Fast forward to December, Amy slipped and fell on a patch of ice on the stairs outside of her home. All of her injuries from her car accident flared up and then some.
Amy was able to get into see Dr. Skinner so quickly that she was still a little bruised up on her first visit. Though he couldn't adjust her, he was able to help her stretch through her tight muscles in the meantime. Amy's almost finished her episodic care and might consider maintenance care in the future to help her prevent the severity of future possible injuries.
Unsure if chiropractic is the solution for you? Amy has some advice: "1. No – you won't have to keep going forever. Your body will tell you when you need it. 2. It's the best thing you can do for your body," she says. "The staff is always friendly and professional and Dr. Skinner always has my best interest during every session."
YOU MAY ALSO BE INTERESTED IN...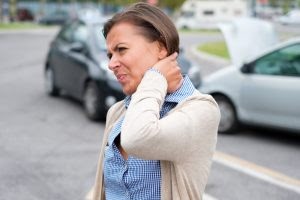 One of the most common injuries resulting from trauma, such as a car crash, is whiplash. Whiplash is a... Read More