A Lifelong Search for a Feel Better, Live Better Lifestyle
At Tuck Chiropractic Clinic, we often find ourselves building relationships with our patients beyond the day to day treatments and transactions. We get the opportunity to get to know our patients outside the Clinic walls and hear their stories beyond just how they ended up in our office.
Skip Hebert is no exception! Skip is a retired veteran and avid adventurer. Sometimes, his adventures lead him to bike across the Western Coast of the United States and other times, his adventures lead him to pay a visit to the Tuck Chiropractic Clinic in Botetourt.

From the Open Road to the Operation Room
In 2001, Skip took on the challenge of a cross-country bike trip from the mid-West to Oregon's coast. Before he could reach his final destination, his back decided that it had other plans for him. He had blown a disk in his lower back and received surgery to help correct it. He ended up sedentary and managing the pain with painkillers for about a month of recovery. As he continued to recover, he worked at a low-activity job, gained a lot of weight, and continued to visit the VA Clinic to receive medication for his lower back pain.
At some point, he said, "enough is enough". His lifestyle wasn't helping him feel better and neither was the medication.
"They kept giving me painkillers to treat the symptom but never got to the root cause of the pain," he recalls.
Finding New Ways to Feel Better, Live Better
Skip decided to make a change in his life. He started doing yoga and even became a certified instructor. With his return to an active lifestyle, he lost fifty pounds and made plans to finish the bike trek he had to abandon after his injury.
Unfortunately, no amount of yoga can totally relieve you from the pain of a severe back injury. It may come and go, but it will never go away. In February, Skip spent a lot of time at his house chopping up wood to warm his home. Shortly after a long day of hard labor, he hopped on a plane to Florida for vacation but found himself glued to the couch due to severe neck and back pain. Luckily, his brother, a rheumatologist recommended a chiropractor to see him immediately while he was in Florida. After a manipulation and massage, he was convinced this was the last piece of the puzzle to help him live a pain-free lifestyle.
Once Skip was able to return home, he immediately sought out recommendations for a local chiropractor. As he was leaving the Carilion Wellness Center in Botetourt, he noticed that Tuck Clinic was right across the street! He called up his doctor for a referral through his Medicare program and set his first appointment.
Dr. Anna Flynn sat down with Skip to talk about his history of back pain and any other issues he was experiencing. After 5 spinal manipulation treatments in the first week and a half, coupled with electrical stimulus treatment, and therapeutic exercises, Skip not only regained mobility in the painful areas of his back, neck, and shoulders, but the pain itself began to subside too. Skip now sees Dr. Flynn once a week and plans to digress to monthly maintenance care or as needed.
"By the middle of the second week, I was feeling pretty good," says Skip. "Now, I can't really detect it unless I look for it."
Getting to the Root of The Pain
Now, Skip is able to get back to his active lifestyle of adventuring and traveling. He plans to continue his journey of exploring yoga and it's benefits to the body. With the improved mobility in his neck and shoulders, he's also able to partake in his favorite therapeutic pastime, painting!
When we asked Skip what advice he would give to anyone considering choosing chiropractic care to help with their pain, he said "If your symptoms have anything to do with a neurological issue or pain, don't just treat the symptom. Try to get rid of the cause. Chiropractic care is the natural way to go."
"The folks at Tuck Chiropractic are very friendly and understanding. Dr. Anna truly listens to what the problems are and is willing and able to help resolve them," he added.
We're definitely looking forward to hearing about what adventures this life loving veteran gets himself into next!
YOU MAY ALSO BE INTERESTED IN...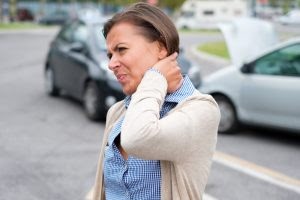 One of the most common injuries resulting from trauma, such as a car crash, is whiplash. Whiplash is a... Read More