Refined Treatments Achieve Real Outcomes

Everybody has to face some sort of pain at one time or another in their lives – whether it's from a specific injury or the general wear and tear of life. What sets us all apart in facing this pain is how we choose to treat our pain. While some individuals turn to their primary care doctor to find relief, others turn to specialists, like chiropractors. The treatments vary as much as the outcomes, but at Tuck Chiropractic Clinic, we're passionate about tracking each and every visit and adjustment to be sure our outcomes are aligned with your needs.
When you visit a Tuck Chiropractic Clinic, you can expect to be thoroughly informed about our process and your treatment. We'll rid you of any preconceived reservations by taking the time to discuss your individual needs and care plan. There are no gimmicks and no long-term commitments, just top notch patient-centered care.
Relief by the Numbers
We are dedicated to providing conservative care to patients in pain. This means not only providing an economical solution but a solution that is catered to your individual needs, leaving out any unnecessary testing or treatment. In order to assure that we are practicing as promised, we continually gauge the outcomes and satisfaction of our patients to find opportunities to improve our care programs.
Part of our efforts in always striving for the best outcomes for our patients includes surveying their personal outcomes of care. By reviewing levels of improvement with frequency and type of care, we are enabled to better refine their treatments in the future and plan out treatments for those who suffer from similar issues.
The chief complaint at the offices of Tuck Clinic is lower back pain. In fact, patients suffering from acute or chronic back pain makes up 60% of our patient base. Additionally, we provide adjustments to patients suffering from neck pain, headaches, and pain in the extremities (tendonitis, fasciitis, muscle soreness, etc.). Often times, we find that these issues may even have a connection to an underlying back pain problem.
In order to stay on top of our progressive treatments, we review outcomes after a two week period of treatments, 2-3 times a week in frequency. In our experience, this is the best way to relieve pain in an effective amount of time that does not heavily impact the day to day of our patients. From our surveys, we are pleased to find that our low back and neck pain patients experience an 80% improvement in their symptoms after just two weeks. Often, after 4 weeks patients claim to feel great improvement and relief from their pain. It is at this point that the doctor and the patient decide together whether to maintain treatments or to cease treatment.
Keep in mind that results will always vary from person to person, but no matter what, we will strive to design the best conservative care plan to get you the results and relief you seek.
Refinement Through Collaboration
With 9 offices and 17 doctors, Tuck Clinic knows that there's strength in numbers. In fact, it's another tenant of our process in providing our patients with the positive outcomes they seek. We work as a team to deliver a continuum of care across all of our clinics through constant collaboration through clinical rounds and collaborative sessions. Our patients can walk into any one of our clinics and know they'll be taken care of.
Our clinical rounds are designed to put our heads together on any complex challenge our patients face. With more brain power, we're able to reach better conclusions together and therefore, provide better care to the patient. Beyond our treatments, we also think it's important to collaborate on the management of our clinics. The better we can run our operations, the better we can serve our community.
National Standards
It isn't just the doctors at Tuck Chiropractic Clinic that feel passionately about providing non-invasive, medication free, patient-centered care. The American Chiropractic Association has spearheaded the movement towards conservative care as an alternative to using pain medicine as a first response to pain.
Studies show that patients who seek conservative care through chiropractic treatments like spinal manipulation have higher satisfaction ratings and better outcomes. In addition, the per-patient cost is significantly less in the chiropractic field than pain relief through a regular MD.
YOU MAY ALSO BE INTERESTED IN...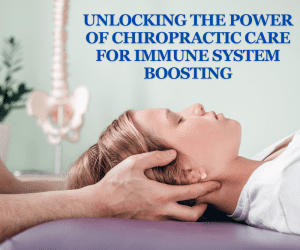 In today's fast-paced world, maintaining a strong immune system is more crucial than ever. Your immune system serves as... Read More