How to Get the Most Out of Chiropractic Care
So you've scheduled your first appointment, and you are anxiously awaiting your first experience with chiropractic care. There are probably many questions running through your mind: What will it be like? Will I feel better right away? Well, we've asked our doctors for advice on how you can get the most out of your chiropractic care.
Come in With an Open Mind. This may be your first appointment, or you may be a seasoned patient. Nonetheless, come to your appointment with an open mind. Dr. Tiffany Grace Huffman from our Rocky Mount Clinic shared, "My best advice to new and prospective patients is to come with an open mind. Chiropractic care can treat a lot of conditions without invasive measures. Most patients present to us with pain in some area of their body. By allowing the nervous and musculoskeletal systems to function optimally, pain levels are reduced and function is restored."
Be Clear About Your Issue and Goals. Be specific with the doctor as to where your pain is and what you ultimately want out of your treatment. Honesty and open communication are the foundations of trust between you and your doctor. A.J. LaBarbera of our Botetourt Clinic suggested, "When you consult initially with a chiropractor, or any physician or healthcare provider for that matter, make sure that they are listening intently to what your issue is and what your goals are. Also make sure when you are presented with a treatment plan, that they have your goals in mind and are accomplishing those goals with a care plan that doesn't have any add-ons, gimmicks, or additional costs."
Be Patient. Healing the body is a marathon, not a sprint. It takes time. Dr. Lee Matthis of our Christiansburg Clinic emphasized, "A majority of our patients come in with a "repetitive use" injury. What this means is even if symptoms show up unexpectedly; they have often been building up for a longer while. As bad as we would like to have symptoms disappear as fast as they show up, the body doesn't heal quite that fast. We usually see good relief within a few weeks of the onset of care." Dr. Jeremy Keene from our Cave Spring Clinic echoed these sentiments "Do not get discouraged if results aren't happening overnight as it is a process to correct most spinal conditions. If you follow through with your doctor's recommendations, then positive results will occur and your goals will be met." Dr. Tiffany Grace Huffman stressed, "Be patient! In most cases you didn't get in this shape overnight, so it may take some time to fix the underlying cause of the problem."
Follow the Doctor's Recommendations. This one should be a no-brainer, but just a friendly reminder to always follow doctor's recommendations for you; they are here to help you feel better so you can live better. Dr. Anna Occhiuzzi-Flynn from our Botetourt Clinic explained, "Follow your doctor's recommendations. If you cancel your appointment due to feeling better or just due to things coming up in life, you will not have the foundation that your doctor has set for you. Most of the time, these problems have been there a long time, and they take time to stabilize. When your chiropractor gets you to a point of maintenance care, it is very important to stay on that maintenance schedule. We have found that the patients that stay on maintenance care are healthier and their spine is healthier." Dr. Jennifer Rathmann of our Blacksburg Clinic added, "To make the most of your chiropractic care, ice or heat as instructed by your chiropractor at home. Keeping the inflammation down or the muscles relaxed can really aid in the healing process. Also, stretch and exercise as instructed. More is not necessarily better. Listen to your chiropractor's recommendations as far as frequency of care."
Stay Active After Your Treatments. A body in motion stays in motion. Take a walk or a bike ride. You will typically feel less pain after each treatment, so enjoy the increased abilities you will have. Dr. Jeremy Keene shared, "We want you to stay active after your treatments. A chiropractic adjustment creates mobility in the joints of the spine and activity helps facilitate more mobility within the spine, which in return will help decrease pain."
Be Positive. Positivity has a dramatic effect on the outcome of treatment. According to a study from Rosalind Franklin University, people who spoke, or thought, positive things about their treatment or condition experienced a cognitive shift that transformed some of their behaviors. The positive affirmations allowed for those participants to have significantly lower levels of negative outcomes then those who thought negatively. Sean Skinner, of our Roanoke Clinic stated, "Most of the people we see on a daily basis are dealing with a significant amount of pain levels, so it can be hard to be positive. The patients that seem to get the best results are the ones that have a positive, optimistic outlook on their treatment. We try really hard to let the patient know that we will do everything we can for them. As long as they are confident in that and can stay positive, we will get them moving in the right direction."
We are here to help you. Call us, or visit us at one of our convenient locations, to see how we can put together a customized treatment plan for you so you can embrace life and live pain-free! Feel Better. Live Better.
YOU MAY ALSO BE INTERESTED IN...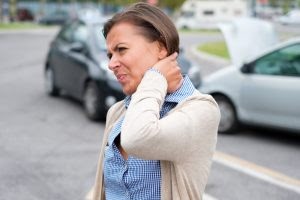 One of the most common injuries resulting from trauma, such as a car crash, is whiplash. Whiplash is a... Read More