Chicken Caprese Recipe | Tuck Test Kitchen
We love interacting with our patients, friends, and followers over
social media
. Over time, we've developed a sense of community and have had some really meaningful interactions. Recently, we put out a request for nutritious recipes, so that the Tuck Test Kitchen could give something new a try.
We lucked out, a recipe suggestion was left that was really easy, really good, and really healthy. It was suggested that we make Chicken Caprese. While there are many versions of Chicken Caprese out there we liked this option because it uses fresh ingredients and everything is cooked in one pan.
Beyond the benefits that come from cooking in only one pen (hello, less dishes to wash!), this dish offers great nutritional benefits. The fresh tomatoes are
nutrient-dense
, specifically they are a great source of vitamin A and antioxidants. The chicken in this dish provides lean protein. "Protein is an important building block of bones, muscles, cartilage, skin, and blood," (
WebMD
). Protein is a macronutrient, meaning the body needs a lot of it, but the body is unable to store excess amounts. Therefore, including lean proteins in your daily diet is important. Now that you understand the nutrition within this delicious recipe, let's get cooking!
To make this recipe you need the following:
2 Teaspoons Extra Virgin Olive Oil (EVOO)
1 1/2 Pounds Chicken Breast Tenders
2 Cups of Cherry Tomatoes, sliced in half
8 oz of Mushrooms
1 Teaspoon of Diced Garlic
1/4-1/2 Cup of Balsamic Vinegar
Fresh Basil
Fresh Mozarella Cheese
Salt & Pepper to taste
First, prepare your vegetables and basil. Once you start cooking this recipe moves quickly. Slice your tomatoes in half, dice your garlic, slice your basil thin. You can leave your mushrooms whole, as they will shrink during cooking.
Begin by heating the EVOO in your pan over medium-high heat. Once the pan is hot, add the chicken breast tenders and season them with salt and pepper. Cook until they have a pretty golden brown color on both sides, and are cooked thoroughly. Remove the chicken from the pan and set aside.
Next, add the garlic and mushrooms to the pan. Cook, while stirring, a few minutes to soften the mushrooms. They will continue to cook as the recipe continues, bear this in mind so you don't end up with overcooked mushrooms. Next, deglaze the pan with balsamic vinegar. Start with 1/4 cup and increase the amount as necessary. You will want a little bit of excess liquid so there is a sauce component.
Add the chicken back to the pan, also add the fresh basil and tomatoes. At this point, your kitchen will smell amazing and your taste buds will be doing jumping jacks. Cook until the cherry tomatoes are softened, while you spoon the sauce over the mixture in the pan. When the tomatoes are softened, add pieces of fresh mozzarella on top of the chicken. Cover the pan with a lid and let the cheese melt. You've done it! You can now enjoy this amazingly tasty and healthy recipe.

You certainly could serve it with pasta, as chicken caprese often is. However, we challenge you to serve it with a veggie side dish that will pair this already healthy dish with a healthy side. One of our favorite go-to side dishes is roasted brussel sprouts. You simply cut them in half (or buy them already cut in half!) drizzle them in a little EVOO, sprinkle with salt and pepper, and roast them. They do all the work while you fix the main dish–it's a great solution for a simple side.
We hope you enjoy this recipe as much as we did. We are always on the lookout for healthy new offerings that support the big picture view of wellness. Remember, wellness isn't a destination and it's not only about eating right. Consider how your nutrition, activity level, and care for your body all come together to make you the very best version of yourself. If we can support you in your wellness journey, please let us know.

YOU MAY ALSO BE INTERESTED IN...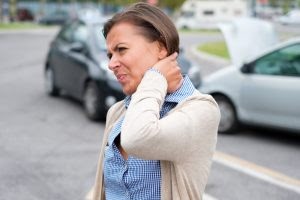 One of the most common injuries resulting from trauma, such as a car crash, is whiplash. Whiplash is a... Read More