The Opioid Crisis in Virginia, North Carolina, and Beyond
Where Does Chiropractic Care Fit In?
In Virginia, the Department of Health is predicting that over 1,000 people died from opioid overdose in 2016, a 33 percent jump from the previous year. Just four months ago, the state's health commissioner, Dr. Marissa J. Levine, had declared Virginia's opioid addiction and overdose crisis a public health emergency. As a result, emergency provisions were put in place to deal with the epidemic in the state.
And the situation is just as severe in North Carolina, where the state's Department of Health and Human Services labeled opioid addiction its "number one public health crisis." A third of all prescriptions in the state are being abused, and there are twice as many deaths per year from overdose than murders. These startling numbers resulted in Gov. Pat McCrory signing a bill making the drug naloxone, which blocks or reverses the effects of opioids, available to anyone who needs it.
Pain is a pervasive problem — an article in the New England Journal of Medicine states that 30 percent of Americans suffer from acute or chronic pain, and the figure is even higher among older Americans. It goes on to say:
The urgency of patients' needs, the demonstrated effectiveness of opioid[s] for the management of acute pain, and the limited therapeutic alternatives for chronic pain have combined to produce an overreliance on opioid medications in the United States, with associated alarming increases in diversion, overdose, and addiction.
Here at Tuck Chiropractic Clinic, we believe that a patient-centered approach, one that starts with the most conservative pain treatment possible, holds great potential for preventing an over reliance on pain medication.
The Centers for Disease Control and Prevention (CDC) backs up this approach. According to opioid prescription guidelines released in March 2016:
Non-opioid care is favored for chronic pain, except when it's related to cancer, palliative, and end-of-life cases.
When opioids are indicated, the lowest dose possible should be prescribed.
Providers should use extreme caution when prescribing opioids and should monitor patients very carefully.
Conservative Care: A First Line of Defense Against Pain
According to many state and national health regulatory boards and organizations, including the Centers for Disease Control and Prevention (CDC), conservative care is an important first line of defense against pain and, in some instances, is effective in reducing or eliminating a patient's reliance on over-the-counter and prescription painkillers.
Options for pain management run a wide gamut, from ice packs and exercise, to chiropractic manipulation,  physical therapy, massage therapy, and non-opioid medications, all the way to the prescription of opioids and even surgery.
Patients often rely on social connections to help them locate a trusted provider. When they're suffering from severe pain, their first impulse may be to turn to a trusted physician — or to immediately seek out a prescription for a strong painkiller. Conservative  care, as mentioned above, may not even be on the radar. Often times, people may feel a certain anxiety about trying something new and different like chiropractic care.
At Tuck Chiropractic Clinic, we're striving to change this. We believe pain treatment should be patient-centered and should begin with the least invasive options available.  We support conservative care measures as outlined by the CDC and chiropractic is one of those conservative care options. We also feel strongly that chiropractic is a great conservative care option to consider before trying opioids, which in addition to their potential for addiction, can over time be harmful to the liver, kidneys, and stomach lining.
How Can Chiropractic Care Relieve Pain?
When a patient comes to us seeking relief from pain, we typically recommend beginning with an ice pack on and off for 20 minutes at a time. If the pain isn't resolved in the first 48-72 hours, the next logical step is to schedule a consultation with one of our experienced chiropractors. Although medication may sometimes be necessary, we try a range of conservative options before recommending a prescription.
Patients who are currently taking opioid pain medications should consider chiropractic care in conjunction with other therapies, particularly as a way to deal with severe pain. We often collaborate with family doctors and pain management specialists to break the cycle of pain.
In addition to using spinal manipulation and exercise to resolve physical problems causing pain, a chiropractor can recommend an ergonomic approach to work, and stress-relieving techniques to make pain easier to live with.
Our main goal at Tuck Chiropractic Clinic is to stop the stimulus of pain. We believe the best way to deal with pain medication addiction is to stop it before it starts.
Image by kmiragaya / 123RF Stock Photo.
YOU MAY ALSO BE INTERESTED IN...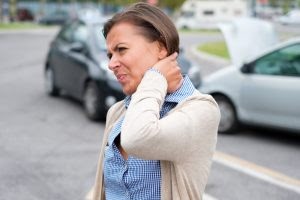 One of the most common injuries resulting from trauma, such as a car crash, is whiplash. Whiplash is a... Read More