Sweet Italian Sausage and Kale Soup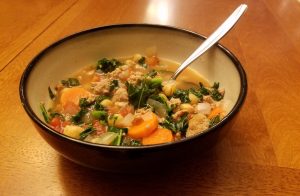 The "Tuck Test Kitchen" is at it again. We started with this recipe we found on Southern Living because let's face it, our clinics are located in Southwest Virginia so we can get behind recipes themed around this amazing place we call home. We added our own Tuck twist, which resulted in, "Sweet Italian Sausage and Kale Soup."
When we first stumbled on this soup we thought it sounded amazing but a bit heavy. We decided to reduce the amount of oil from ¼ Cup to 2 Tablespoons. We also opted for a sweet Italian turkey sausage instead of a spicy pork sausage. Those two swaps lightened the caloric and fat content of this recipe. This is also a gorgeous bowl of soup when it is done cooking. As a general rule, a colorful plate (or bowl in this case) is a sign that you are on track with your nutrition.
The chef behind this test recipe also detests celery in soup, so it didn't make the cut when it came time to give this one a go. Rather, extra carrots were added. We do want to encourage you to be choosey with the chicken broth you purchase for this recipe. There are low-sodium options that are flavorful without adding excessive amounts of salt. We also suggest you wait until this recipe is complete before salting since the chicken broth will contribute salty flavor.
We used an app to calculate the basic nutrition information for this recipe. We learned a one-cup serving of this soup will contain about 350 calories, 21 grams of protein, 9 grams of fiber, and lots of Vitamin A, Vitamin C, and iron.  Key contributors to this great nutritional content include
Kale: If this superfood has intimidated you thus far, this is a great recipe to get you used to cooking with this leafy green. Kale is low calorie, fat-free, high in fiber, packed with vitamin K (amongst others) and iron.
Chickpeas: Also known as garbanzo beans, these little protein powerhouses also offer a high amount of fiber, manganese, and folate.
Carrots: Your mom was telling the truth when she told you eating carrots will improve your vision, this is thanks to vitamin A. They also contain vitamin K, vitamin C, potassium, iron, and copper–the health benefits of carrots are extensive.


Ingredients:
2 Tablespoons Extra Virgin Olive Oil (EVOO)
6 garlic cloves, sliced
1 pound sweet Italian turkey sausage, casings removed
1 small yellow onion, chopped (about 1 cup)
½ cup chopped celery
½ cup chopped carrots (about 2 large carrots)
4 cups low-sodium chicken broth
1 (15-oz.) can petite diced tomatoes
1 (15-oz.) can chickpeas (aka garbanzo beans), drained
½ teaspoon black pepper
4 cups of kale, chopped
Instructions:
Get a large soup pot ready to go. Add the 2 tablespoons of EVOO and garlic to the pot and cook over medium heat, until the garlic begins to brown. This should take between 5 and 6 minutes. Once it browns, remove the garlic.
Next, add the sausage to the pan and cook until browned and crumbled. Be aware, the oil from the pan may get excited when the sausage lands in the pan, watch out for splatters of oil. After the sausage is cooked remove it from the pan and set it on a plate lined with paper towels. This will remove some of the oil. Next, add the onion, carrot, and celery (if you're into that) back to the pan and cook the vegetables until they begin to soften. This should take about 5 minutes. Then you will add the chicken broth, crushed tomatoes, chickpeas, black pepper, and sausage all into the pot. Stir it all up to combine and allow it to simmer for 20 minutes. Lastly, add the kale and stir it until it is wilted, which will take about 5 minutes. Now, you are ready to enjoy a comforting bowl of soup that not only tastes delicious but also gives your body great energy.
Remember, eating well is about much more than the number on the scale or the size of pants you wear. When you eat well you are giving your body necessary fuel that can help it perform at it's very best—that is, if you eat well-balanced meals focused on nutrition. We know that living well encompasses many things and can't be isolated to just eating well. There are many factors, that all need to compliment each other, in order to achieve optimal wellness. If you'd like to get started on pursuing a better lifestyle we invite you to give this Sweet Italian Sausage and Kale Soup a try—and reach out to us.
YOU MAY ALSO BE INTERESTED IN...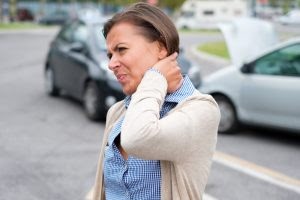 One of the most common injuries resulting from trauma, such as a car crash, is whiplash. Whiplash is a... Read More