Christmas Traditions with Dr. Ray Tuck
Christmas time affords us the opportunity to pause and reflect on the things that matter most: Family, friends, our health, and the many blessings in our lives. Our family traditions produce beautiful memories, special moments, and also help shape who we are.
As a child,
Dr. Ray Tuck
had big Christmas celebrations. His mother is one of five siblings and if you factor in all of their children, it resulted in family gatherings of 20-30 people. There were also a lot of doctors that weren't able to go home, so naturally, they joined in as part of the Tuck Chiropractic family.
As
Dr. Tuck
grew, married his beautiful bride Bonnie, and then started his own family, the traditions naturally changed. When it comes to food in the Tuck household there is a unique Christmas tradition that has developed. While many of us come to expect the same delicious meal and dishes, Dr. Tuck and his wife Bonnie use it as a time to try new recipes. Dr. Tuck loves to cook and Bonnie loves to bake so they are quite a power couple in the kitchen. They always try to make food fun and interesting.
Bonnie said, "I think for our Christmas dinner this year we are going to make homemade filled pasta.  We did this a few months back as a family and everyone seemed to have fun." She also has her eye on an extra-special dessert, a poinsettia cake. Bonnie stumbled upon this
elaborate recipe
in a Southern Living magazine and felt it would be a good project to work on with Abi. She explained, "Abi worked in the bakery at a grocery store for a while, so I thought it might be something fun we could do together."
The holidays are also a time for reflecting on the past. One of the favorite memories the Tuck family shares is the anticipation of opening gifts from Santa. Dr. Tuck made a "rule" that Abi and his son, Nathaniel, had to sit at the top of the stairs and wait to open their gifts. It wasn't until their grandparents arrived that they could open the presents left from Santa. Dr. Tuck would make them sit there, as he teased them about how wonderful all the presents were. Bonnie recalled, "By the time they got to come down, they were dying to get things started."  Bonnie can still remember them, sitting at the top of the stairs, with the wonder and excitement of Christmas in their eyes.
Now that their children are 20 and 16 the time spent together at the holidays is the biggest gift they receive. Their children may be older but Santa still leaves presents for them under the tree. This year they also have plans to watch classic Christmas movies on Christmas day. As Bonnie pointed out, "I think you learn to appreciate the simple things in life as you get older.  Both Ray and I lost our fathers in the last decade and with that, there is a realization that life is incredibly short. You have to appreciate the good times together when you have them."
One other tradition that can't be ignored in Dr. Ray Tuck's life is the tradition of chiropractic. His father, Ray Tuck Sr., the original doctor of
Tuck Chiropractic Clinic
, often worked late into the night on Christmas Eve and even came back to the office to treat patients on Christmas day. As Dr. Tuck explained, "My father spent a lot of time seeing patients, and it mattered. Pain doesn't realize what day it is—pain doesn't take holidays." Bonnie can recall Christmases in which Dr. Tuck followed in his father's footsteps and made time to treat patients in need. She remembered, "One particular day we were driving to Ray's parents' house and we swung by the office so he could treat a patient while the kids and I waited in the car."
This glimpse into the Christmas traditions of the Tuck family reminds us all about the beauty of the holiday spirit. The holidays allow us to reflect on what was, enjoy what is, and anticipate the special moments to come. On behalf of the entire Tuck Chiropractic team, we want to wish you a happy holiday.
YOU MAY ALSO BE INTERESTED IN...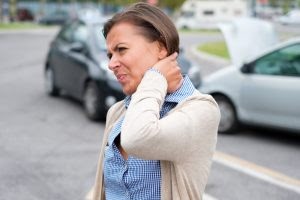 One of the most common injuries resulting from trauma, such as a car crash, is whiplash. Whiplash is a... Read More