Gift Ideas for the Fitness Focused
It's that time of year again; time to find the perfect gifts for those special people in your life. Admittedly, at times it can be hard to figure out exactly what they might want or need, so allow us to help. There are all kinds of amazing, interesting, and useful fitness products on the market, some of which you have likely never heard of. Here are six unique ideas for ways you can show the love this holiday season—in a way that supports wellness.
1) Here's a great gift for those who are not only fitness minded but also minimalists. You could treat to this set of fully adjustable dumbbells. Power Block dumbbells have a nested design that utilizes a pin system to increase or decrease weight as needed. The end result is a compact set of dumbbells that are convenient to store but offer a range of weight options. Power Block dumbbells range from weight increments of three to 125 pounds, depending on the set you purchase. This is sleek, functional, and will promote fitness at home

2) When the temperatures drop many people flock to indoor exercise activities in an effort to avoid the cold. However, for those that continue to brave the frigid temperatures, you could buy them ear warmers that double as earphones. This is a very cool and practical gift for those that love to stay pumped up by workout music or enjoy listening to podcasts while breaking a sweat. There are wireless and wired options—depending on the tech preference of your loved one.
3) Night Runner Shoe lights were, "designed by athletes for athletes".  The lights attach to shoes and provide 270 degrees of visibility as someone walks or runs in low light conditions.  One more fun fact about this product is that it was featured on the popular show, Shark Tank, and received a $350,000 investment from Robert Herjavec.  For those that make a point to fit in a run, walk or jog, even in the early hours or at dusk, these lights are a nice gadget to promote safety and encourage their commitment to wellness.
4) If you want your friend or family member to try fitness treats they may not otherwise indulge in, consider a monthly subscription box. This is one of our favorite gift ideas because each month it keeps on giving and can have a wide variety of themes. There is a host of options on the market depending on the wellness preferences of your loved one. There are monthly boxes for those who love to run or love to bike.  There are also monthly boxes for the yogi in your life. Yogi Surprise delivers 6-8 full sized yoga products each month, like essential oils, natural snacks, and skin care products. If you know someone who is a committed crossfitter, there is even a box for them!


5) Give your fitness fanatic the gift of happy feet!  Wearing proper shoes while working out takes good care of your spine
—and you know that is something we support. You could treat your loved one to a pair of shoes from
RunAbout Sports
in Blacksburg. This is much more than a shoe store. The staff uses technology and expertise to ensure each person is paired up with the right style and fit of shoes. Their assessment process includes recording video of your feet as you run on a treadmill and using software to evaluate which that receive the most stress. How's that for pampering the person who loves to break a sweat?
6) Lastly, while it isn't a unique gift idea we do want to suggest giving some fresh fitness gear this holiday season. There is a psychological concept called "
enclothed cognition
," which is the theory that the clothes we wear influence our psychological state. This theory does not suggest that having fancy workout clothes will transform you into an athlete, but rather, that wearing athletic clothes that you feel good about will frame your mind for a successful workout. Encourage your loved one's pursuit of wellness by giving them workout out clothes that make them feel good. After all, isn't pursuing wellness really about making our mind and body feel good?
So there you have it, a list of gift ideas for those that love fitness or are working to take a more intentional approach to wellness in their lives. Cheers to a holiday season that continues to be filled with all the things that matter most: family, friends, and wellness.
YOU MAY ALSO BE INTERESTED IN...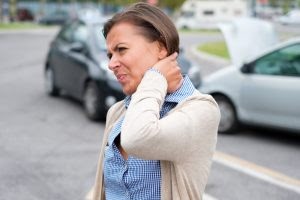 One of the most common injuries resulting from trauma, such as a car crash, is whiplash. Whiplash is a... Read More