One Veteran's Experience with Chiropractic
At
Tuck Chiropractic Clinic
, we see a lot of veterans and are appreciative of any opportunity we have to support those who serve in the military. One patient we have been privileged to care for is Joe, a man who made a career out of serving our country in the United States Army.
Joe can't tell you exactly why he decided to join the army. He just knows that one day, on his way to a college class; he quickly pulled off the road and into the parking lot of an army recruiter's office. It was there he made it known he wanted to join the army and serve in Korea. That is where his lifetime of service and sacrifice began.
The decades of physically demanding work with the Army began to add up for Joe. It got to the point where he was in a lot of pain, even when walking. He was also experiencing
limited mobility in his neck
, such that he couldn't safely drive. Joe explained, "It was at a point where I couldn't turn my head in the car when I drove." He sought care at the VA (
U.S. Department of Veteran's Affairs
) but was ultimately referred to chiropractic, when it became clear that physical therapy offered him no benefits.
Joe's
early experiences with chiropractic
were marked with skepticism. He explained, "At first I was really hesitant about it." He didn't believe it would be helpful but was also in a position where he had nothing to lose. The pain and loss of mobility was impacting his everyday life and he needed a solution. He explained that after treatments with
Dr. Brooke
he was, "walking better, feeling better, and had better motion." This feedback is so affirming, especially coming from someone that was a self-admitted, "doubter." To be able to help someone that has served our country so well, and for so many years, is an honor.
Another aspect of caring for Joe that we like is that he is just a really good guy. He is someone we like to see walk in the door and someone we like to talk with. Although he has been a patient for right around a year Joe describes it as feeling like he's always been with us. He said, "They are so friendly there you think you've been there forever."  In regards to Dr. Brooke, he simply said, "Dr. Logan is the man. He goes out of his way to help me—and I really appreciate that." These compliments are huge coming from someone we genuinely admire.
When discussing the military and dedicating a life-long career to our country Joe said, "There is so much that the military has to offer but more importantly there is so much that the military gives back to the country."  We couldn't agree more. The men and women that selflessly serve our country are a gift to us all. It is our honor to help them live well by supporting them with chiropractic treatments that enable them to live the life they deserve.
The Tuck Chiropractic Team would like to thank all the men and women that serve with the United States Military. Thank you for your service and your sacrifice!
YOU MAY ALSO BE INTERESTED IN...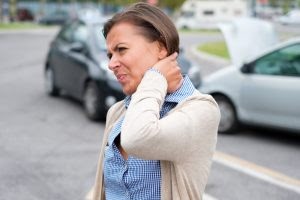 One of the most common injuries resulting from trauma, such as a car crash, is whiplash. Whiplash is a... Read More