5 Types of Food That Enhance Spinal Health
We all face nutritional challenges. It's hard to find time in our busy schedules to prepare fresh, healthful meals. It can be a challenge to find foods free from chemicals, and some say modern farming practices leave foods with fewer nutrients than they once had.
Yet good nutrition is essential for a healthy metabolism and for tissue growth and repair. Nutrition determines the strength of your teeth, bones, connective tissues, and your spine.
Nutrition and the Spine
The spine is an important component of the musculoskeletal system. It contains nerves as well as muscles, bones, tendons, ligaments, and discs. Each part of the spine has a role in its mobility and integrity, and each part has specific nutritional needs:
Keeping Your Spine Healthy
Proper nutrition, regular exercise, and good posture are all essential to the proper maintenance and continued health of the spine.
Everyone sustains a certain amount of spinal damage over the course of a lifetime. Discs can flatten and protrude from between the bones and in time, many people experience small tears in the outer layers of these discs.
If you're suffering from back, neck, or shoulder pain, it could be related to your spine health. Contact Tuck Chiropractic Clinic to schedule an appointment. Our experienced doctors can provide personalized care to help keep your spine healthy, and help relieve pain resulting from damage that already has occurred.
Image Copyright: nerthuz / 123RF Stock Photo
YOU MAY ALSO BE INTERESTED IN...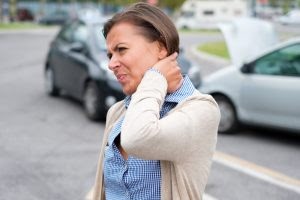 One of the most common injuries resulting from trauma, such as a car crash, is whiplash. Whiplash is a... Read More