On the Go With No Time for Back Pain
It has been said, "not all who wander are lost." That describes Mike really well. His "wanderings" are quite purposeful and part of his job; he is an outside sales representative with an expansive territory to cover. Mike is responsible for clients from Maryland to Puerto Rico, how's that for responsibility? Each week he is on the go either driving or flying up and down the Mid-Atlantic and South East to meet the needs of his many clients. In order for him to be at his best, he needs to feel his best. Mike's job demands a friendly, highly relational, and solution-driven approach to each appointment. With the demanding travel schedule and need to be at his best with clients there is just no room for pain and discomfort in Mike's busy schedule. Unfortunately, that is the exact predicament Mike found himself in.
Prior to coming to Tuck Chiropractic Clinic, Mike had a lot of
lower back pain
, specific to his left side. This persistent pain was the product of the many hours spent driving and flying from visit to visit. While the chronic discomfort was hard to live with it wasn't the impetus for Mike's first visit to
Dr. LaBarbera
, rather it was an acute injury. While Mike stays busy with his travels he stays even busier keeping up with his wife and four daughters. It was one afternoon, while he was outside doing yard work and playing with one of his daughters, that he tweaked his back causing a debilitating injury. Mike could barely stand up straight. It was then that he began treatment with Dr. LaBarbera at the
Bedford Clinic
.
Dr. LaBarbera worked with Mike and was able to resolve the pain caused by the outside play incident. Once the immediate issue was resolved he moved to a regular approach to prevent injury and
promote back health
. Within six months the persistent back pain was no more. It wasn't because Mike was traveling less; he was traveling just as much as ever. Instead, it was because Mike prioritized his back health and formed a consistent health partnership with Dr. LaBarbera. Mike would have gladly continued at the Bedford Clinic indefinitely but there came a day when Dr. LaBarbera knew there was a better solution for Mike's busy schedule. Mike explained, "He thought it would be much more convenient for me when Dr. Skinner's office opened on
Peter's Creek
." That is when Mike transitioned to the care of Dr. Skinner.
He has found both doctors to be effective in maintaining his back health. They both gave information on
how to sit while traveling
to mitigate the negative effects on his back. They also provided suggestions for stretches he could do before and after traveling. Their care and effect on Mike's wellness extend beyond back health to his overall health. "Both Dr. A.J. and Dr. Skinner talked to me about core muscles and different stretches to make it possible for me to work out," said Mike. He explained that prior to seeing Dr. LaBarbera and Dr. Skinner he didn't have a regular workout routine. However, Mike now has a dedicated workout routine that includes a blend of cardio and weight circuits for strength straining. "Previously, I wouldn't have been interested in doing that," said Mike. One quality he values in both of the doctor's approaches is that they live out the principles they share with their patients. Mike said, "Both Dr. LaBarbera and
Dr. Skinner
are in good shape themselves. So they model what they practice. They are good role models."
Speaking of good role models, Mike has become a great role model to his wife and daughters. He was the first in the family to pursue chiropractic care. Now, it is part of his entire family's healthcare. As he recalls, his wife saw the positive impact chiropractic had on his health decided to try it for herself. She began seeing Dr. Skinner for issues with her neck and then, like Mike, transitioned into a maintenance approach. If she doesn't go regularly she notices. Mike said that his daughters have also taken note of the role chiropractic is playing in their parent's health. "Our kids have gotten curious about it from watching us go," explained Mike. Right now his daughters get adjustments as needed. For example, one of his daughters got an adjustment after an injury from essentially rough housing—you know, the kind of fun kids love.
For Mike, it's all about his family. When discussing the reasons his
family chooses Tuck Chiropractic Clinic
for their healthcare he said, "It's about our schedule, our needs, our health." Mike loves that the care his family receives at Tuck Chiropractic is the kind of care that is making his life and his family's life happier and healthier. We must admit, we love that too!
YOU MAY ALSO BE INTERESTED IN...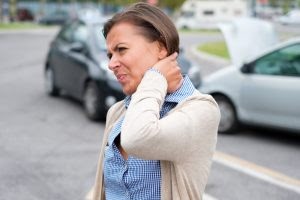 One of the most common injuries resulting from trauma, such as a car crash, is whiplash. Whiplash is a... Read More