6 Ways to Beat Chronic Pain and Get Back in the Game
You've always worked hard to be as competitive in your sport as possible. You're on top of your game because you've never shirked when it comes to putting in the hours and the miles. You have a record of coming through when it counts, both for your teammates and for yourself.
Then it happens. You may notice some pain or tenderness in your back, but you quickly dismiss it. You try to ignore the pain and just push through it, but when you have trouble getting out of bed in the morning, you begin to worry that it's not something you can just shake off.
Seeing a doctor confirms your fears: You've
injured your back
, and the pain will likely be with you for a while. How can you beat this chronic pain and get back in the game?
1) Maintain a Positive Attitude
Try to stay as positive as possible, as hard as this may sound. When positive, your attitude can hasten the healing process and reduce the emotional pain that frequently accompanies an injury. When you're negative, you can actually slow down the rehabilitation process and end up feeling as bad emotionally as you do physically.
2) Take an Active Part in the Healing Process
Follow the advice of your physician or chiropractor closely, and be as compliant with orders as possible. Practice healing imagery, which is using the mind to help heal your body. Spend at least 5 to 10 minutes a day visualizing your pain diminishing and your back healing. If you work as hard to heal as you did playing your sport, it will make you feel less vulnerable and much more in control.
3) Set New Goals
During the recovery process, you may have to step back and measure your success differently than you used to, based upon your current condition. Focus on getting stronger, not on what you used to be able to do. Once you're on the road to recovery, you can revisit prior goals and work to maintain your fitness.
4) Practice Mindfulness
Pain creates tension in the body, and the brain responds by amplifying the pain and creating stress, which can aggravate injuries. Mindfulness can stop that cycle by providing a different way to deal with stress. With practice, your pain and suffering may be reduced through mindfulness.
5) Continue to Work Out
Continue to work out if you are able to do so — if not physically, then mentally. Use visualization to mentally see, hear, and feel yourself performing flawlessly. Regular visualization of your skills will keep the neuromuscular connections in your body activated so when you are ready to begin actual workouts, you will be ready to perform.
6) Be Patient
Allow yourself the time to heal properly. If you rush the process, you may be setting yourself up for another, more serious injury that could very well result in even more time spent on the sidelines.
If you are experiencing back pain, contact Tuck Chiropractic Clinic to schedule a consultation. In addition to treatment to help relieve or prevent back pain, our experienced chiropractors can provide expert advice for staying pain-free.
Image by maridav/123RF.
YOU MAY ALSO BE INTERESTED IN...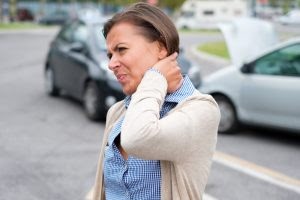 One of the most common injuries resulting from trauma, such as a car crash, is whiplash. Whiplash is a... Read More