How to Beat the Post-Olympics Slump
Carpe Diem
If you have a body, you're an athlete. Just do it. Impossible is nothing. All in. I will.
With the Olympics beginning to fade to a distant memory except for a few, still-bright stars, it's not quite as easy to get up off the couch and be inspired for your daily run or HIIT routine. When the dog days of summer are upon us, it's tempting to sit back and let time pass us by. While sportswear slogans like the ones above are calculated for profit, the ideas behind that motivating rhetoric may be just what you need to hustle when everything around you seems to be slumping.
The Advantage
Keys to a successful reboot are simpler than you might think. It's easy to get caught up in making a creative plan for working out, only working out if all the variables are perfect, or neglecting to think outside the box for getting up and getting out there. In the words of Nike, you have to "just do it." Here are a few thoughts to ponder as you get back into a good routine:
Every little bit counts: You don't have to have a fitbit to apply this principle – if you purpose to only work out 10 minutes every day, by the end of the week you'll have logged at least an hour and 10 minutes of sweating it out. That's better than waiting until you have an hour and 10 minutes to go to the gym and only working out twice a month, with that daily plan, you'll have about four hours and 40 minutes over the course of the month – twice what you would if you waited for the perfect day. You have a busy life. Just do it – you might be surprised how much time you actually log if you just commit to something bite-sized.
Go all in: Katie Ledecky, Michael Phelps, and Simone Biles would be the first to tell you that they didn't just wake up gold medalists one day. What did happen in a day was the decision to go all in. If you want to be an elite athlete, go all in. If you want to be a distance runner, go all in. If you want to be able to do the splits at 55 years old, go all in. Make a decision, make a plan, and then commit to it, heart and soul. You don't have to be an Olympian to be an athlete, and you don't have to be elite to accomplish your fitness goals, but you will have to train and push your limits and commit if you're going to make it happen.
Find what works: Nike says, "If you have a body you're an athlete." What they mean is, everybody can do something that makes them feel great and is great for them. Pick what works for you – do you get a burst of energy at 5pm? Run then instead of trying to get up earlier. Do you love weights and hate cardio? Find someone who loves cardio and hates weights and commit to helping each other stay balanced by working out together regularly. Do you push harder in a group? Find a class or a running group and commit to it. Carilion Wellness in Botetourt offer over 100 classes and free child care, so if you're in the area, that might be a great option. But even if you're not, just do a little research – there's almost certainly a local fitness center that can help you get on track. In Roanoke, there are studios for everything from Pure Barre to Zumba to Crossfit. Everyone can do something; find what works for you.
The First Step
That's all great advice, but it still leaves the ball in your court – you have to take the first step. If you need a little more motivation, Lifehacker has some great practical tips and tools to help you get out there and go play. Happy exercising!
Copyright: ammentorp / 123RF Stock Photo
YOU MAY ALSO BE INTERESTED IN...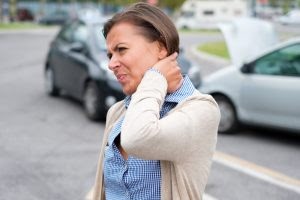 One of the most common injuries resulting from trauma, such as a car crash, is whiplash. Whiplash is a... Read More