Overcoming Adversity with Passion and Purpose

Would you believe that a world-class athlete fell in love with his sport because of a love-interest in the fourth grade? It's true. For Charles Clark, a three-time national champion in track, it all began in 4th grade with a girl named Iesha. Charles will be the first to admit, "It's pretty funny." He had a crush on Iesha, who switched schools, thereby breaking his heart. When it came time for his school's field day his buddy told him to run like Iesha was waiting for him at the finish line. That day he went home with five first-place ribbons. He said, "I never saw Iesha again, but I fell in love with track."
What started off as an endearing elementary-school love story blossomed into a tremendously successful and well-decorated athletic career in the sprints category. Charles went on to win multiple championship titles at the middle school and high school level. When it was time for Charles to pursue a college career he was the most heavily recruited athlete within his event and ultimately landed at Florida State University (FSU). While in college he became a three-time NCAA National Champion. Post-college athletics included being named the 6th fastest man in the world and training for the Olympics as part of the USA Track and Field Team. With all those accolades and titles it would be safe to assume he is defined by his trophies and photo-finishes of success. Not true. When we asked Charles what it's like to be the 6th fastest man in the world this is what he had to say, "I don't fall in love with titles. What happens with it is more beautiful. Through my accomplishments, I'm able to impact a lot more people."
Using his athletic success as a springboard Charles has started a foundation, which has grown to one of the largest in Hampton Roads and is dedicated to helping students achieve their goals. Through his platform of running Charles is able to positively impact others, he lives a life on purpose. He said, "I'm just thankful that each time I achieve such accolades I can use it to give back to the next generation."
It's clear that Charles is gifted at encouraging others towards their best because he is now an accomplished motivational speaker. He also has his own business consulting with entrepreneurs businesses around the concepts of success, leadership, and living a purpose-filled life. Charles is also the kind of guy who backs up his words with action—which is apparent from how he has overcome adversity in life.
Defining Charles by the success he's had in life seems logical. It is true that his success speaks volume about his discipline, abilities, and perseverance. However, what is equally, if not more telling, is Charles' response to adversity. One such moment occurred when he was training for the 2016 Rio Olympics, here in Blacksburg, Virginia.
Charles developed a back injury that progressively got worse throughout the season. Unfortunately, the injury prevented him from competing at the Olympic trials. Charles won't allow himself to be crushed by challenges and he refuses to deviate from his success trajectory. He started seeing Dr. Brooke, in our Blacksburg Clinic, for adjustments and is benefitting from the treatments. He explained, "Dr. Brooke is really helping me now. I can say that I don't feel the pain that was I feeling before."
Dr. Brooke is a perfect match for Charles. Dr. Brooke has a passion for helping athletes of all kinds achieve the very best results possible and is also a Certified Chiropractic Sports Physician (CCSP). He explained, "No matter what level of athlete you are the mentality is about performance, respecting your body, and optimizing your life." Charles likes chiropractic because as he described, "You see progression. Who doesn't like to see results? Who doesn't like to feel better?" Charles allows himself to be refined by adversity rather than be defined by it, which is what makes him a true champion.
For someone who has risen to the top, what could possibly be next? For Charles, it's something he describes as "bigger than a gold medal." He is in the final stages of writing a book with a planned release for the fall of 2016. For Charles, writing this book is self-described as one of his biggest accomplishments. Charles had academic struggles from elementary school through college. He was held back in first grade and struggled to pass necessary tests to enter college—delaying his college career. While some may look at their weakness and cower to it, he sees his personal weaknesses as an opportunity "to do something phenomenal." That is why he chose to fight hard to master reading and writing in order to create this book, which he is confident will change lives. After getting to know him as a patient, an athlete, a motivational speaker, and a friend we have to agree. The future for Charles Clark is going to be filled with phenomenal success, both on and off the track.
YOU MAY ALSO BE INTERESTED IN...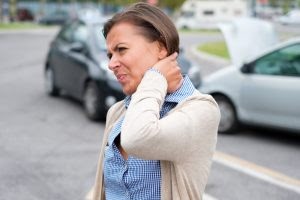 One of the most common injuries resulting from trauma, such as a car crash, is whiplash. Whiplash is a... Read More