Pregnancy and Chiropractic: Savanah's Story

It was Tuesday, March 21 and Savanah felt miserable. She was 38 weeks pregnant and experiencing severe back pain. While she knew there was a chance she was experiencing back labor—she just wasn't quite sure. Savanah reached out to the Vinton Tuck Chiropractic Clinic 15 minutes before close and asked for an appointment. Dr. Smith gladly saw Savanah and gave her a much-needed adjustment.
The relief brought about by the adjustment was so successful that the pain disappeared and Savanah worried she wasn't really in labor after all. However, much to Savanah's delight she was. Sweet baby Vera was born at 1:01 am on March 22, less than 8 hours after her adjustment with Dr. Smith. We love this story and the important role chiropractic played in Savanah's positive birthing experience and Vera's safe arrival. She told us, "I don't feel that my labor would have been the same had I not been adjusted that day."
Savanah has a "hands full, heart full" kind of life. Her big and blended family has a total of 6 children, 4 of which she carried in her belly and 2 of which she carried in her heart. Another fun fact—5 of the 6 children are girls! Vera is the youngest and absolutely adored by her siblings.
Chiropractic care during pregnancy was an integral part of 3 of Savanah's 4 birthing experiences. She first sought chiropractic care when she was "quite miserable" toward the end of her second pregnancy. It was the suggestion of her midwife, Crystal Fink, with Breath of Life Midwifery, that brought her to the Bedford Tuck Chiropractic Clinic. Over the course of her second, third, and fourth pregnancies chiropractic played a key role in Savanah's comfort and great birthing experiences.
She has received treatments from various Tuck Chiropractic doctors in a variety of locations, based on where she was living at the time and general convenience. Regardless of the doctor or the office she had positive experiences that made her pregnancies more comfortable and promoted better health for her and her babies. In fact, Savanah described her prenatal adjustments as, "the most exciting event on my calendar during pregnancy!"
Chiropractic adjustments not only relieve back pain associated with pregnancy but as demonstrated by Savanah's story, chiropractic treatments also relax the pelvis to promote a better labor and delivery process. For two of her pregnancies, Savanah gave birth the same day she was adjusted.
Savanah is soon to be licensed as a midwife with Breath of Life Midwifery. She explained to us, "We recommend that every pregnant woman receive chiropractic care throughout pregnancy and especially last trimester." In addition to easing pain associated with pregnancy, she points out the labor and delivery benefits. Savanah said, "We love to send clients with malpositioned babies to receive chiropractic care because the adjustment realigns everything allowing the baby to get in a better position to make pregnancy, labor, and delivery easier for the mother, baby, and birth attendant." We love how Savanah is an advocate for her health, the health of her children, and also the women she will soon serve as a midwife.
YOU MAY ALSO BE INTERESTED IN...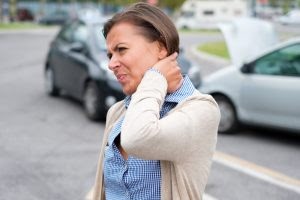 One of the most common injuries resulting from trauma, such as a car crash, is whiplash. Whiplash is a... Read More