Those Who Give The Best Care, Need The Best Care

If you are a healthcare professional, you work hard every day to give your patients top quality service, but we know that you also need great care to keep you running pain-free. According to the US Department of Labor, professionals in nursing and residential care sustained the highest number of non-fatal injuries resulting in days off work or restricted work activity, with almost 9% suffering some kind of illness or injury that prevented them from functioning at full capacity. OSHA explains that healthcare providers' unique commitment to those under their care can cause them to put their own health or safety at risk, sometimes resulting in injury.
OSHA also states that 48% of injuries that cause healthcare professionals to take time off are the result of lifting, bending, reaching, or other similar motions. Many of these types of injuries can be effectively treated via chiropractic care. Dr. Jeremy Keene, from our clinic in Roanoke – Cave Spring noted,
Many of our patients here in Cave Spring are employees from area hospitals and doctors' offices. The majority of them spend their day on their feet performing repetitive tasks, lifting, or working on a computer, all of which can lead to common repetitive injuries."
At Tuck Chiropractic, it is our goal to recognize the hard work and dedication of these fellow healthcare providers. When life hurts, we're here to help by providing care for lower back pain, neck pain, and general aches and pains. Not only will our doctors treat these symptoms via adjustments of the spine or extremities, but they will also work to strengthen key areas to prevent re-injury. For more information on how we treat some of the most common work-related injuries, see the links on our Services page.
We believe that those who give the best care, need the best care. If you are struggling with pain that's keeping you from operating at your best, we're here to help. Click here to get more information or to schedule an appointment.
YOU MAY ALSO BE INTERESTED IN...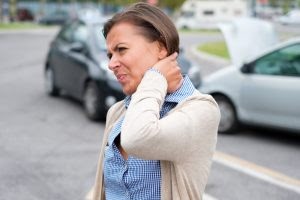 One of the most common injuries resulting from trauma, such as a car crash, is whiplash. Whiplash is a... Read More