Fall means football, flu season, and that last stretch of pleasant weather before winter kicks in. Days are getting shorter, temperatures are getting cooler, and as the holidays approach, it's a tempting time to slip out of exercise routines and pack on the pounds.
This guide provides helpful tips to promote health and wellness throughout the season.
Prioritize Physical Activity
Fresh, crisp air, and beautiful changing leaves can beckon you outside, but the colder weather and shortening days can become barriers to physical activity and exercise.
Take advantage of the sunlight and try exercising outside as much as possible. You'll get a boost of disease-fighting vitamin D, known as the "sunshine vitamin," which is harder to come by naturally as winter approaches and the days grow ever shorter. Research shows that it's easier to focus and concentrate on activities while you're outdoors, so you may be more likely to keep up with a fitness program if it's taking place outside.
With after-school activities, holidays, and busy weekends, finding time to work out can be a challenge, especially if you have younger children. Try breaking up your workout into a few mini sessions throughout the day. Try taking a walk at lunch. A few minutes of stretching in the morning before leaving for work can make it easier to fit fitness in around the day's activities.
Recruiting a friend as a workout buddy can keep you accountable to each other. A gym partner can motivate you to show up for your workout instead of putting it off. Get the whole family involved by allocating time for family fitness every day, like a walk in the park or some hoops in the driveway. Exercising with your children can motivate parents to stay fit as well as model good physical fitness for the kids. [tweet_box design="default" float="none"]Exercising with your children can motivate parents to stay fit as well as model good physical fitness.[/tweet_box]
Prevent Sickness
Many people feel that it is almost impossible to avoid getting sick during the autumn and winter months.  Often when you do get sick, your body builds it's immunity and becomes stronger!
It is possible to keep yourself healthier during the winter months.  Here are some tips to help you keep as healthy as possible:
Wash your hands often and cover your mouth and nose when you sneeze
Get plenty of sleep to avoid a weakened immune system
Eat healthful, fresh foods with vitamins and minerals to support immune health, including plenty of vitamin C
Drink plenty of water
Avoid emotionally or physically stressful situations
Get plenty of rest
If you do get sick, stay home from work or school to avoid worsening symptoms or infecting others
Try not to share objects that can carry germs, like drinks and kitchen utensils
Immediately discard used tissues after coughing or sneezing to avoid spreading germs
It goes without saying, if you are running a high fever for an extended period of time, are becoming dehydrated or are feeling the 'effects' of a serious flu episode, seek medical attention immediately.
Maintain Good Nutrition
Autumn boasts an abundance of delicious fruits and vegetables in season. Take advantage of nutritious seasonal fruits like apples, grapes, persimmons, pears, and cranberries. Leafy greens like chard, kale, mustard greens, and spinach also are at their best in the fall months. Sweet potatoes and winter squash, which are packed with beta-carotene, are available in the autumn months. They can be roasted, pureed, or mashed.
With such a variety in season, eating well as the leaves turn doesn't have to be a chore. These seasonal fruits and veggies tend to be hearty, filling foods that can satisfy your hunger during colder weather.
While a fridge and pantry stocked with seasonal produce is a great start, fall also brings an array of eating habits to watch out for.
From tailgating at football games to the Thanksgiving table, the temptation to overeat is everywhere. You don't have to cut out all the bad stuff entirely, but mind your portions and try eating more of the healthier foods at the spread. Try to eat half a plate of fruits and veggies and leave the other half for everything else.
On Thanksgiving, for example, eat a healthy breakfast or snack beforehand. This may seem counterintuitive, but it will actually help you fill up sooner and make better choices about what you put on your plate.
Avoid empty, liquid calories like soda and alcohol as much as possible and limit your holiday treats to gatherings. Halloween candy and sugary food gifts are common this time of year. Don't keep seasonal cookies and candies around the house, where you're more likely to munch on them.
Stick With It
The hardest part of staying healthy this fall is sticking to a positive routine. Keeping up with physical fitness, keeping an eye on what you eat, and getting enough sleep are all key ways to avoid packing on holiday pounds and succumbing to the next bug making the rounds.
Fall is a busy season. Make it all simpler by getting into a rhythm now. Whether it's packing lunches or planning a workout regimen, it will be much easier to keep everything organized with a weekly routine that you and your family can stick to.
If you prioritize healthy habits, you can successfully navigate these challenges while enjoying the beautiful weather and holiday festivities.
Check out our Back to School Guide for more information on how to stay healthy during the school year.
Image Copyright: stockbroker / 123RF Stock Photo
YOU MAY ALSO BE INTERESTED IN...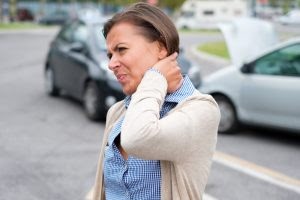 One of the most common injuries resulting from trauma, such as a car crash, is whiplash. Whiplash is a... Read More