Estimates of 75%-97% of Americans are "chronically dehydrated." So does this mean that Eight 8-ounces of H20 isn't enough? Well-Yes! (unless you weigh 128 lbs and don't exercise-I'll explain later.)
So how much water do you need? This is a daily conversation in my office. We have always been taught that adequate water consumption is 64 ounces or eight 8-ounce glasses of water a day. But even this seems like an astonishing amount of water to consume for some people. So let's see how much water you need each day.
First, take your body weight and divide by 2 (or half your body weight). This number represents the amount of water that you need in ounces. Let me show you an example. Take an individual who weighs 180 lbs. That person would need 90 ounces of water daily. DAILY? Yes, daily!
At first consuming this amount of water will force you to use the restroom 5-10 times a day. But don't worry, your bladder is partially muscle and will be trained to hold larger amounts of fluid without sending the signal to race to the nearest restroom.
The best way I have found to track my daily progress is to do the calculation of needed water daily and fill a jug of water with that amount. Each day drink from that container and monitor your intake. The first week or so, it may be difficult. Believe me, every cell in your body will benefit from this added hydration.
Do you need to consume an additional amount of water when exercising? Yes, you do and the amount of water is dependent on the type and intensity of the exercise. Generally, the water that you sweat will need to be replaced and so monitor your exercise accordingly.
As for the rest of the story:
I prefer drinking spring or filtered water over tap/bottled water. Next, if you have a glass container, use it. Glass has been shown to be the least toxic for long term storage of fluids. Room temperature water will be better than hot or cold fluids. Drinking higher quantities may improve your metabolism. Water is a basic building block to wellness, and staying hydrated will not only help you perform at your best but will also keep your body in top shape!
YOU MAY ALSO BE INTERESTED IN...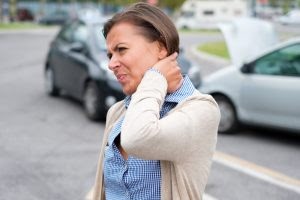 One of the most common injuries resulting from trauma, such as a car crash, is whiplash. Whiplash is a... Read More