Sitting Can Be A Real Pain

We hear it all the time; "How could I be in this pain when all I have done is sit?"
Can sitting really cause pain? The answer, as I am sure you can figure out by my tone, is…YES! The main questions are, "Why does sitting cause pain?" and "How can I keep from getting pain from sitting?" Pain can result from when your spine is in a position that is not consistent with its normal posture. Spines have two concave curves and two convex curves. When you put your spine outside of these normal curves, over time micro injuries can result.  These micro injuries progress to a major injury over time…a.k.a. PAIN!! Therefore, to prevent these injuries from occurring, you should attempt to keep your spine in these normal postures as much as possible.
For healthier sitting, we have adapted these suggestions from the American Chiropractic Association:
Sit in a chair such that the curve in back of chair hits your back around your belt line
Keep your shoulders "rolled back" rather than slumped forward
Put your feet flat on floor with your thighs parallel to the floor
For a quick self-evaluation check this link out.
YOU MAY ALSO BE INTERESTED IN...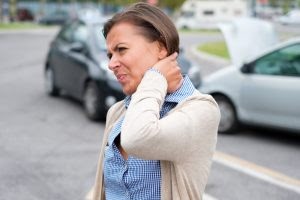 One of the most common injuries resulting from trauma, such as a car crash, is whiplash. Whiplash is a... Read More